Get into the fall spirit with the help of these Squirrel Onigiri! Irresistibly cute, easy to make, and perfect for adding to autumn bento boxes.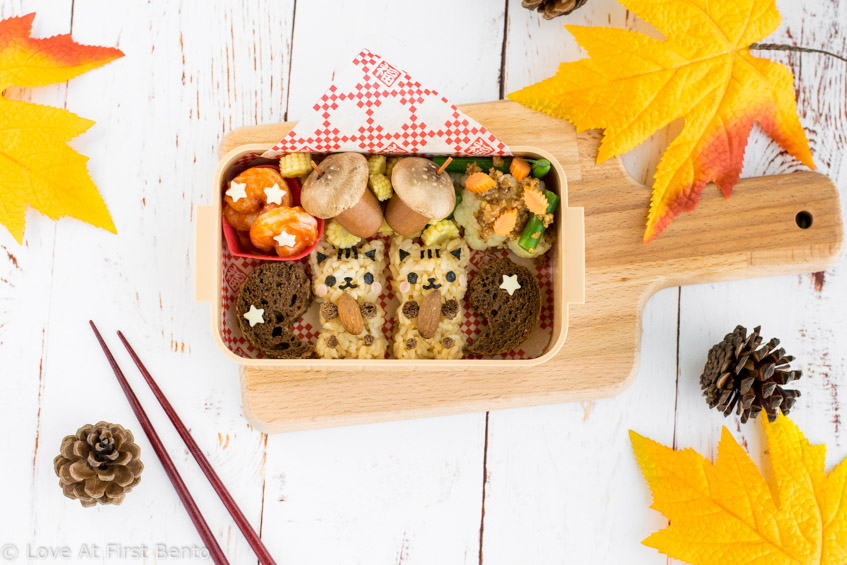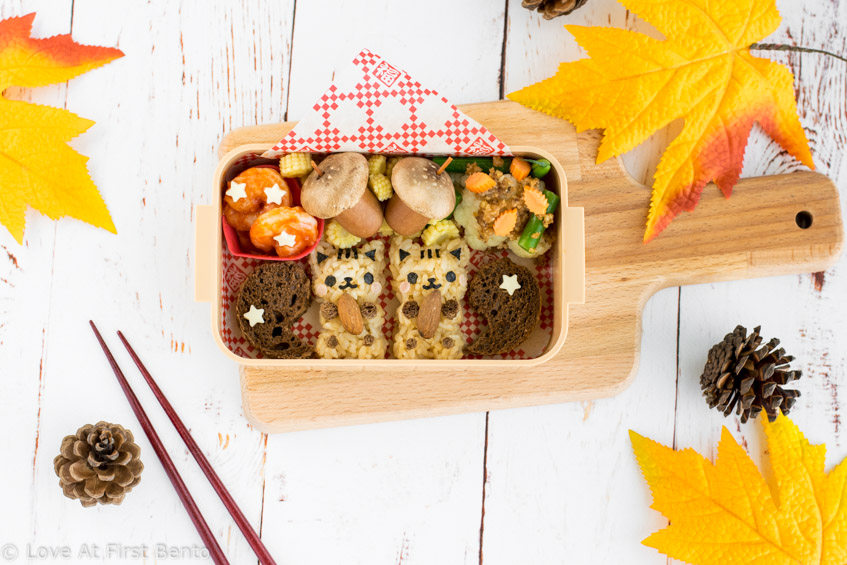 Fair warning: this squirrel onigiri bento box is nearly too cute to handle. It's proof that fall can be all kinds of cute. It's hard evidence that squirrels are some of the cutest creatures on the planet, thanks to:
Bushy tails
Chubby cheeks
Cute little paws holding cute little nuts
If you didn't just squeal at that last point, then are you okay? The little nut in the little paws is probably my favorite part of this whole bento, and what I believe elevates it from being dangerously cute to lethally cute. Seriously, the cuteness of squirrels is way too underrated. This bento box is here to fix that problem.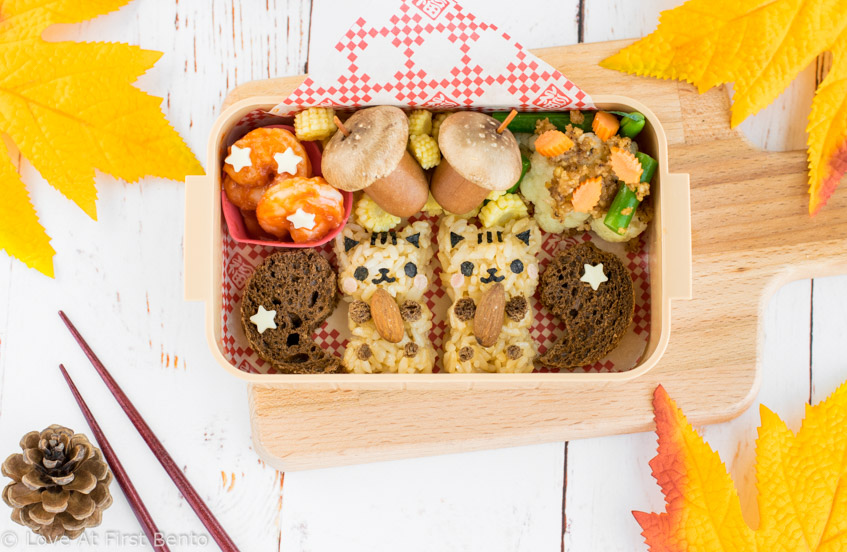 And extra good news: making squirrel onigiri is way easier than it looks! The one big trick is to use a rice mold, so that all of the hard stuff is done for you (unless, you know, you'd prefer to shape squirrel bodies by hand, in which case I salute you). I used this cat rice mold kit, which comes with both a rice mold AND a nori punch – double score! Don't worry, no one has to know it was actually a cat mold – it'll be our little secret 😉 Using bento tools in new and unconventional ways is all a part of the game really, especially when you don't have a lot of supplies to choose from. Always think outside the box when it comes to the tools you have!
Watch how to make Squirrel Onigiri (45 sec):
Now, let us shift our focus to the bushy tail, which I think is the key element that transforms the rice from looking like a cat to looking like a squirrel. I wanted it to be extra bushy and a really deep brown color, so I chose to make it out of pumpernickel bread (feel free to use any type of brown bread you have though). Shaping the tail is probably the hardest part of this whole bento (hard as in legit not hard at all), so if you can do this – and I promise you, you can do this – then you'll be golden. I actually just used regular old scissors to cut the circle into a chubby apostrophe shape, but if you feel like you really can't freehand the apostrophe, then draw it out on a piece of paper and use that as a trace while you cut the bread. See? I told you it wasn't even hard.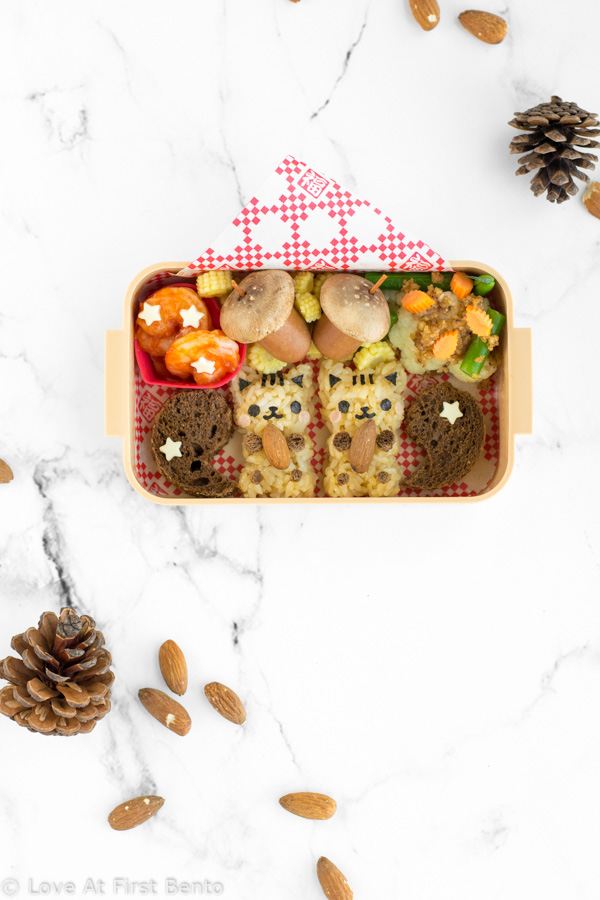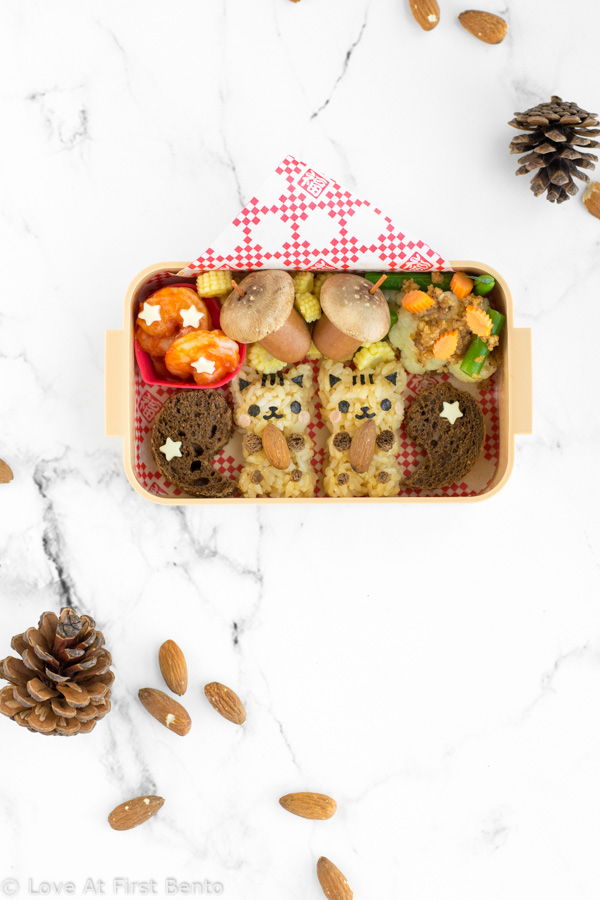 I packed these squirrel onigiri with some chili shrimp, baby corn, boiled cauliflower and green beans topped with a miso walnut paste, and hot dog "acorns", which I think added the perfect finishing touch to this autumn-inspired bento. Stay tuned for a tutorial on how to make those soon!
So, while you're overcoming that pumpkin spice coma that inevitably comes with the arrival of fall, try making these adorable little squirrel onigiri for your next bento box! They'll for sure get you into the fall spirit (sans pumpkin), and they're guaranteed to make kids and adults alike happily devour their lunch.
PS: If you haven't entered pumpkin spice comatose yet, then these pumpkin spice onigiri will send you well on your way.
Print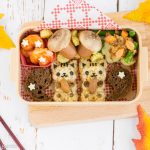 Squirrel Onigiri
---
Author:
Yield: 3 - 4 Squirrel Onigiri
Category: Cute Bento
Description
Making Squirrel Onigiri has never been easier! Learn how to use a rice mold to make the perfect squirrel from rice in no time flat. They make the perfect addition to any fall themed bento or lunch box!
---
Ingredients
Food Items:
~ 1/2 cup cooked Japanese short-grain rice
1 + 1/4 teaspoon soy sauce
1 slice pumpernickel bread (or any brown bread)
Nori seaweed
Ham or salami (optional)
2 whole almonds (optional)
Recommended Tools:
Cat rice mold
Cat nori punch
Circle cookie cutter (~ 5 cm)
Tiny circle cutter
Scissors (make sure they're fully sanitized before using with food)
Plastic wrap
---
Instructions
Using the cat nori punch, punch out the cat face design from the nori, reserving the eyes, nose/mouth, whisker, and ear pieces (the whiskers will become the squirrel's forehead stripes – you'll need 2 – 3 per squirrel). Punch out the design as many times as you need, until you have enough features for each squirrel.
Optional: Using the tiny circle cutter or a drinking straw, cut out 2 circles from the ham or salami – these will become the squirrels' rosy cheeks (2 per squirrel).
Using the circle cookie cutter, cut out a circle from the pumpernickel bread (reserve the scrap pieces). Using (clean) scissors or a knife, cut out a fat "apostrophe" shape from the bread circle – this will become the squirrel's bushy tail. Repeat for each squirrel you have.
Using the tiny circle cutter, cut out 4 tiny circles from the scrap pumpernickel bread – these will become the paws. You will need 4 per squirrel.
In a bowl, mix warm sushi rice with soy sauce until evenly colored. Feel free to add more soy sauce if you'd like a darker brown color.
Wet your cat rice mold with a damp paper towel, and fill with the soy sauce rice. Place the push piece on top, press down, and remove. Flip the mold upside down over top a sheet of plastic wrap, and gently tap until the shaped rice slides out.
Using tweezers, apply the nori facial features and rosy cheeks (if using) to the squirrel. For an extra cute look, try placing the eyes right beside the mouth. Place the cheeks right beside (and ever so slightly lower than) the eyes.
Using tweezers or chopsticks, apply the tiny pumpernickel paws right on top of the upper and lower feet "bumps" in the rice. Optional: Add a whole almond right in between the two front paws, as if the squirrel is holding it, for an extra cute touch.
Once your squirrels are packed in their bento box, add the pumpernickel tail (it will just rest on the bottom of the bento box), aligning the pointy end right beside the squirrel's bottom foot.
Notes
There were a few tools I used for making my rice squirrels that are different from the ones listed above (simply for the sake of precision): #1) I wanted the squirrel's eyes to be bigger than it's mouth, so I actually used the nori cutter that came with this rabbit rice mold kit. I used the nose portion of the mold. #2) I made the squirrels' front paws slightly bigger than the back paws. My favorite circle cutter tool worked perfectly, since it has a small circle cutter on one end, and a slightly larger circle cutter on the other.
© Love At First Bento. All images and content on this site are copyright protected. Please do not use any image without my prior permission. If you'd like to share this recipe on your own site, you are required to (1) link back to this post and (2) rewrite any instructions in your own words.
Tools used to make this onigiri: