It's time for Monthly Onigiri! For October, we're making Candy Corn Onigiri. They're festive, fun, and guaranteed to get you into the Halloween spirit!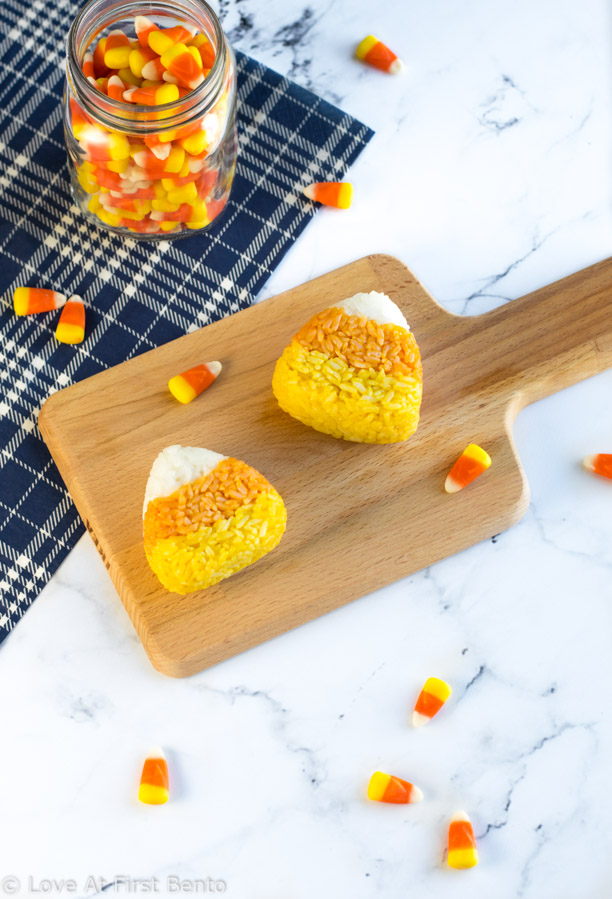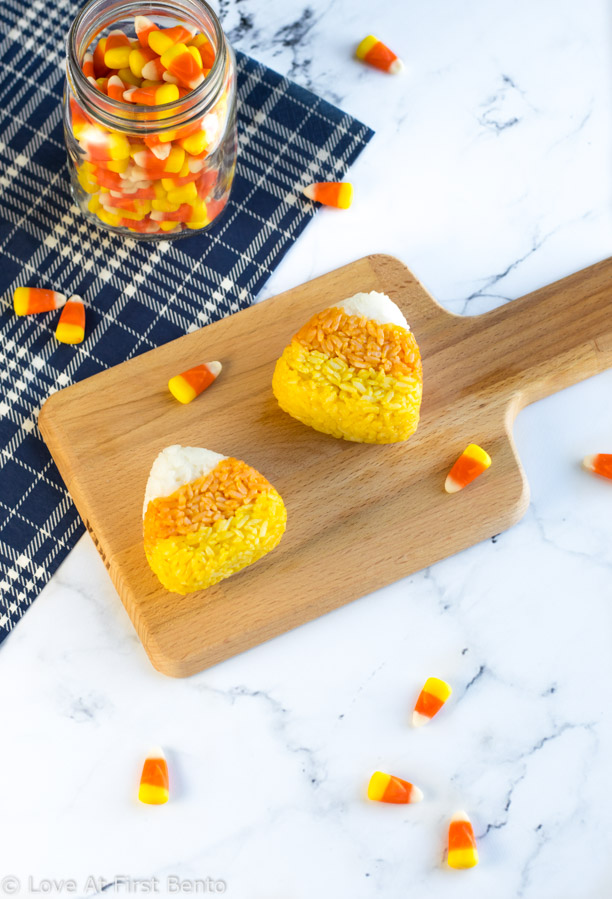 If you had to pick one quintessential Halloween candy – a candy that embodies the Halloween spirit and acts as a deliciously edible symbol of the spooky holiday people either love or despise – what would it be? For me, that title would have to go to candy corn. I mean, who can look at candy corn and not instantaneously think of Halloween? I'm pretty sure it's a visceral, inborn response. And so, it seems fitting that the first Halloween themed bento item I have for you this October are these ultra cute, ultra festive Candy Corn Onigiri.
Guys, these are literally edible bundles of Halloween in rice form. They would make the perfect addition to any Halloween party, pumpkin carving get-together, or spooky bento box. Their potent festive powers will very likely send you running to go buy a Halloween costume before you even realize what's happening. Or maybe just a big tub of candy corn. I devoured a good hundred too many while shooting these photos, all the while wondering what the heck candy corn even is. Seriously, what is it? All I know is, it tastes strangely good, and I need to stop.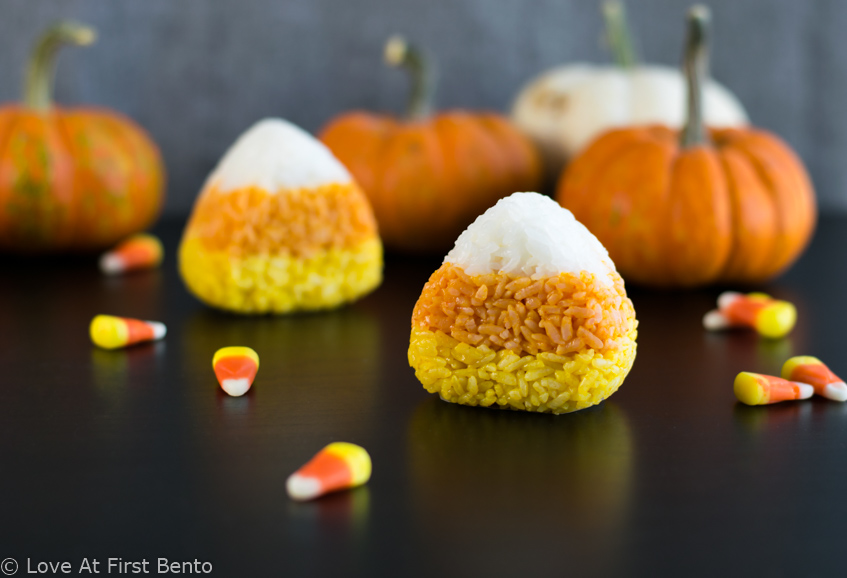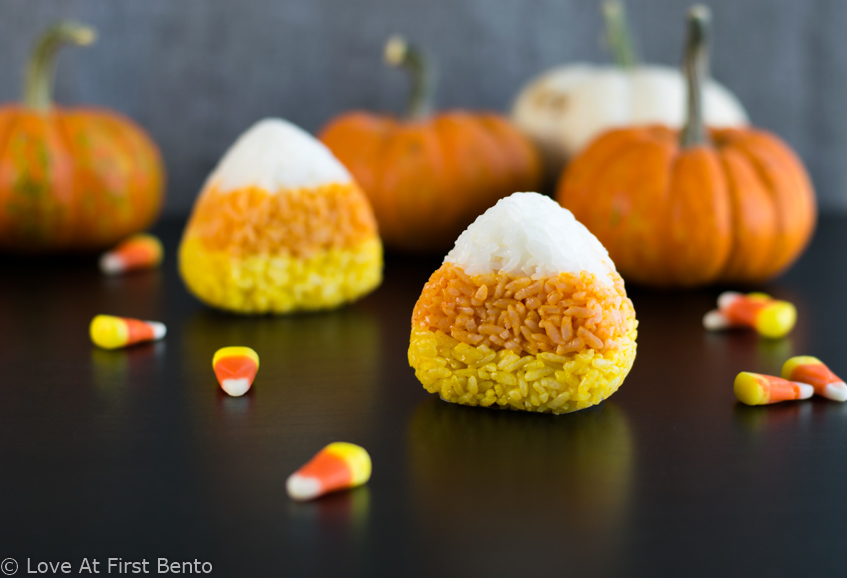 But those mysterious little triangles of chewy candy have nothing on these candy corn onigiri. As always, 100% natural dyes were used to achieve the colors; for the yellow, I used turmeric, and for the orange, I used a mix of turmeric + beet powder (although I suspect carrot powder or pumpkin would also work great). The process of making these onigiri is actually very similar to making Watermelon Onigiri, so if you gave those a try, then you'll be more than ready to tackle these babies next!
Watch how to make Candy Corn Onigiri (30 sec):
And, aside from them being almost too cute to eat, there are many other reasons why making these candy corn onigiri should WILL be in your very near future, such as:
They're not candy! With a holiday that literally revolves around sugar, these rice balls are a welcome change that even pack in some health benefits: turmeric contains a compound that has been shown to decrease risk of heart disease, cancer, and degenerative brain diseases such as Alzheimer's. 😮
No artificial dyes! I find that a lot of Halloween goodies and recipes rely on artificial coloring to get those orange, yellow, and black colors – cool, yes, but not very healthy. By making your own dyes, you can rest easy knowing that what you're eating is all natural.
They're easy to make! So long as you have an onigiri mold, making these rice balls is as simple as dividing your rice, adding the dyes, and filling your mold. And in case even that seems like a lot of work to you, consider how it's only one more step compared to making classic onigiri.
And if those massive boxes of Halloween candy are tempting you just a little too much every time you're at the grocery store, then all the more reason to make these candy corn onigiri – you can trick your brain into thinking it's eating real candy! 😉 Okay, perhaps that's a bit optimistic, but think of it this way: rice fills you up. So unless you're like me, who seems to have 3 separate stomachs that are always hungry for dessert, then having a few rice balls for lunch should help to fill you up and constrain your candy cravings, if even just a little. (#optimism)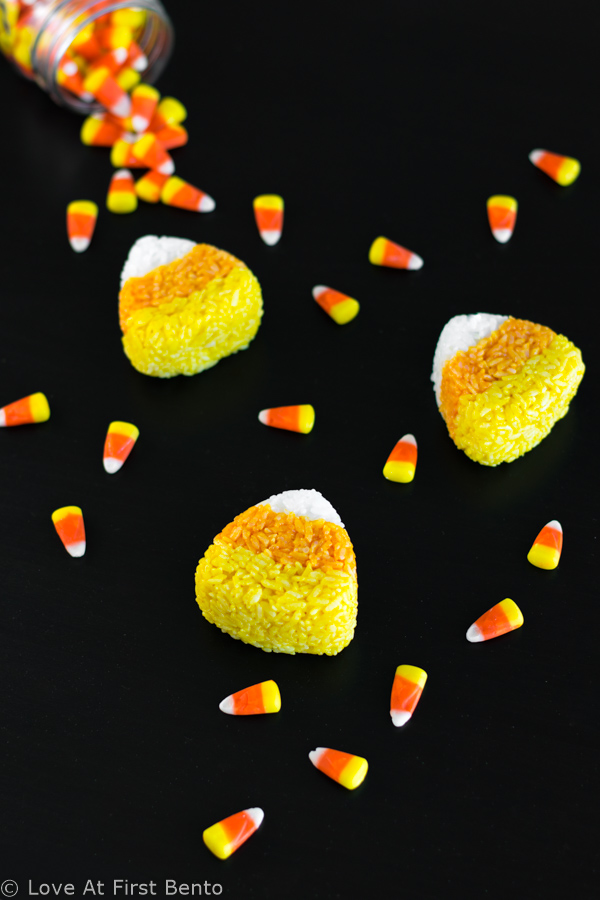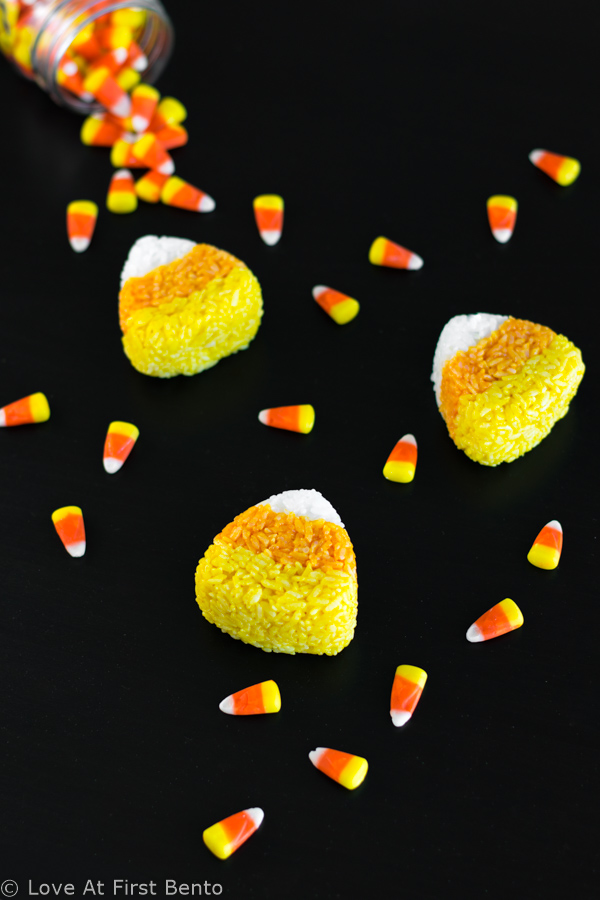 So, now that Halloween mania is in full-swing with the arrival of October, why not jump on the bandwagon and make these candy corn onigiri for your next bento box? They're a guaranteed hit with kids (and Halloween-loving adults!), an easy way to add a festive touch to lunch, and far better for you than a handful of candy corn. Embrace that Halloween spirit full-force! (Because next thing you know, it'll be Christmas…)
Print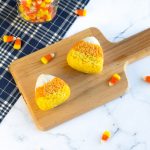 Candy Corn Onigiri
---
Author:
Yield: 2 - 3 Onigiri
Category: Onigiri
Description
The perfect addition to any Halloween themed bento or lunch box, these Candy Corn Onigiri are sure to please! Dyed naturally using turmeric + beet powder, and shaped with an onigiri mold, they make for a fun-filled treat without all the sugar of Halloween candy. [Vegetarian, Vegan]
---
Ingredients
Food Items:
~ 1.5 cups cooked Japanese short-grain rice, divided into 1/2 cup portions
1 teaspoon + 1/2 teaspoon turmeric, divided
1/4 – 1/2 teaspoon beet powder
Recommended Tools:
---
Instructions
Yellow Rice:
In a small bowl, mix 1 teaspoon turmeric with 2 tablespoons warm water until dissolved. Feel free to add more turmeric or water as needed to achieve desired color.
Take one 1/2 cup portion of warm rice, and add your homemade yellow dye. Mix until the rice is evenly colored.
Orange Rice:
In a small bowl, mix 1/2 teaspoon turmeric + beet powder with 2 tablespoons warm water until dissolved. Feel free to add more turmeric, beet powder, or water as needed to achieve desired color.
Take one 1/2 cup portion of warm rice, and add your homemade orange dye. Mix until the rice is evenly colored.
Candy Corn Onigiri:
With a damp paper towel, wipe the inside of your onigiri mold until it's completely damp. Fill the base of the triangle with some yellow rice, pressing down lightly with the back of a chopstick or rice paddle until a relatively smooth, flat "stripe" of yellow rice has formed. You'll want your yellow stripe to take up about 1/3 of the face of your triangle.
In the empty space left above the yellow rice stripe, add some orange rice. Press down with the back of a chopstick or rice paddle to form a relatively straight, flat orange "stripe" that spreads right across the middle of the triangle. Make sure to leave the tip of the triangle empty.
Add some of the reserved 1/2 cup of white rice to the empty triangle tip, using the back of a chopstick or rice paddle to press it down into the gap and fill in all the crevices.
Once your onigiri mold is filled up just past the halfway point (you may need to add a little more of each color of rice), insert the removable top piece and push until it's fully inserted into the mold. Remove the top piece and flip the rice mold over, making sure to do this over top a sheet of plastic wrap. If your rice mold has little push indents on the bottom, push it gently with your thumb, then gently tap the bottom and sides of the mold until the onigiri slides out.
Repeat all steps until you've used up all your rice. Wrap your onigiri in plastic wrap until ready to serve.
Notes
If possible, I recommend using a different chopstick/rice paddle for each color of rice, both when mixing and pushing it into the onigiri mold – this ensures the different colors don't mix together.
You can also add a few squirts of sriracha to your orange rice, both for flavor and additional coloration.
© Love At First Bento. All images and content on this site are copyright protected. Please do not use any image without my prior permission. If you'd like to share this recipe on your own site, you are required to (1) link back to this post and (2) rewrite any instructions in your own words.
Tools used to make this onigiri: