The beginner's guide to choosing the perfect first bento box. By the end of this post, I guarantee you'll find a bento box that's your perfect match!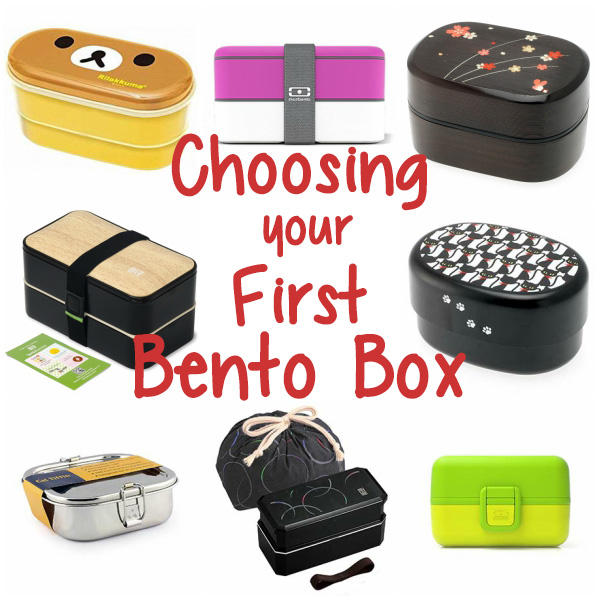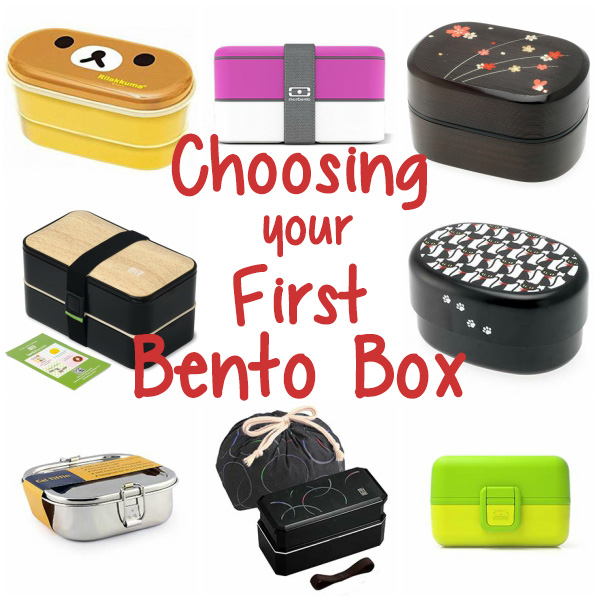 So, you want to make your very own bento box. Maybe it's for your boyfriend or husband, who goes and eats fast food if not provided with a nutritionally-balanced lunch (if so, welcome to the club). Or maybe it's for your picky daughter or son, who's lunch box is filled with untouched food every time you unpack it after school. Whatever the reason, making a bento box for your loved one is a smart, delicious choice, and I wholeheartedly welcome you to the Bento Club!
However, there's just one little problem…
You don't have a bento box.
Well, I have some good news for you: you don't actually need a bento box in order to start making and enjoying your own bento creations! Technically, all you really need is a portable, sealable container that's capable of holding food. (I know, mind = blown.) I bet you already have some suitable contenders sitting in your kitchen right now. Things like plastic tupperware containers, empty (and cleaned) tubs of Cool-Whip, margarine, or yogurt, heck, even cardboard containers from last night's Chinese takeout would fit the bill.
But, while these options may be cheap and convenient, they lack the feeling of "fun" you get when you have a real bento box. I mean, it kind of feels equivalent to carrying around a Louis Vuitton knockoff. That's why, in my opinion, it doesn't really feel like a bento box unless you pack your food in a bento box. So, I really do recommend you start off by getting yourself the real deal. (Because, unlike the real LV, getting a real bento box won't break the bank.)
Now, let's get down to business: It's time to choose your very first bento box! In case you're curious, this was my first bento box: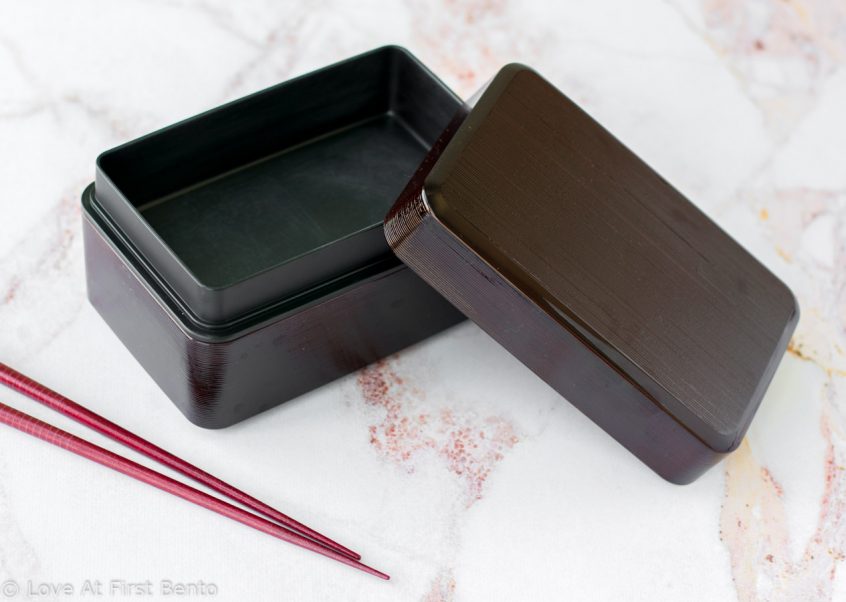 I was looking for something that my boyfriend could take to work with him and not be embarrassed about eating from, so I thought the cherry-wood finish was the perfect man-approved design. I still use it (and love it) to this day!
Bento boxes come in all sorts of colors, shapes, and sizes, and can be made from a variety of materials that vary in how easy they are to clean and maintain. Sound overly complex? Friend, I've got your back. Listed below are my top 12 choices for first-time bento box buyers, and every single one has been personally purchased, tested, and (most importantly) approved by me. I pinky promise you, there'll be at least one to suit your unique needs.
Top Bento Box Candidates:
The Traditionalist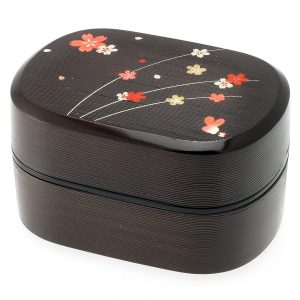 3 Reasons you need to buy this ASAP:
Enjoy the traditional look without the hassle of caring for bamboo or wood, which can easily become discolored, damaged, or warped without proper care and handling.
Bamboo bento boxes tend to be very expensive (usually $50+), but you can still enjoy the minimalistic beauty of a (faux) wood-finish with this bento box, for a fraction of the price.
The lid features a beautiful cherry blossom design; it'll surely garner envious commentary from onlookers.
Runner Up: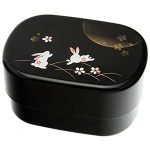 The Modernist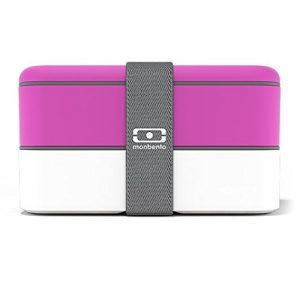 3 Reasons you need to buy this ASAP:
This sleek and stylish bento box comes in a variety of colors, so you can color-coordinate it with your designer handbag, or get men to eat from it without feeling like it's detracting from their masculinity.
Every piece of this bento is dishwasher-safe, which is a HUGE WIN in my books.
Monbento produces some of the best quality bento boxes I've ever owned, so you can trust it'll do it's job, and do it well.
Runner Up: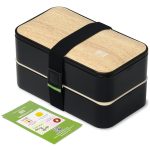 The Wallet-Friendly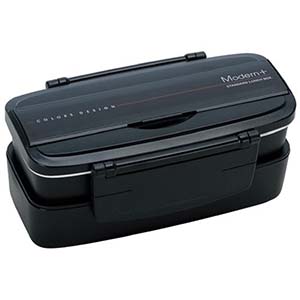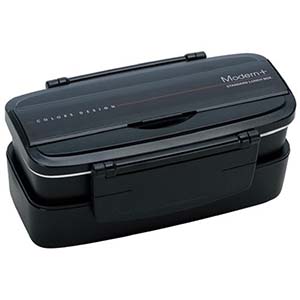 3 Reasons you need to buy this ASAP:
It's sleek and modern appearance makes it great for both men and women.
The price not only gets you a bento box, but also a handful of food dividers, as well as a cute pair of mini chopsticks that fit right into the lid of the bento box. Score!
Overall it's quite easy to clean. I always hand wash the lid, but everything else I throw in the dishwasher for easy-peasy cleanup.
Runner Up: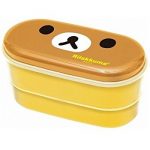 The Low Maintenance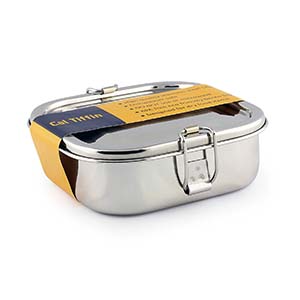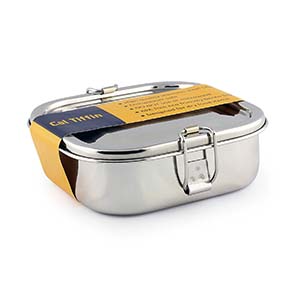 3 Reasons you need to buy this ASAP:
This bento box is low maintenance for a reason: every part of it is dishwasher-safe, so no need to hand wash a single thing (halle-freakin-luja!).
No worries about stains or lingering food odors with this bento box– it's top-class when it comes to longevity and hygiene.
Can be enjoyed by males and females alike due to its simple, universally-appealing design.
Runner Up: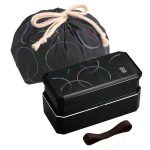 The Fashionista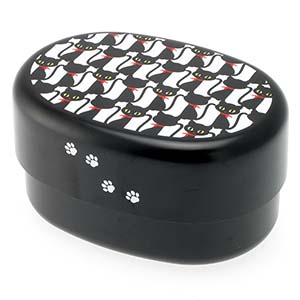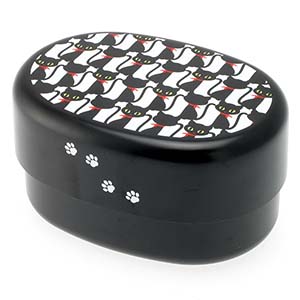 3 Reasons you need to buy this ASAP:
The main compartments of this bento box are dishwasher safe (I hand wash all the lids, just to ensure the design doesn't fade).
Made from food-safe plastic, so you can eat with peace-of-mind.
Um… did you SEE the cute black kitties on the lid? They have their own style going on with their chic red scarves, which adds a nice yet subtle pop of color.
Runner Up: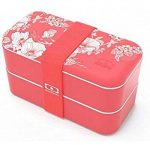 The Kid-Friendly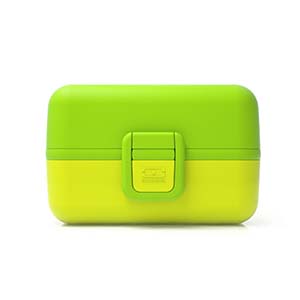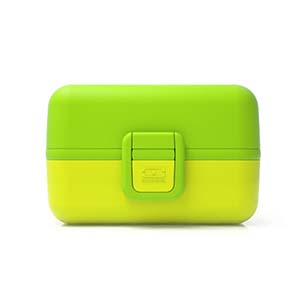 3 Reasons you need to buy this ASAP:
This bento was built specifically with kids in mind: it boasts a kid-friendly size, BPA-free material, and lids that are designed to be opened and closed with ease.
Built to withstand the bumping and shaking that will undoubtedly occur as it's transported to school, this box has air-tight seals to ensure nothing gets out before lunchtime.
My favorite part? There's a feature on the lid that allows you to insert customizable tokens, so you can either get creative and make your own, or use the pre-made ones that come with it.
Runner-Up: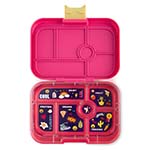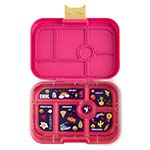 ---
So there you have it, folks– my top bento box choices for first-time buyers. Of course, there are many, many more bento boxes out there to choose from, but I picked these specially from my collection because, well, I truly believe they are perfect choices for first-time buyers. Basically, I did all of the research for you. (You can thank me later. Or send me a box of pocky.) And once you make that fateful first purchase… let me know! I wanna see your awesome bento box! We can fangirl over it together, k? 😉
Should you have any further questions about purchasing bento boxes, feel free to leave a comment on this post.
PS: If you're wondering about the who/what/where/when/whys of bento supplies, then I highly recommend checking out the official Love At First Bento Shopping Guide – it'll definitely have everything you need to start making some adorable bentos.
DISCLAIMER: This page contains affiliate links. If you make a purchase through one of these links, I will earn a small commission (at no extra cost to you!), which helps to keep this site running. Thank you for supporting Love At First Bento!