Head back to school in style with this Colorful Crayon Bento Box! Bursting with both color and cuteness, this edible rainbow lunch is guaranteed to make studying soooo much better (and tastier) for students of all ages!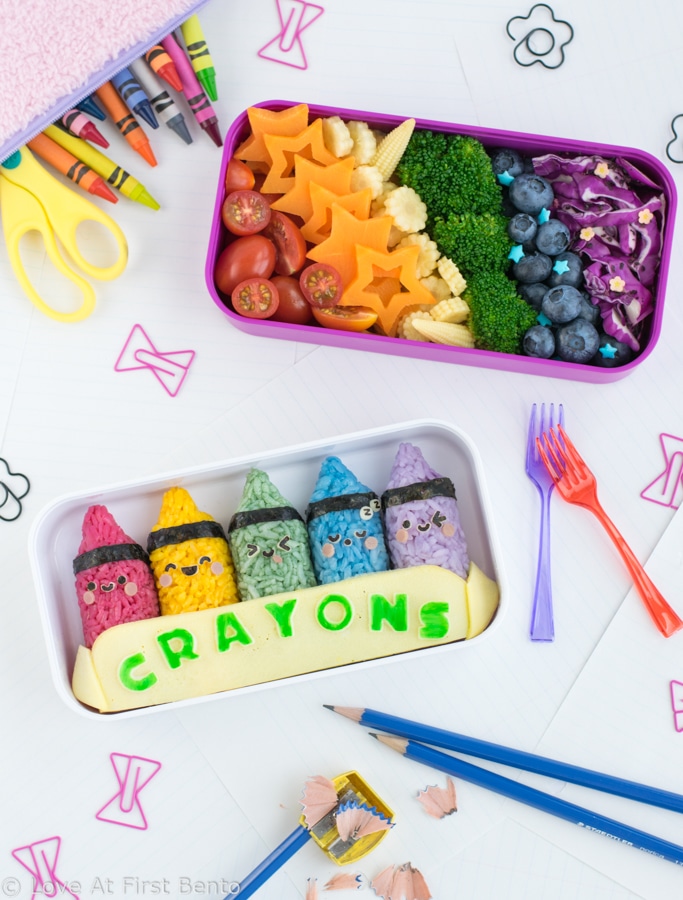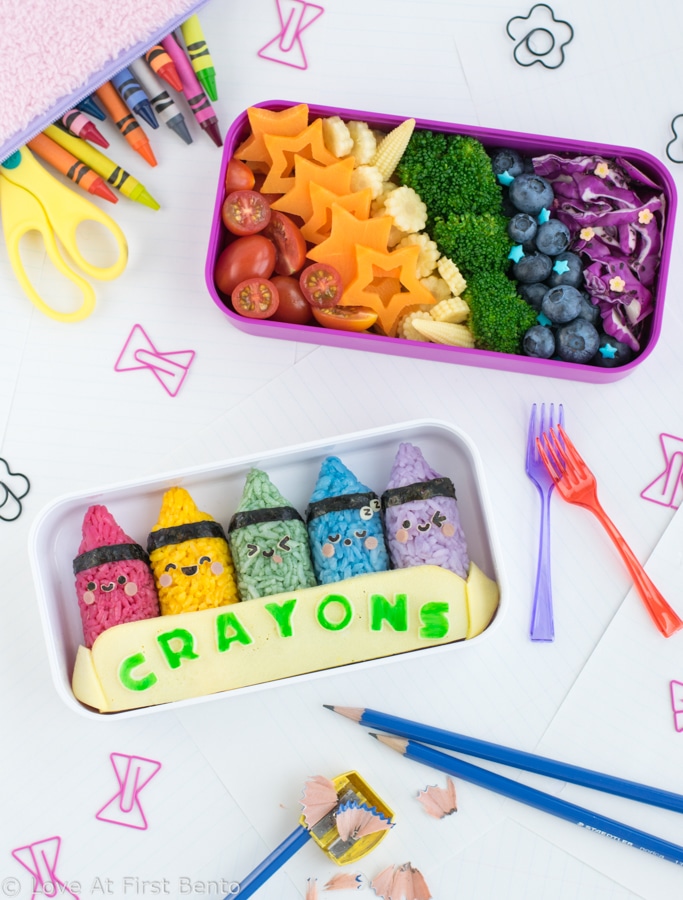 Forget all about those back-to-school blues with this Colorful Crayon Bento Box! These adorable rice crayons are made from 100% naturally dyed rice, and are easily molded into shape with the help of a rice mold – even a bento novice can successfully recreate this vibrant lunch! It's basically an edible rainbow stuffed into a bento box… what more could you ask for in a lunch?
As a kid (heck, even as a university student), I rather enjoyed shopping for back-to-school supplies. There's something about perfectly sharpened pencils, crisp new binders, and boxes of never-before-used art supplies that brings me great happiness. (Is that a nerd thing? Probably.) I still vividly remember being the envy of the class in Grade 2 as I whipped out a brand new 100-color crayon box during art class – it even came with glitter crayons (which I kinda sorta secretly wish I had right now). I swear, nothing beats opening up a new box of crayons as a kid and seeing those untouched rainbow peaks staring up at you, pristinely lined up and just waiting to unleash their colors. That's why, when I was approached by Babble Makes to create a back-to-school themed bento box, my mind immediately went to crayons. Why not relive that beautiful opening-of-the-crayon-box moment come lunchtime?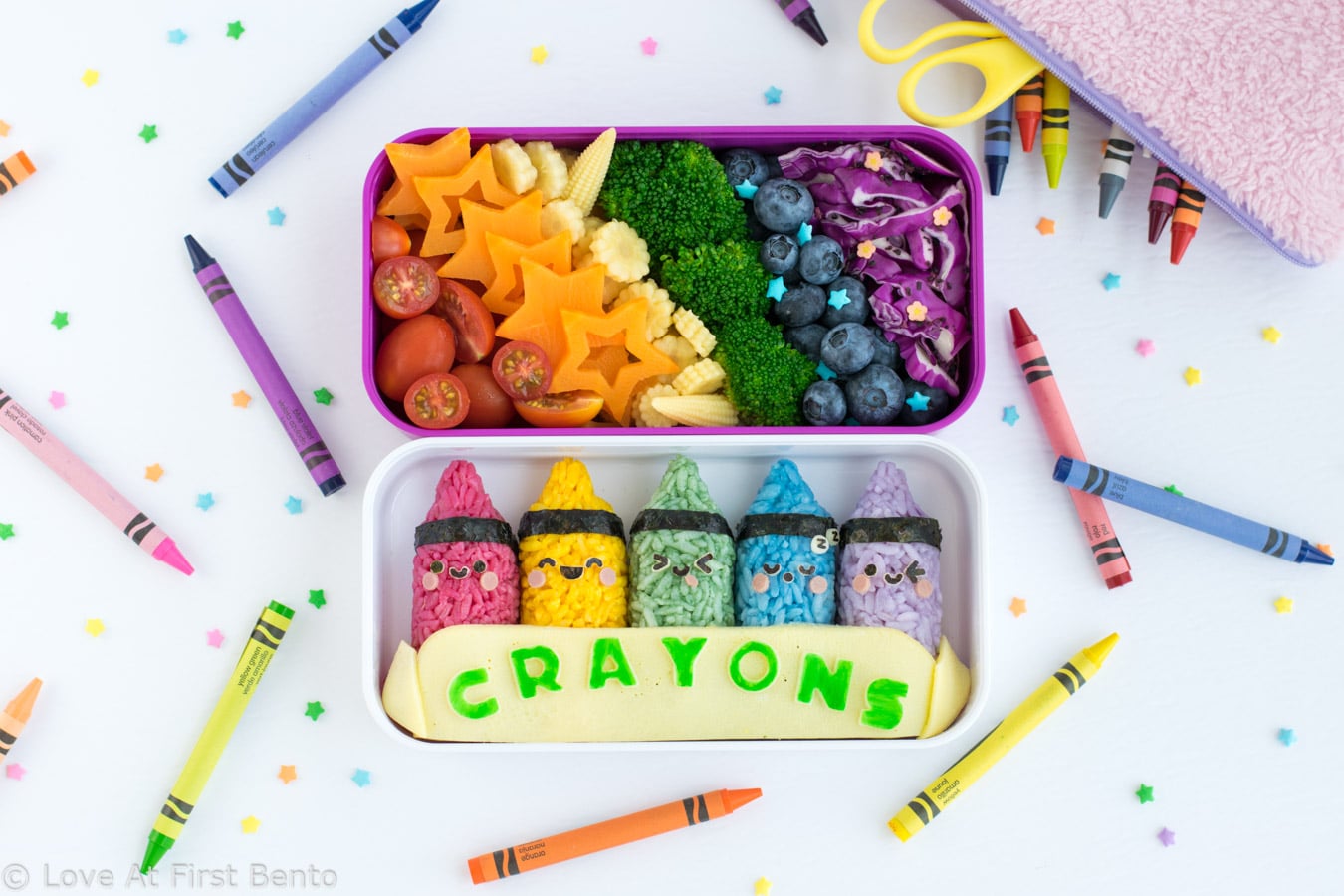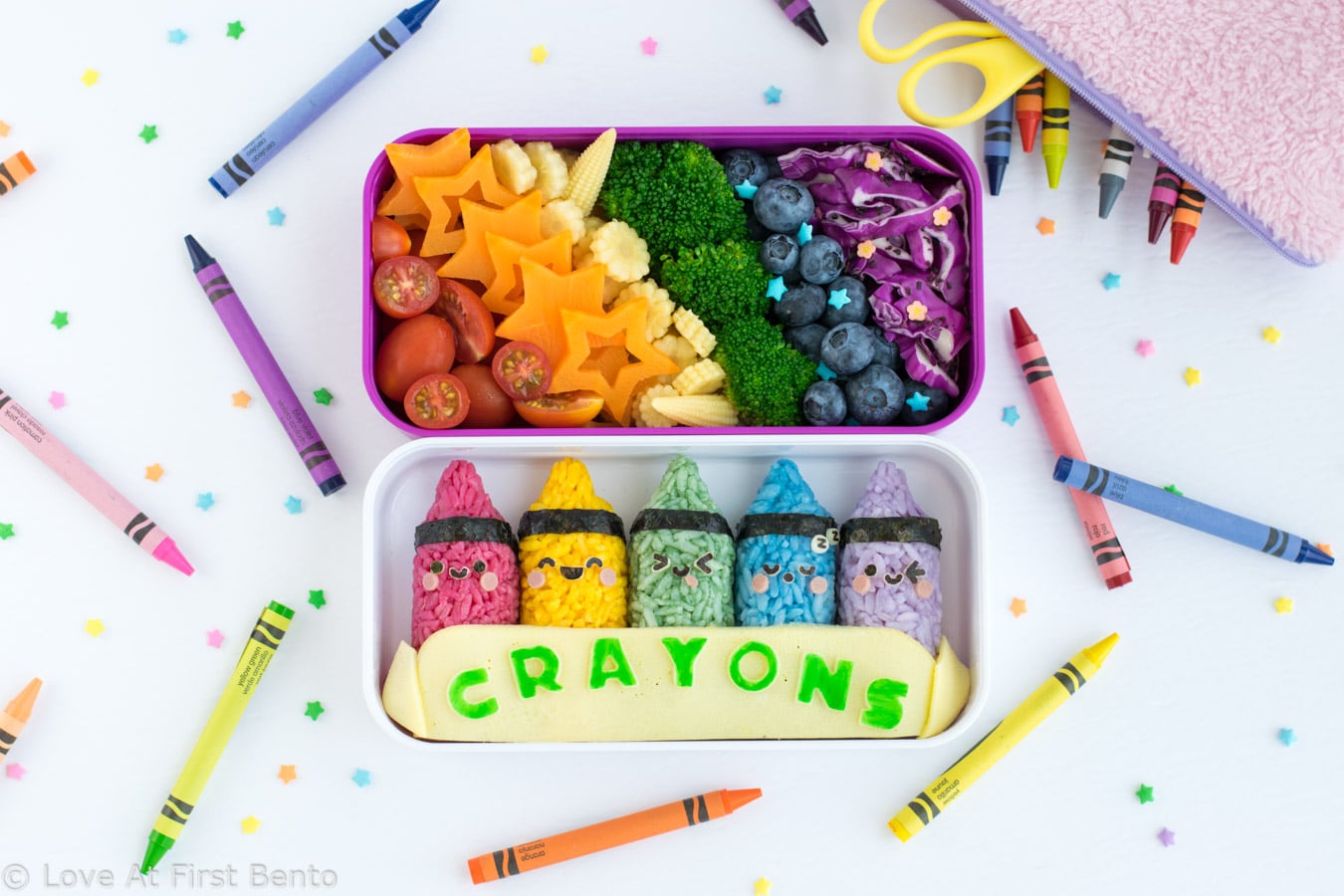 To achieve those pretty rainbow hues, I dyed Japanese short-grain rice using a variety of natural dye powders. While there are a lot of different vegetable and plant powder options to choose from, these are my personal favorites when it comes to dying rice:
You can choose to make your crayons any color combination you'd like: your favorite colors, alternating colors, pretty pastel colors, all one color… the possibilities are endless. Alternatively, you can also dye your rice using deco furikake – salty little rice sprinkles that, when mixed with warm rice, dissolve and dye it different colors, depending on the color you choose. Each pack comes with sprinkles in every color of the rainbow, so they make for a fantastic quick and easy dye method when you're in a rush (or just feeling lazy). They can be quite salty, however, so be sure to taste and add accordingly.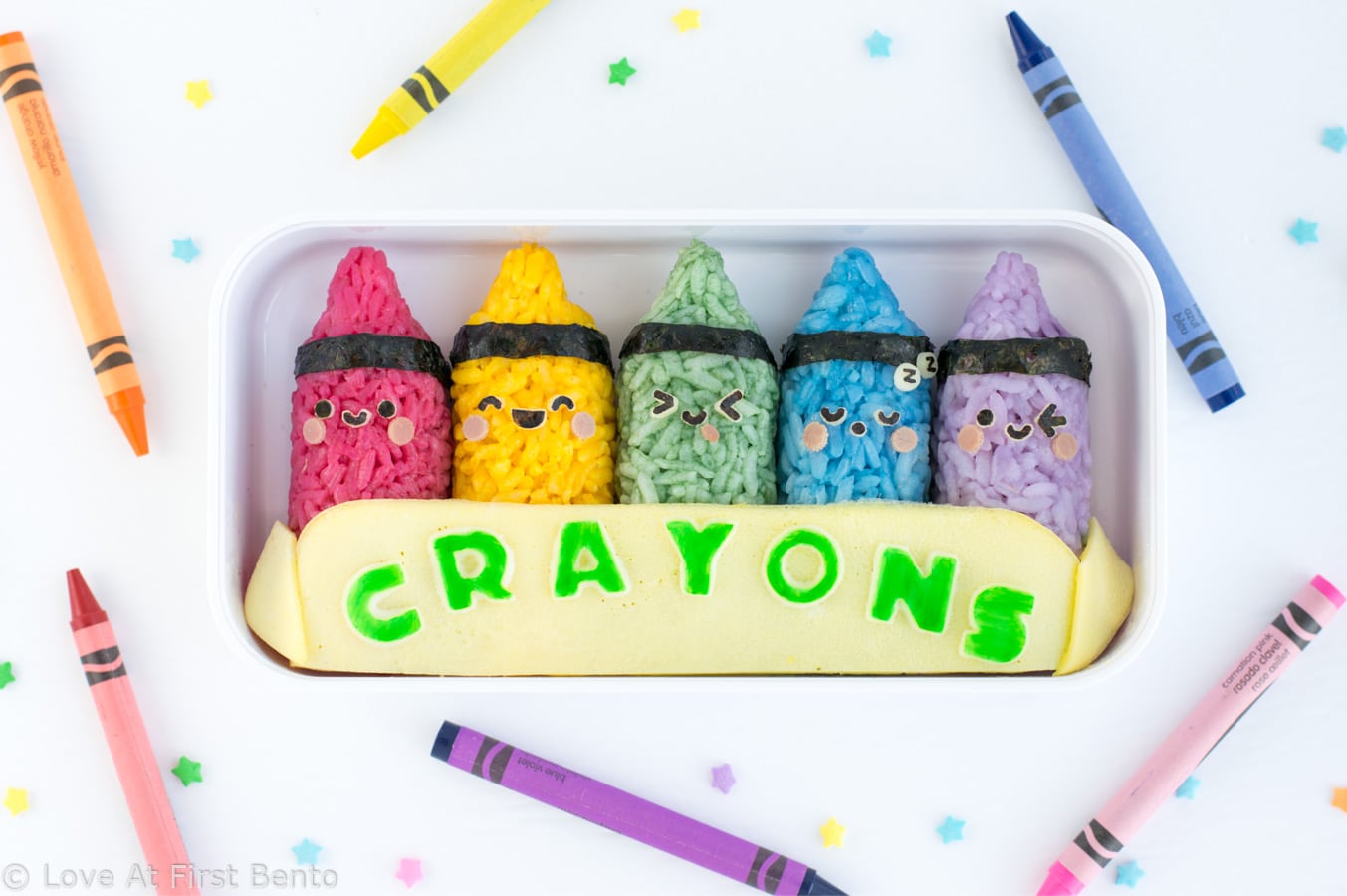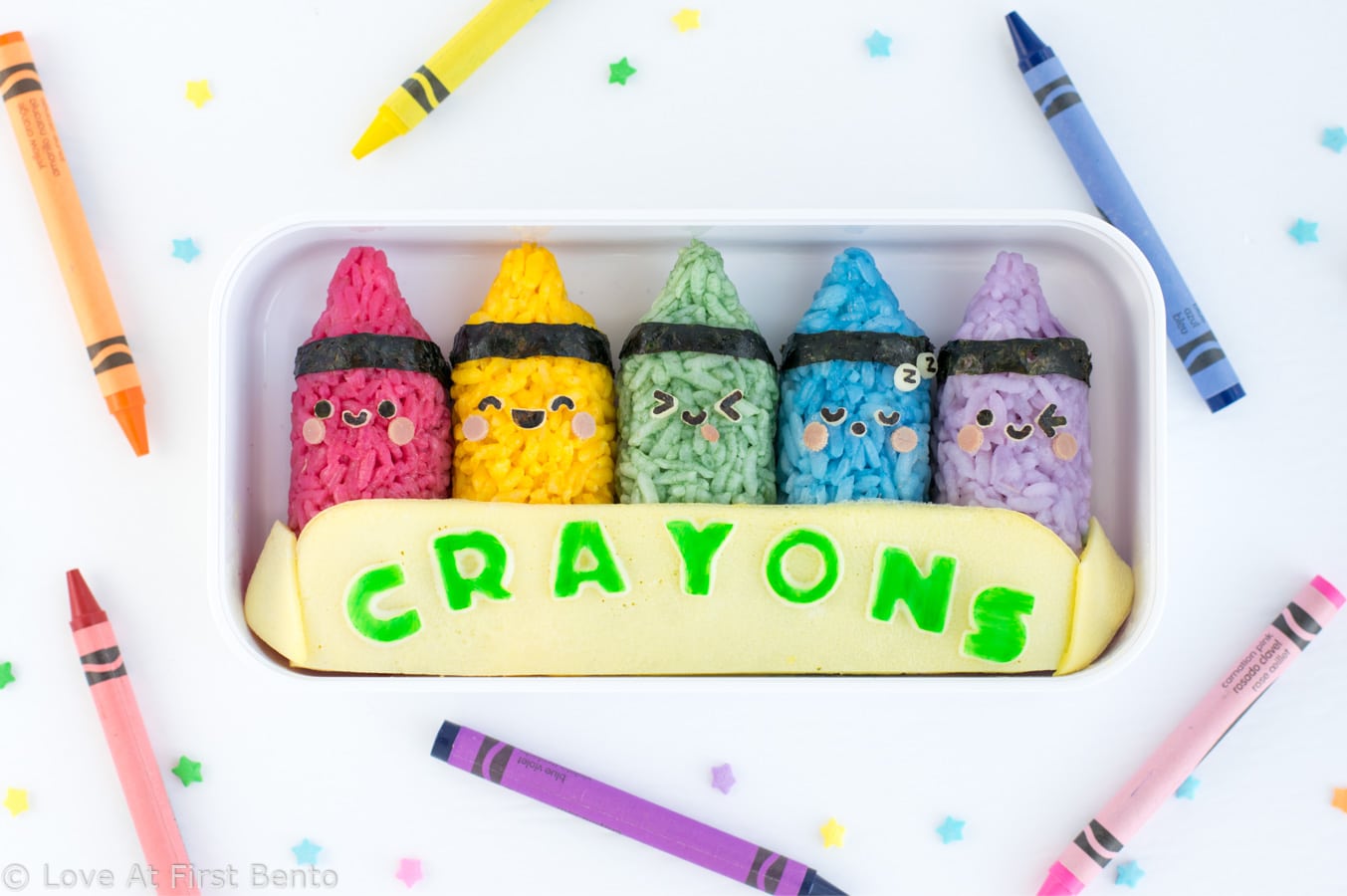 Next step is shaping your rice into cute little crayons. I used this snazzy stick onigiri mold, which made creating perfect little cylinders of rice an absolute breeze, but you can also use a cylinder onigiri mold (just note that your crayons will be a lot smaller in size if you do), or even a sushi making mold (then you can fill your crayons up with yummy fillings!). Once you pop the rice out of the mold, use your fingers to smooth one end into a soft point, and voila – you have the perfect edible crayon!
Now, you can either stop there, OR, if really want to max out the cute level of your bento, you can give your crayons adorable nori facial features! I used a variety of different nori punches to create my various crayon faces (such as this, this, and this), but all you really need is your generic smiley face nori punch – I highly recommend this one to get you started. To help the nori facial features stand out against the rice better, I placed each one on top of some white cheese and cut around it using my craft knife; this essentially provides a faint outline to the nori that makes it a little more noticeable. This is a completely optional step, however, so feel free to skip it.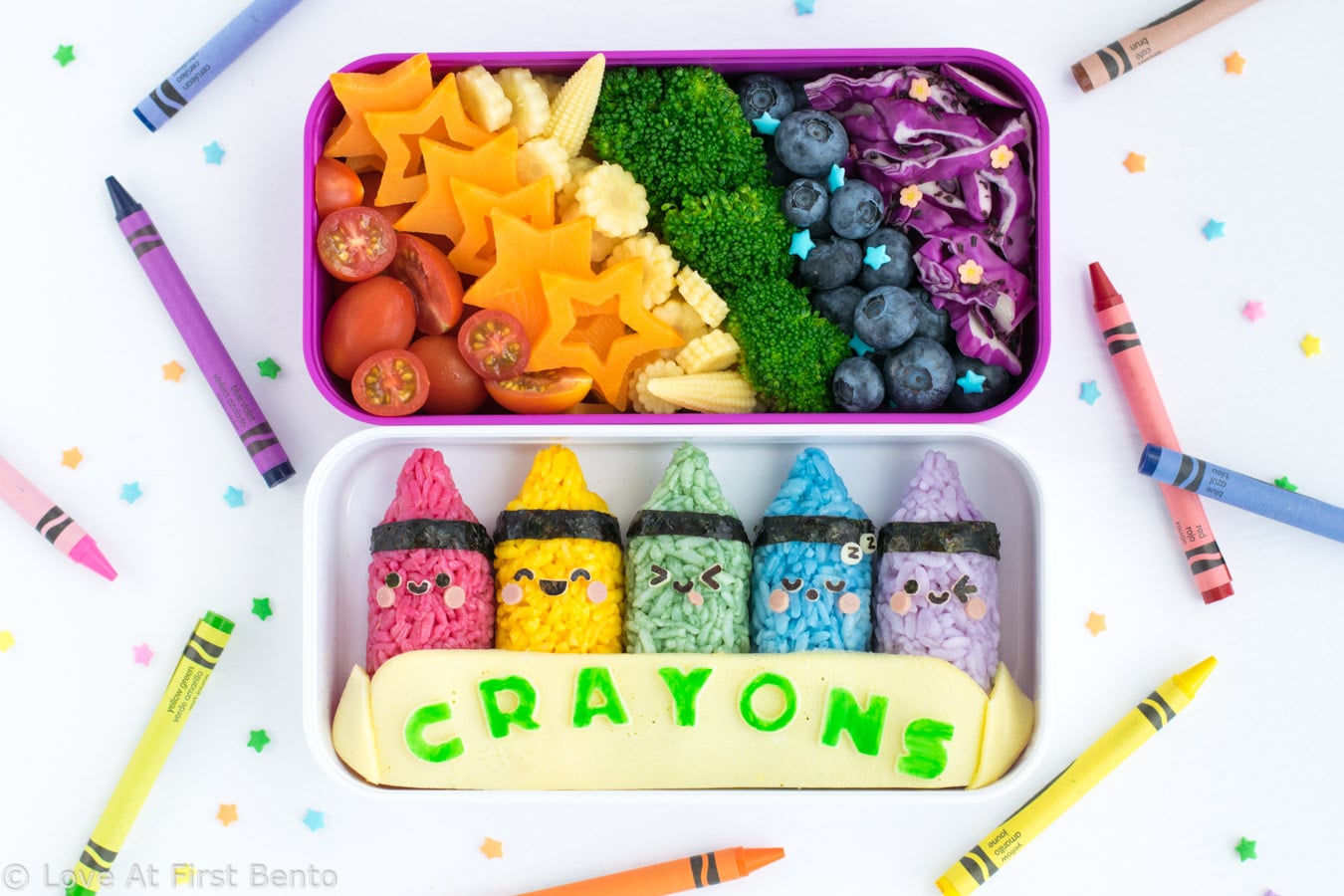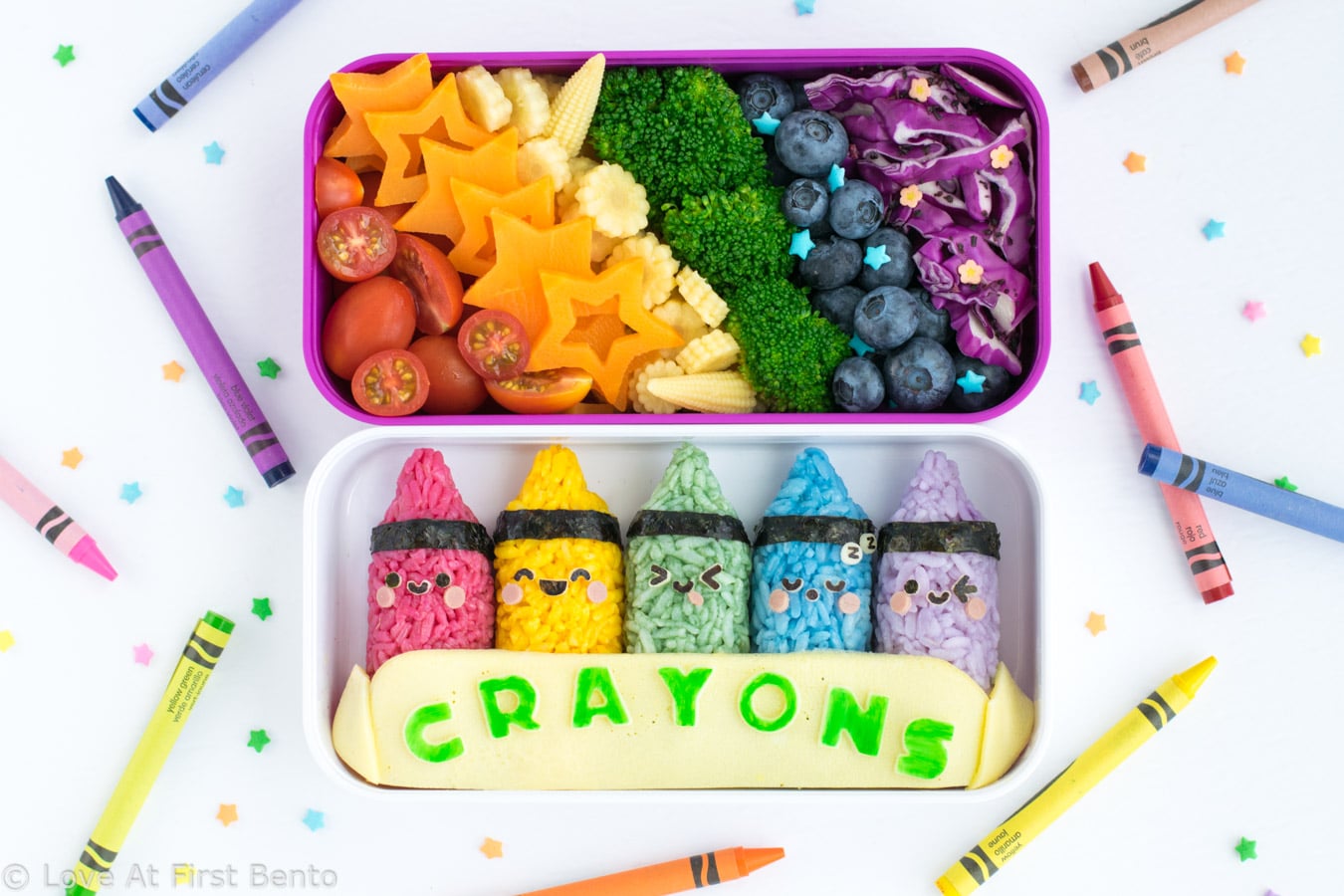 To complete this ultra colorful bento box, I packed the second tier with a variety of rainbow fruits and veggies. This included cherry tomatoes, carrot "stars", baby corn, steamed broccoli, blueberries (topped with blue star sprinkles), and purple cabbage (sprinkled with a little flower furikake). Feel free to pack your bento with whatever colorful food you like best, and get creative by cutting your food into cute shapes, like stars, hearts, or flowers.
So help a loved one embrace that back-to-school spirit by making them this colorful crayon bento box – it's sure to score an A+ with elementary school students and university students alike! You can read the full recipe for this back-to-school bento by visiting the Babble Makes website.
© Love At First Bento. All images and content on this site are copyright protected. Please do not use any image without my prior permission. If you'd like to share this recipe on your own site, you are required to (1) link back to this post and (2) rewrite any instructions in your own words.
Tools used to make this bento: