Revel in the cuteness of red, orange, & yellow with this Fall Hello Kitty Mosaic Bento Box. With my easy tips for making a seamless mosaic bento, anyone can make this beautiful autumn lunch!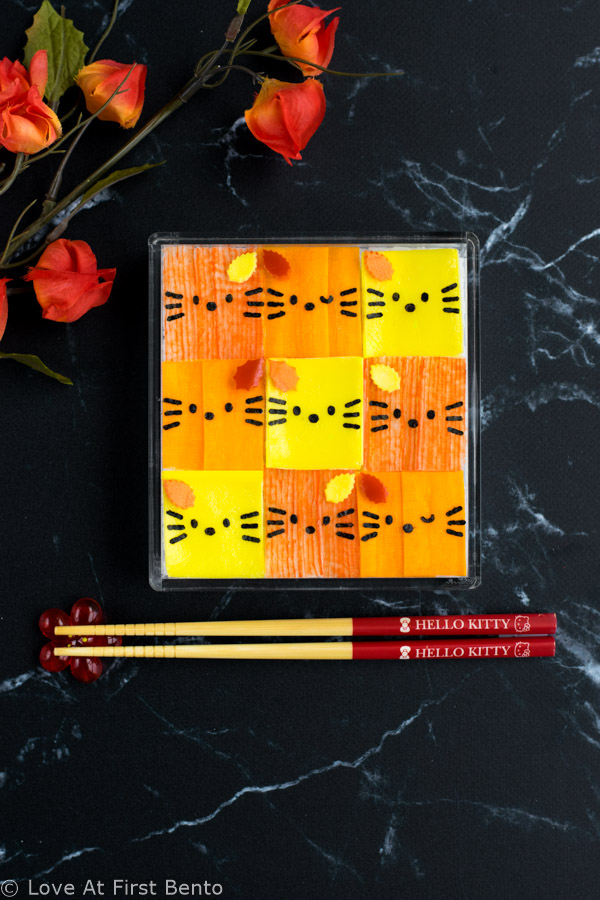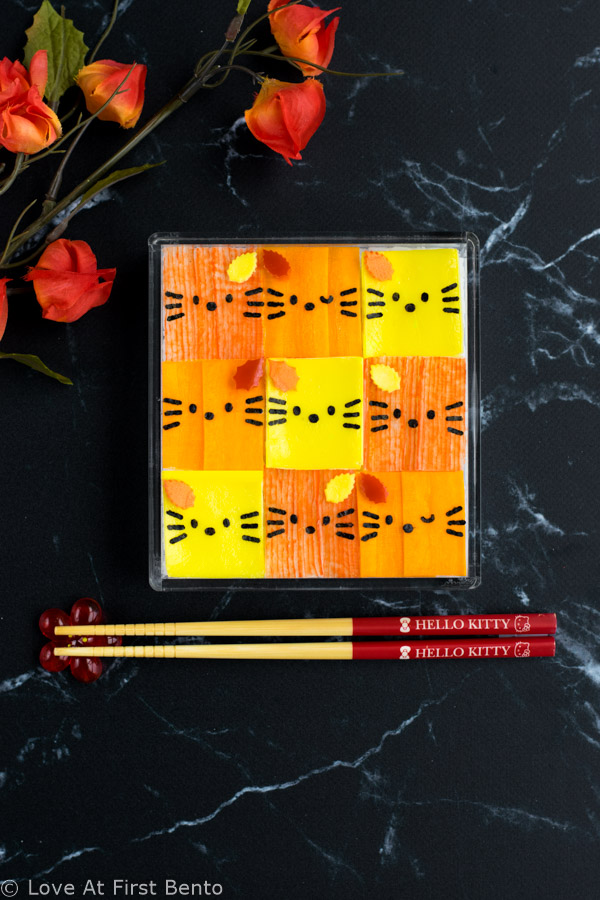 I know – my fall color obsession is now officially a problem. Combine that with my obsession for all things Hello Kitty, and things might just be out of control. But if out of control looks anything like this fall Hello Kitty mosaic bento box, then SIGN ME UP, because red, orange, and yellow should always be this freakin' cute.
And if you find yourself completely enraptured by the geometric beauty of this bento, then you are not alone; it's like this enigmatic Gestalt hypnotism at play, luring you in with it's uniformity and symmetry. The checkerboard patterning is the hallmark of the mosaic bento box, and can be made from rice, sashimi, vegetables, sandwiches – pretty much anything that a) varies in color and b) tastes good.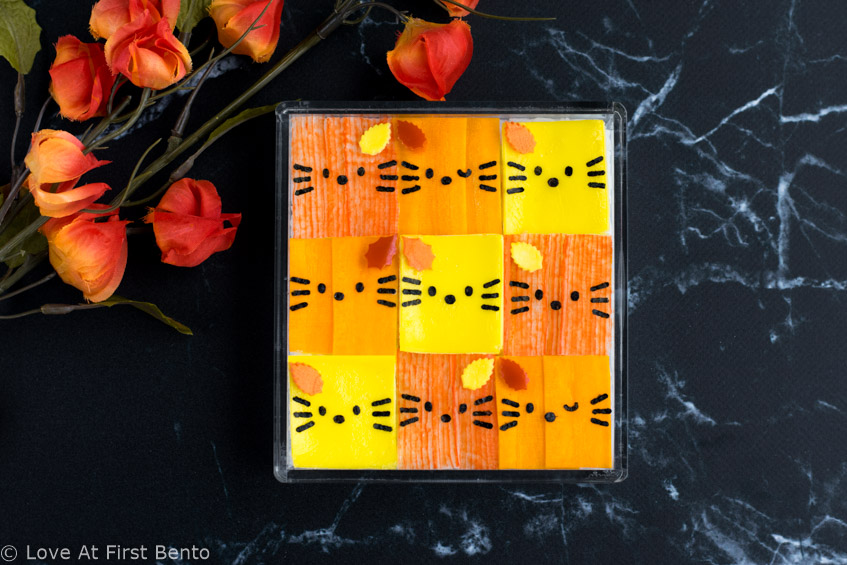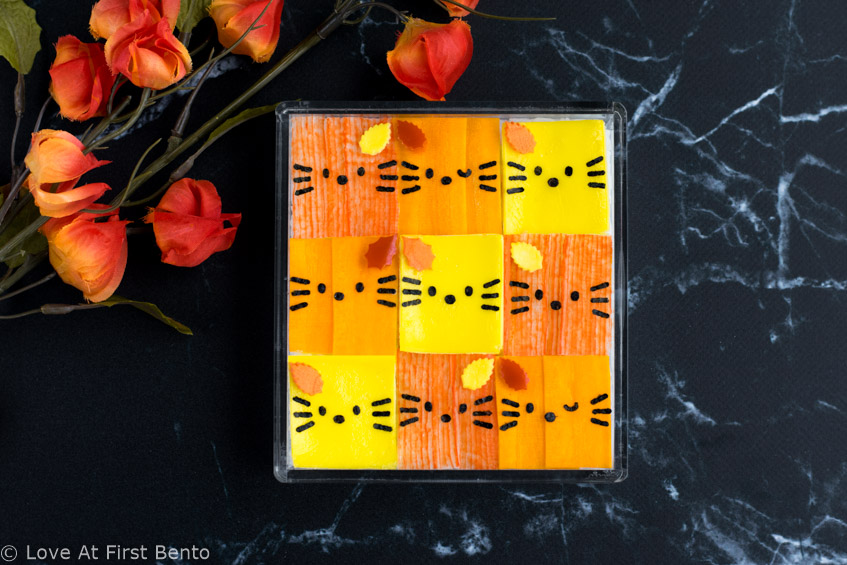 In order to transform this bento into a fall masterpiece, I used the red portion of imitation crab sticks for the red squares, thin shavings of carrot for the orange, and an egg crepe for the yellow. You can replace these with any similarly colored food items though, such as golden beets, bell peppers, or even leftover dyed rice from making autumn colored sushi rolls. And can we please take note of the adorable little leaf cutouts replacing the classic Hello Kitty bow? Just another way of making fall uber cute.
The idea of making a mosaic bento box may seem intimidating, but allow me to disprove that thought with a very serious question: who remembers drawing geometric shapes back in elementary school math class? You know, back when geometry was actually fun, and you didn't even know it was geometry because drawing squares and triangles was way too artsy to be classified as math? Making this bento will transport you back to that oh so simple time (#nostalgia). I mean, if you were capable of creating identifiable shapes back then, then you most definitely have the ability to execute this elegant bento box now – I'll assign it as your homework, just to make sure. 😉
Watch how to make Fall Hello Kitty Mosaic Bento Box (45 sec):
Here are my 3 indispensable tips for creating a beautiful mosaic bento box:
Use a ruler. I wasn't kidding when I said it was like grade 3 math class. Fitting all those squares snugly into your bento box requires a little bit of precision, so measure out your bento box and take the time to do the math before you prep and pack.
Make a tracer. Once you've taken your measurements, measure out your square on a sturdy piece of cardboard (I used an empty Kleenex box), cut it out, and voila – you've got yourself a homemade tracer you can use while cutting out all of your toppings. This ensures everything will be the same size, and, most importantly, will fit into your bento box.
Flatten your squares. You may find that some food items curl up naturally once cut into a square shape (such as the carrots). If this is the case, allow them to rest on a flat surface for a while with something heavy placed directly on top. Trust me: you don't want to deal with uncooperative food in the midst of detailed decorating.
Okay, just in case the thought of math left your brain frozen and disabled, here's an equation I KNOW you can get: what does Hello Kitty + Fall equal? Answer: a beautiful fall bento box that you need to make ASAP. Whether it's for you or a fellow Hello Kitty lover, this fall Hello Kitty mosaic bento is the perfect balance of cute, elegant, and delicious autumn goodness. Plus, I know you're all loving the fall colors just as much as I am (I see you with all your fall home decor). You know you can't resist.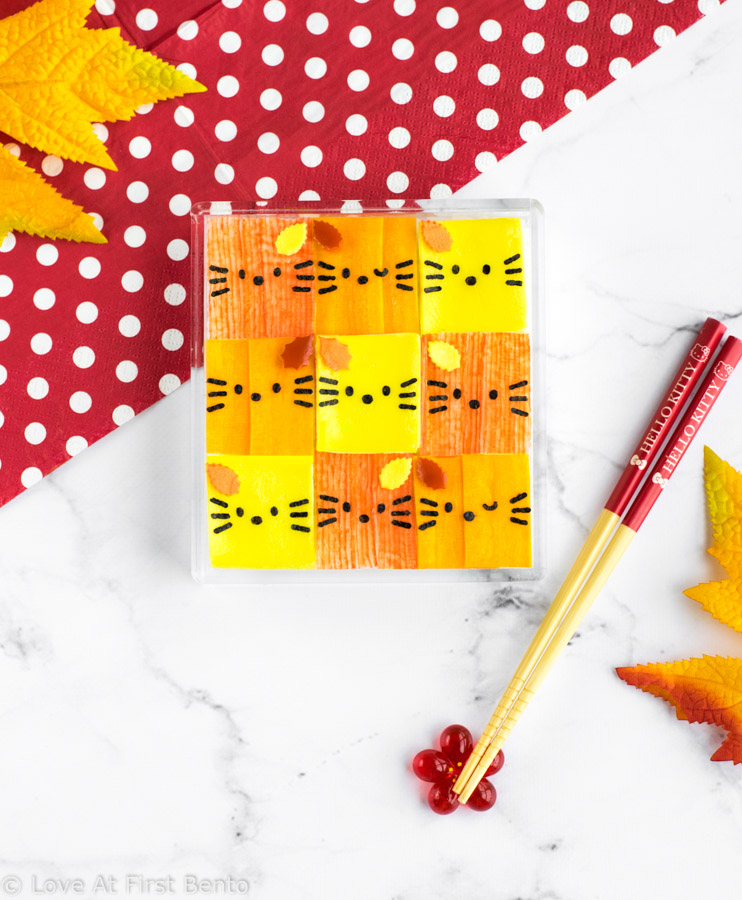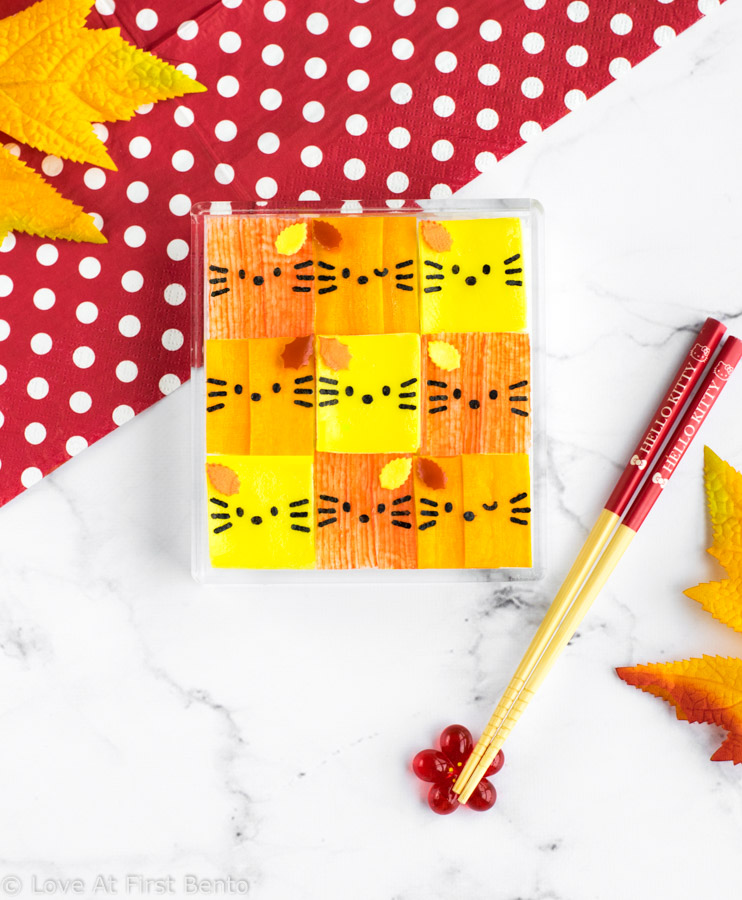 Print
Fall Hello Kitty Mosaic Bento Box
---
Author:
Yield: 1 3x3 mosaic bento
Category: Character Bento
Description
Learn step-by-step how to make this beautiful fall Hello Kitty mosaic bento box – perfect for Hello Kitty fans! The geometric pattern is not only an eye-pleasing design, but also an easy, no-fail way to make any bento box look like a work of art.
---
Ingredients
Food Items:
Cooked rice (enough to fill your bento box)
2 eggs
1 teaspoon cornstarch
1 carrot
2 – 3 imitation crab sticks (red portion only)
Nori seaweed
Recommended Tools:
Ruler
Piece of scrap cardboard or sturdy paper
Hello Kitty or cat face nori punch
Mini leaf cutter (~1.5 cm)
Vegetable peeler
---
Instructions
Egg Crepe:
Take your 2 eggs and separate the yolks from the whites. Add the yolks to a small bowl and discard the egg whites.
In a separate bowl, mix together cornstarch with 1 tablespoon of water. Add the cornstarch slurry to the egg yolks, and whisk together until fully mixed. Optional: Strain the egg mixture through a fine-meshed strainer – this results in a smoother egg crepe.
Heat a small non-stick pan over medium-low heat. Add the egg yolk mixture, and swirl to coat the bottom of the pan. Cover pan with lid and allow the egg crepe to fully cook. Remove carefully with a spatula and allow to cool.
Decorations:
Using a ruler, measure the length and width of the bento box you will be using. Divide each measurement by 3 to get the length and width measurements for each Hello Kitty square.
Take your scrap piece of cardboard, and measure out a square according to the measurements you took in Step 1. Cut this out with scissors – this will become your tracer.
Take the carrot and cut in half lengthwise. Using the vegetable peeler, peel long, thin ribbons of carrot from the flat cut-side of the carrot. With a knife and using your tracer as a guide, cut the carrot shavings into squares (3 total), overlapping the carrots as needed.
With a knife and using your tracer as a guide, cut the cooled egg crepe into squares (3 total).
With a knife and using your tracer as a guide, cut the red imitation crab sheets into squares (3 total).
Using the scrap pieces of carrot, egg crepe, and imitation crab, cut out leaves using the mini leaf cutter – you'll want 3 leaves in each color, for a total of 9 leaf cutouts.
Using the Hello Kitty/cat face nori punch, punch out the design from the nori. If using a Hello Kitty punch, reserve all pieces; if using a cat face punch, reserve the whiskers, eyes, and toe pieces of the pawprint (the eyes will become Hello Kitty's nose, and the pawprint toes make for good Hello Kitty eyes, since they are oval shaped). Make sure you punch out enough nori features for 9 Hello Kitty squares.
Assembly:
Fill your bento box with rice, leaving a little bit of space at the top to place the Hello Kitty squares. Flatten the surface of the rice using a rice paddle or clean, wet hands.
Place your carrot, egg crepe, and imitation crab squares on top of the rice in an alternating pattern. You'll end up with a 3 x 3 checkerboard pattern once complete.
Using tweezers, apply the nori facial features on top of each square. Start by adding the whiskers, then add the eyes and nose. To get a more accurate "Hello Kitty look", aim to place the eyes in between the top and middle whiskers. Feel free to use a little bit of water to help the nori stick better.
Using tweezers, apply the leaf cutouts where Hello Kitty's bow would normally go (either the top left or right corner). You can use some honey or mayo to help the leaves stick. I placed the red leaves on the carrot squares, the yellow leaves on the crab squares, and the orange leaves on the egg squares, but feel free to do whatever combination you'd like!
Notes
I actually used red pepper for my red leaf cutouts, since I thought it showed up better than the imitation crab; you can use either for this recipe.
© Love At First Bento. All images and content on this site are copyright protected. Please do not use any image without my prior permission. If you'd like to share this recipe on your own site, you are required to (1) link back to this post and (2) rewrite any instructions in your own words.
PS: For more Hello Kitty bento ideas, check out these Hello Kitty Rice Popsicles.
Tools used to make this bento: