Take your lunch to all new levels of cute with this Milk & Cookies Bento Box! Plus, learn how to make all natural blue food dye from scratch (spoiler alert: it takes less than 10 seconds).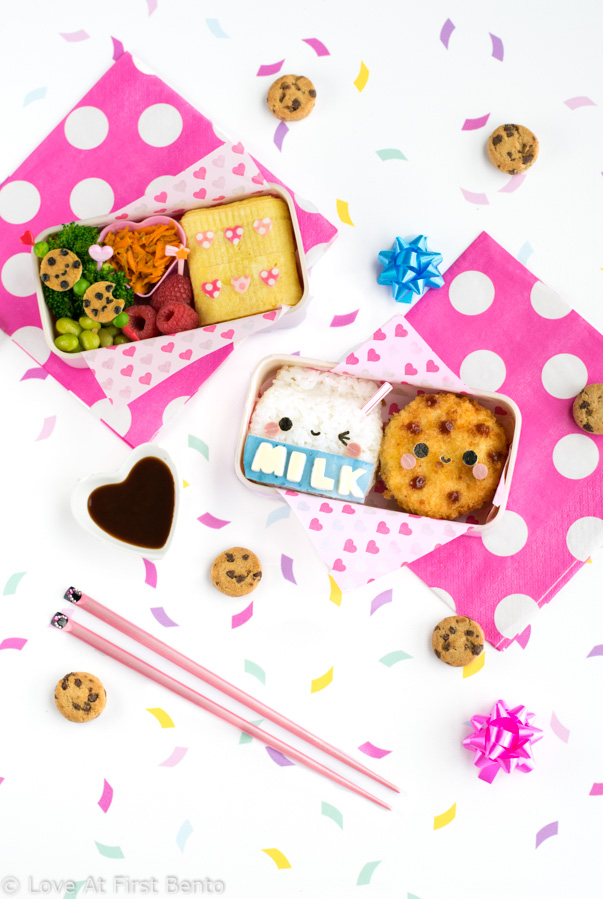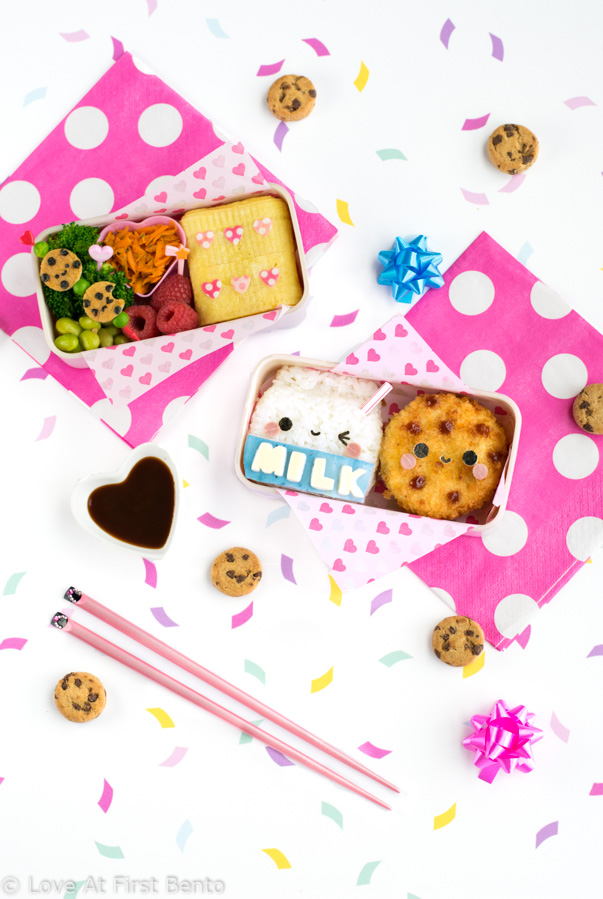 I don't think there exists a person who doesn't love milk and cookies. Is it even possible? I'm not sure our genetics allows for such an anomaly; it's like evolution naturally selected for humankind's fondness of this nostalgic childhood treat. But no amount of evolution could prepare you for the cuteness that is this milk & cookies bento box – it's cuteness of the highest, most lethal order, and it will melt your brain into a puddle of disabled neurons. (And that itty bitty little straw sticking out of the milk = finishing blow. Totally KO'd.)
This bento is for all of you who've ever dreamed of having milk and cookies for lunch (or breakfast, or supper). It's for all of you who'd rather skip the healthy stuff and go straight for dessert. Know someone who needs a little cheering up? This bento will for sure do the trick. And for any of you rare entities out there who don't like milk and cookies *cue gasps of horror*, I am almost 100% certain that laying eyes on this bento box will convert you into a loyal devotee. This is but a mere taste of milk and cookies' irresistible powers.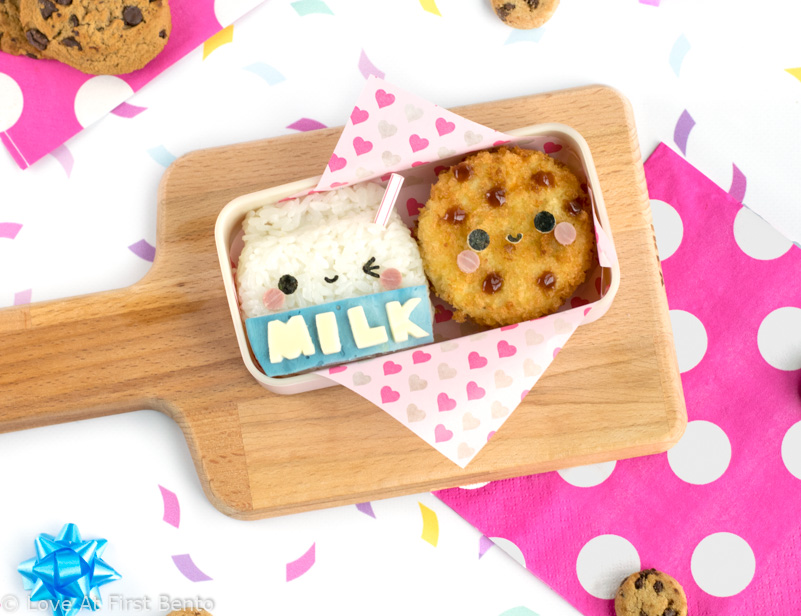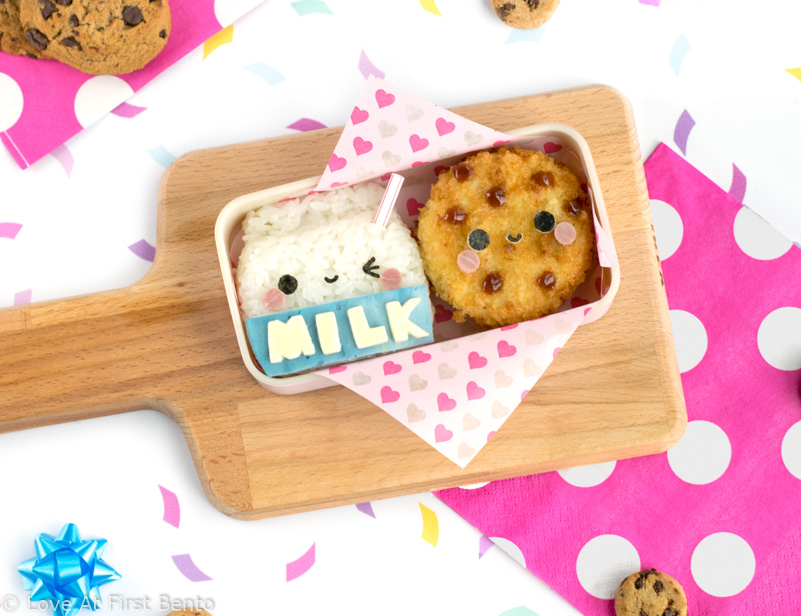 To make the "chocolate chip cookie" component of this milk and cookies bento, I used a homemade potato korokke patty (Japanese potato croquette), which provided the perfect golden brown backdrop. My absolute favorite korokke recipe comes from Namiko Chen of Just One Cookbook – I highly recommend you give it a try! It's the perfect combination of crispy deep-fried panko breadcrumbs surrounding a light, pillowy filling of mashed potato goodness. Transforming these golden korokke patties into "korokke cookies", however, involves two key steps:
When making your korokke, shape the potato mixture into small, circular discs – this ensures your "cookies" will be round. Make sure they're small enough to fit inside your bento box as well.
Add "chocolate chips" to your korokke cookie by adding little dollops of tonkatsu sauce to the surface. I used a mini squeeze bottle for this, but you can also apply them using the back of a chopstick or a small spoon.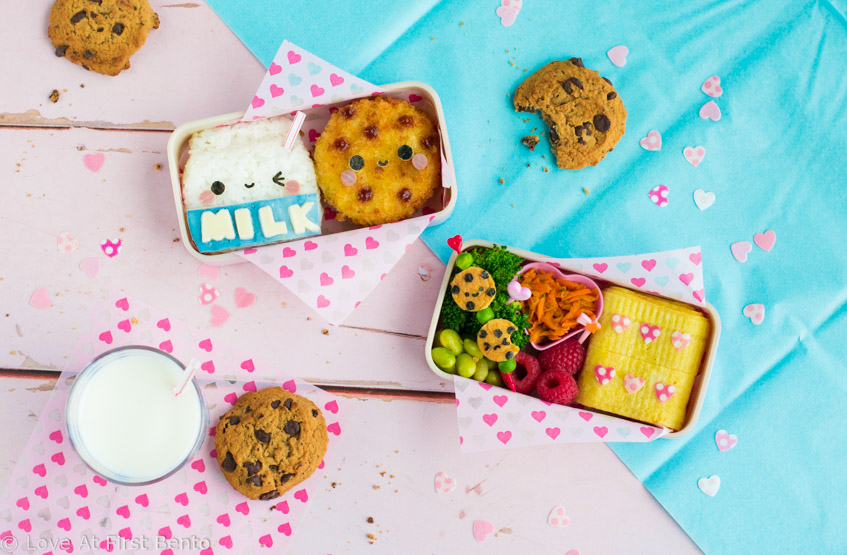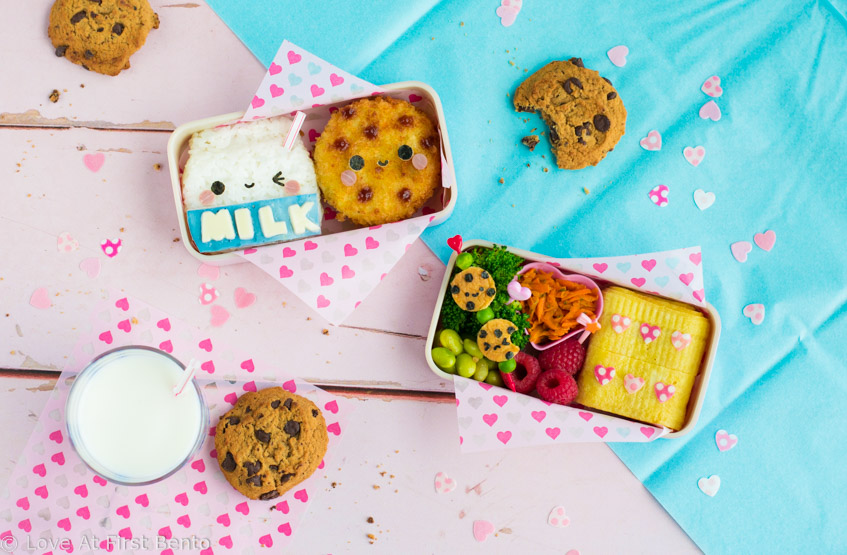 Next up, we have our cute little milk carton made from rice. And CHEAT ALERT: we're going to use a tupperware container to shape the rice! I used one of those tiny 6×6 cm containers, and it worked like a charm. The only key steps to ensuring success are a) making sure the container is nice and wet, and b) pressing down that rice to fill up all the nooks and crannies. If you don't have any small-sized containers, try using a bigger one and only filling up one corner of it with rice – just be sure to smooth and pat down the top and edges thoroughly, until you're left with a nice square shape.
The other mystery surrounding our milk is that blue label – which, btw, is actually just chicken ham that's been soaked in blue food dye. Making an all natural, homemade blue food dye is actually surprisingly simple: just combine water with this Blue Matcha powder from Bluechai – my favorite ingredient for dying all things blue, as it's 100% natural, 100% vegetarian, and also doubles as a yummy tea blend! As a special reader bonus, use the discount code "loveatfirstbento" at checkout to receive 10% off your order. <3
Watch how to make Milk & Cookies Bento Box (60 sec):
So, we've unraveled the mysteries behind our savory milk and cookies: now how do we go about making them cute enough to cause cardiac arrest? Here are my best tips for making ANY food debilitatingly adorable:
Go for big eyes, tiny mouth.
Keep the mouth on the same horizontal plane as the eyes (rather than placing it below the eyes).
Add rosy cheeks – they have an instant cute boosting effect, and can be made from ham, ketchup, imitation crab, or salami. Bonus points if you place the cheeks so that they just touch the outside edge of the eyes.
To accompany my milk & cookies bento box, I have a second tier filled with spicy garlic edamame, steamed broccoli, tamagoyaki (topped with wafer heart sprinkles), carrot salad, fresh raspberries, and a cute "cookie" food pick (find out how to make this in the Recipe Notes below). I also recommend packing extra tonkatsu sauce on the side, since smothering your korokke in it is a necessity.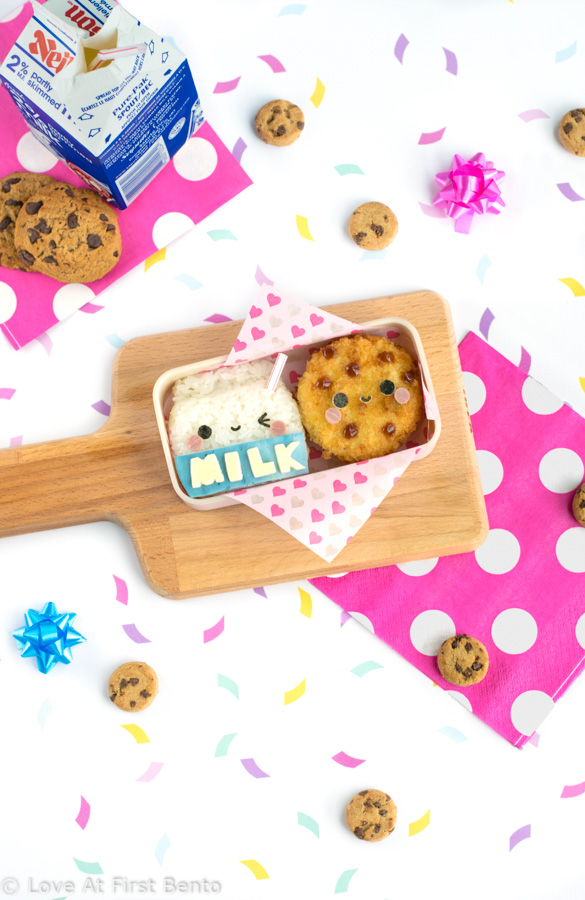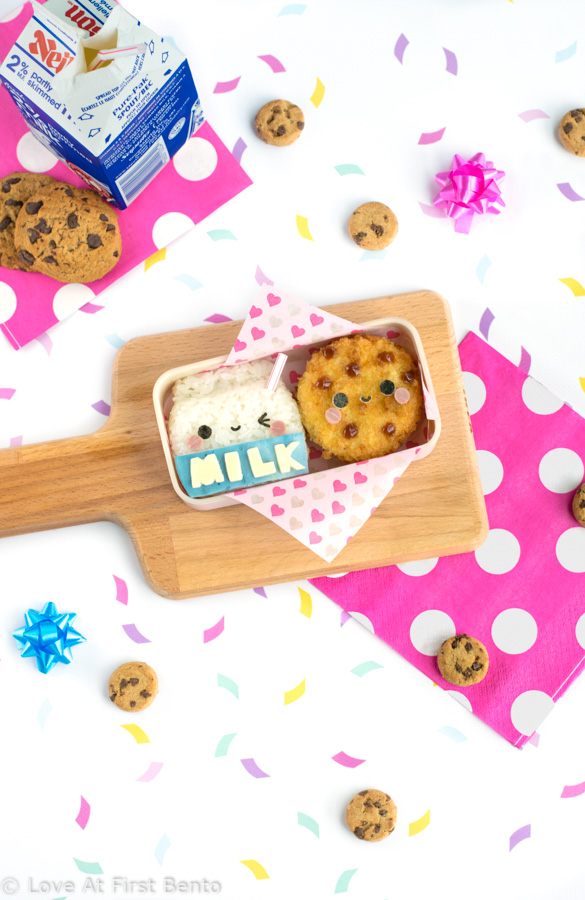 So, while there may not be any real milk and cookies in this bento box, there's more than enough cuteness to make up for that. Treat yourself, and have some "milk and cookies" for your next lunch – it's sure to be the perfect precursor for the actual milk and cookies that are bound to be dessert. 😉
PS: If you're wondering how many cookies I ate while shooting this bento, it was at least a whole box. I regret nothing.
Print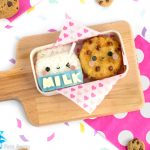 Milk & Cookies Bento Box
---
Author:
Yield: 1 Bento
Category: Cute Bento
---
---
© Love At First Bento. All images and content on this site are copyright protected. Please do not use any image without my prior permission. If you'd like to share this recipe on your own site, you are required to (1) link back to this post and (2) rewrite any instructions in your own words.
Tools used to make this bento:
DISCLAIMER: This page contains affiliate links. If you make a purchase through one of these links, I will earn a small commission (at no extra cost to you!), which helps to keep this site running. Thank you for supporting Love At First Bento!