Lunch doesn't get any cuter than these Mini Baby Seal Fish Burgers. They're easy to make, and almost too cute to eat!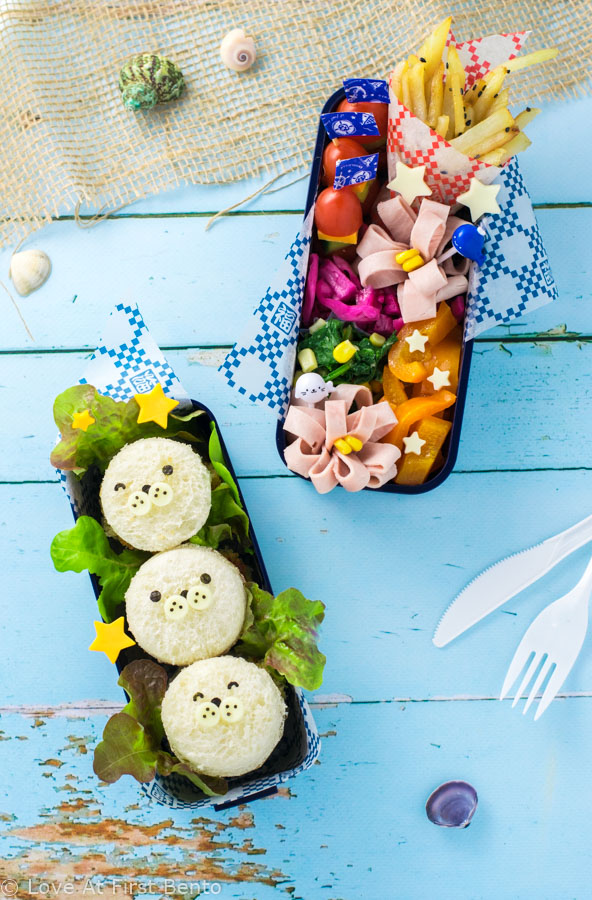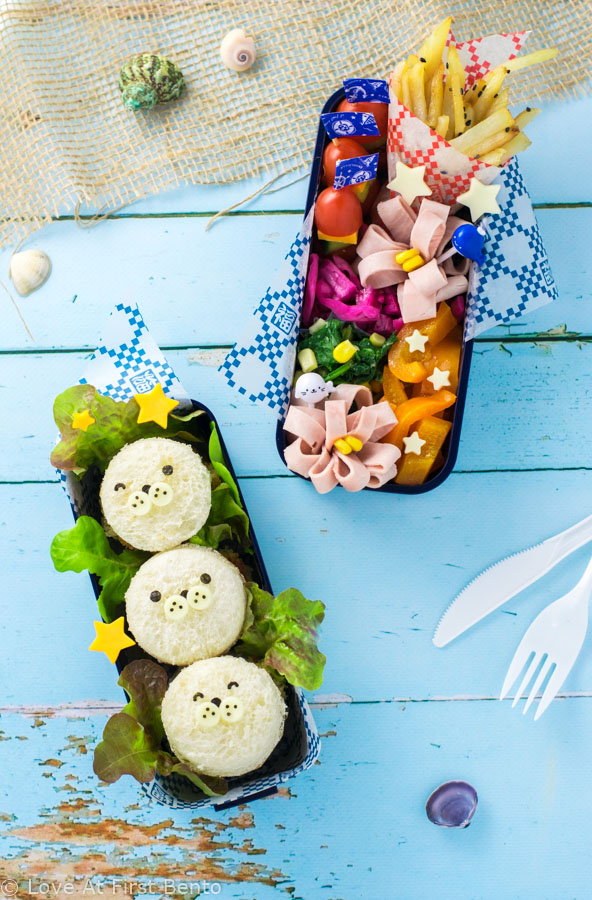 Seals are definitely one of my all-time fave aquatic animals. Every time I see them at the zoo or aquarium, I have to be physically dragged away from the exhibit, lest I decide to camp out for the night. If you show me a picture of a baby seal, I will literally scream in agony over the sheer unbearable cuteness. If it's a video, I'll enter cardiac arrest. Because baby seals are precious, innocent little puffs of heaven on earth. Their very existence demands adoration.
And now you can adore them in your bento box, thanks to these mini baby seal fish burgers, which I proclaim as being, quite possibly, the cutest lunch on earth. And extra good news: they're super easy to make! Which means there's no excuse for not making lunchtime the cutest part of your day anymore. (Just like there's no excuse for not watching baby seal Youtube videos for way too long a period of time. I mean, something THAT cute can't possibly be a form of procrastination, right?)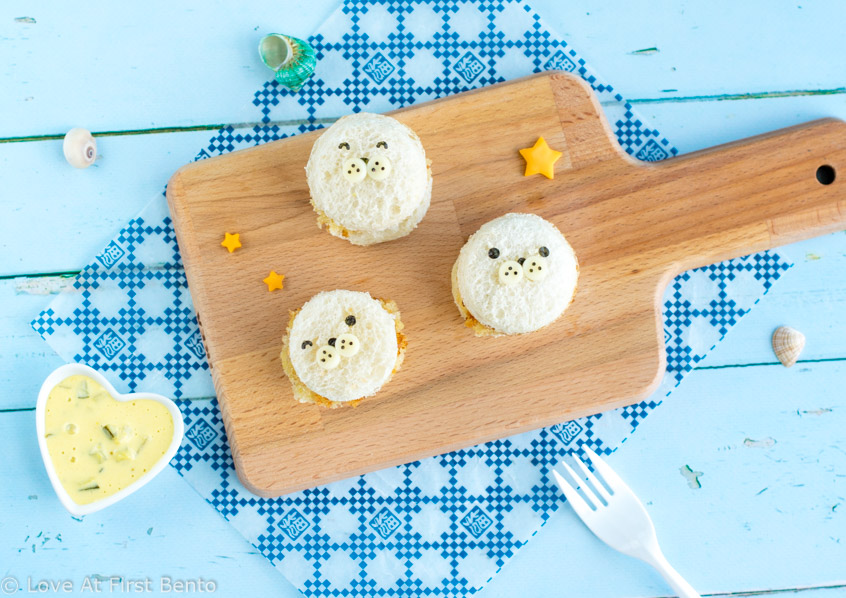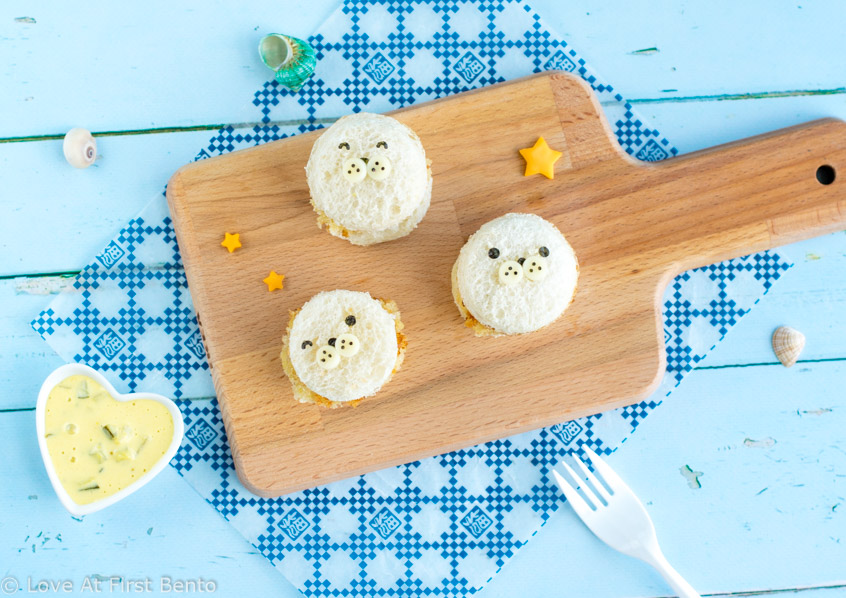 These baby seal fish burgers were fully inspired by the Filet o' Fish burger recipe created by Stephanie, the sensational mastermind behind i am a food blog. Using her recipe as the base, I made the fish burgers, cheese, and buns into cute mini circles by using a circle cookie cutter; it worked like a charm, and the mini burgers still tasted just as delicious as their full-sized brethren. I recommend cutting the fish into circles before you bread and fry it, though; you may end up with a squished, mutilated fish patty otherwise. I also cut the very tops off my burger buns, which made them easier to cut through and provided me with the perfect foundation for my adorable baby seal faces.
Watch how to make Mini Baby Seal Fish Burgers (30 sec):
The second tier of my bento box was filled with potato kinpira (which I opted for instead of fries), spicy yellow bell peppers, leftover pickled cabbage, corn & spinach saute, and some cherry tomato "sandwiches", which were filled with cheddar cheese and cucumber and secured with homemade nautical flag picks. I filled in the spaces with some ham flowers, which you can learn how to make for yourself in my ham & egg flower tutorial – they literally take under 1 minute to complete!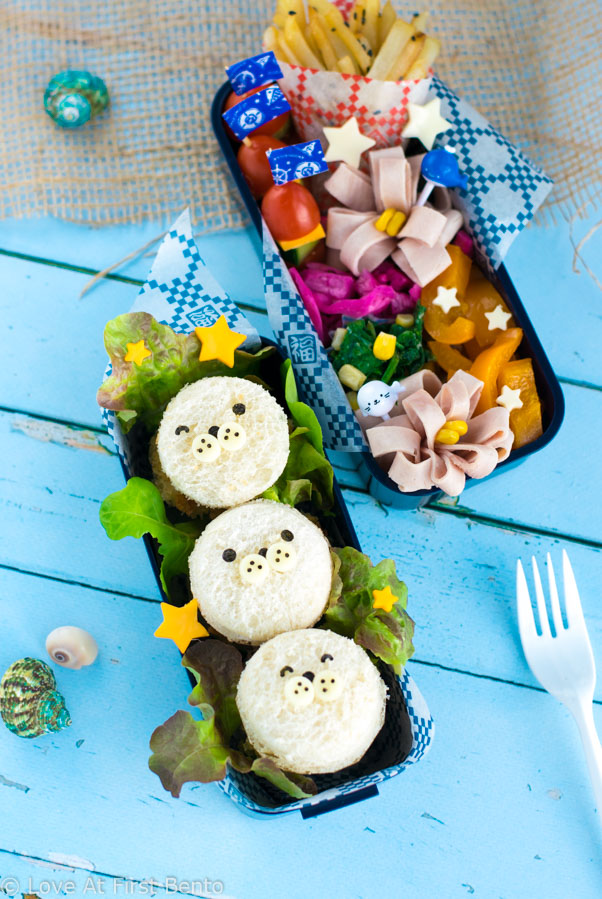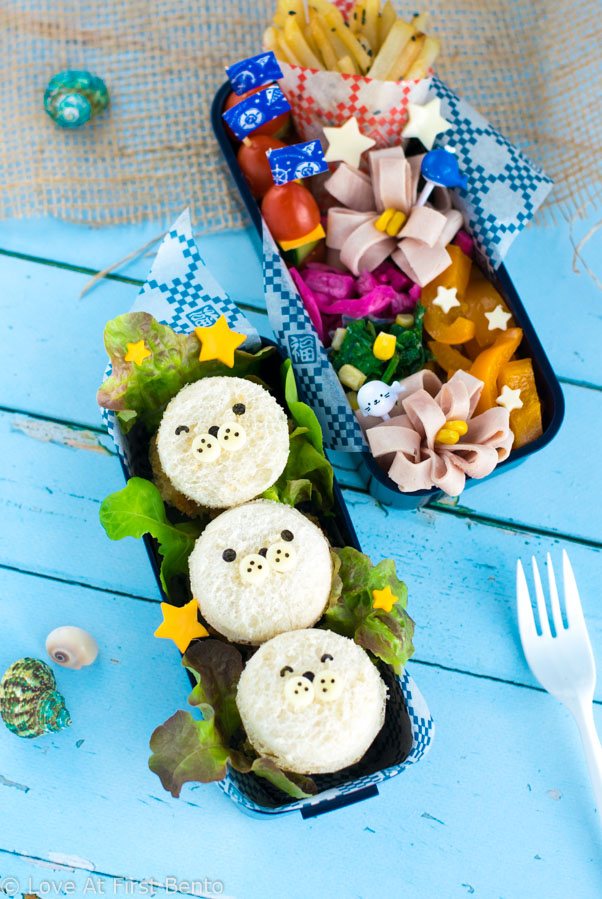 So, if you want a lunch that's equal parts delicious and adorable – and let's face it, who doesn't – then please, pretty please, try making these mini baby seal fish burgers. You seriously can't beat opening up your bento box and finding cute baby seal faces beaming up at you. Your day will = made forever.
And now, if you'll excuse me, I'm off to watch some more baby seal videos.
Print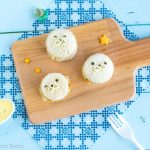 Mini Baby Seal Fish Burgers
---
Author:
Yield: 3 Mini Burgers
Category: Cute Bento
Description
Easy, step-by-step instructions for turning mini fish burgers into adorable baby seals!
---
Ingredients
Food Items:
3 hamburger buns (you can use slices of white bread instead)
3 mini Filet o' Fish burgers (recipe from i am a food blog)
3 slices of American cheese
Tartar sauce
White cheese (such as provolone, swiss, or white Kraft Singles)
Nori seaweed
Recommended Tools:
Circle cookie cutter (~ 5.5 cm)
Mini circle cutter (~ 1 cm)
Small circle nori or craft punch
Small smiley face nori punch (optional)
---
Instructions
Take the top bun of each burger bun and carefully cut off the very top, so that you have a flat, white surface to work with. Using the circle cookie cutter, cut both the top and bottom buns of each burger bun, so that you end up with 6 circles. Set aside.
Using the circle cookie cutter, cut out 3 circles of American cheese. You can cut the scrap pieces of cheese into stars, if you'd like, and add them to the bento box as decoration.
Using the mini circle cutter, cut out 6 circles from the white cheese – these will become the seals' cheeks.
Using the small circle nori or craft punch, punch out a total of 9 circles from the nori – 6 will become the eyes, and 3 will become the nose.
Optional: Using the small smiley face nori punch, punch the pattern out 9 times from nori. Reserve only the eyes (this should result in 18 tiny circles). These will become the little whisker dots on the seals' cheeks.
Take one of the burger top bun circles, and lay on a flat surface. Using tweezers, apply a nori nose in the middle of the bun. You can use some of the tartar sauce to help it stick, if necessary.
Using tweezers, apply cheese cheeks. They should just cover the bottom part of the nose, and both cheeks should be touching each other. Again, use tartar sauce as "glue" if necessary.
Optional: Using tweezers, apply the tiny nori whisker dots on top of the cheese cheeks. You will want to add 3 per cheek, and apply them in a triangle pattern.
Using tweezers, apply the nori eyes. Use tartar sauce as "glue" if necessary.
Repeat steps 6 – 8 on the remaining 2 burger top bun circles.
Assemble your 3 mini fish burgers (patty + cheese + tartar sauce + buns), and pack into your bento box.
© Love At First Bento. All images and content on this site are copyright protected. Please do not use any image without my prior permission. If you'd like to share this recipe on your own site, you are required to (1) link back to this post and (2) rewrite any instructions in your own words.
Tools used to make this bento: