Become a Pokemon master by making this Pokeball Omelette Rice for your next bento box. Perfect for Pokemon fans of all ages!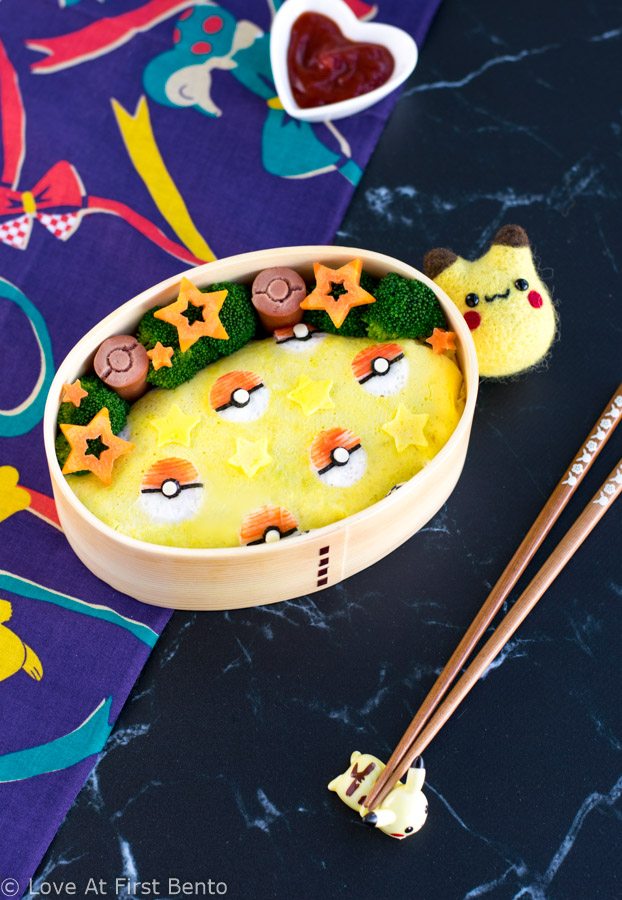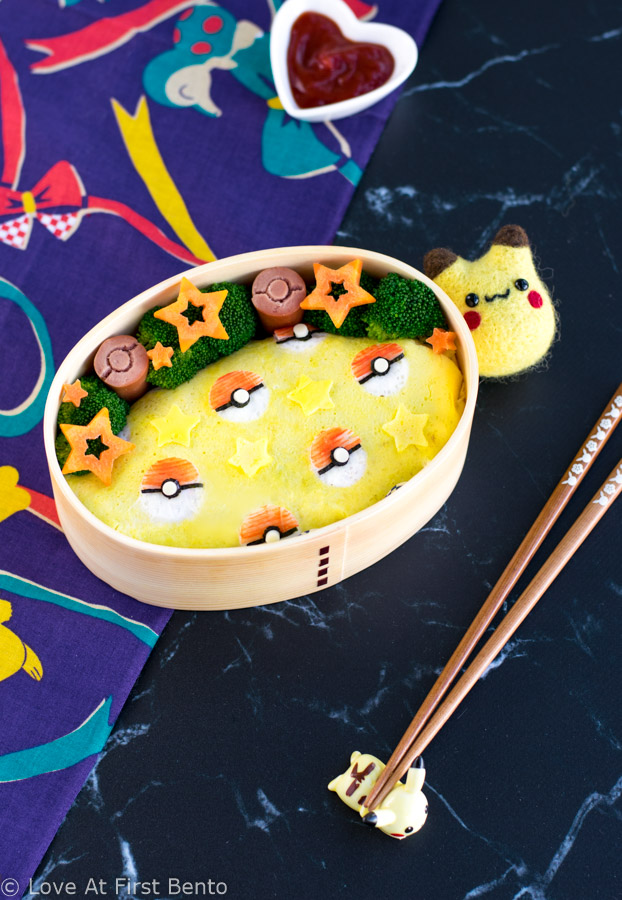 Pokemon has always been a huge part of my life, ever since it first aired in Canada on YTV in 1998. I would devotedly watch every Saturday morning, never missing an episode, and would fill the Pokemon void during the week by collecting, organizing, and trading my precious Pokemon cards, of which I had somewhere around 850 (the fact that I still remember that number goes to tell you how seriously I took my collecting). I also had a not so low-key crush on Ash. My family never lets me forget that one.
Fast forward to present day, and I am proud to say not much has changed with regards to my Pokemon devotion (save my love for Ash, which is thankfully no longer a thing). I may not be able to whip off the names of every Pokemon in existence like I used to, but I can whip up some pretty awesome Pokemon themed bento boxes, like this Pokeball omelette rice bento. I mean, even a non-Pokemon fan would have to admit this is pretty dang epic. Just looking at it is enough to transform you into a Pokemon trainer, ready to take on whatever rattatas and pidoves the tall grass throws at you. The only thing missing is your very own Pikachu.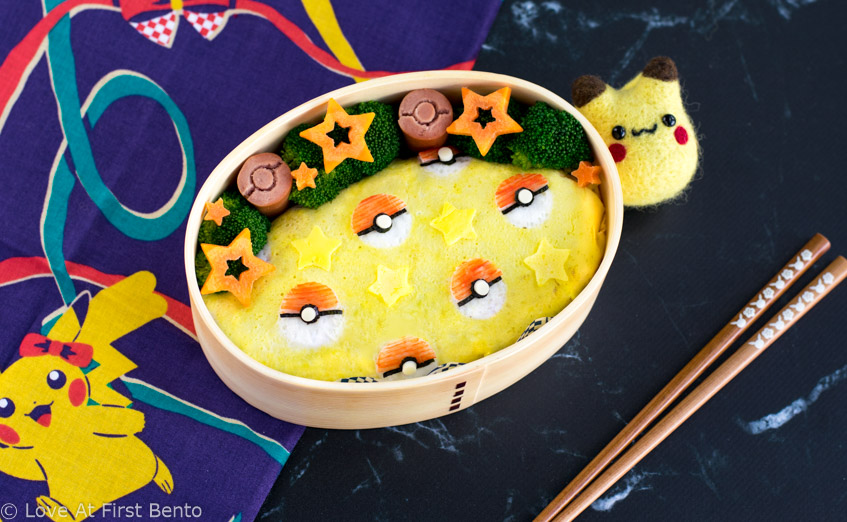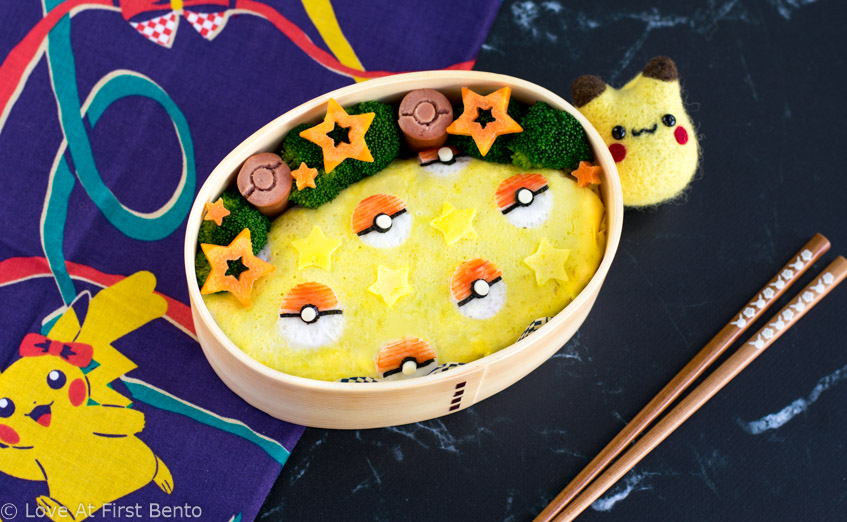 Omelette rice – or "omurice", based on the truncated Japanese pronunciation – is a "Western-style" Japanese dish, consisting of ketchup rice blanketed in a thin egg omelette. Kids (and adults) love it, and it tastes great cold or warm, which is why it's a classic, very popular bento box item.
Turning regular omurice into Pokemon omurice relies upon one key tool: a small circle cutter. This is used to punch out the Pokeball shapes from the omelette, as well as to cut out the red component of the Pokeball. Don't have a suitable circle cutter for the job? Try using the back of a piping tip – you know, the ones you use to ice cakes and pastries with. Sounds weird, but it makes for the perfect circle cutter in a pinch. Now there's no stopping you from becoming a Pokemon omurice master!
Watch how to make Pokeball Omelette Rice (40 sec):
I paired the omurice with steamed broccoli, pan-fried Pokeball hot dogs, and carrot stars; I wanted the sides to be relatively simple, since the real star of the show is the Pokeball omurice. I made the Pokeball hot dogs by using a special cutter that came with this Pokemon curry mold kit – you just stick the cutter right into the cut end of your hot dog, and voila: you've got yourself a fancy side dish that took no time at all!
So, if you want to make a Pokemon fan's life that much more complete, I highly recommend making them this Pokeball omelette rice bento box. Yes, it's a little more work than throwing a regular old omelette into a bento box with some rice. But I promise you, when you look down at the masterpiece you'll have created, you will feel like a total kitchen gym leader (I know I sure did), and it will go down in history as being one of the coolest things you've ever made.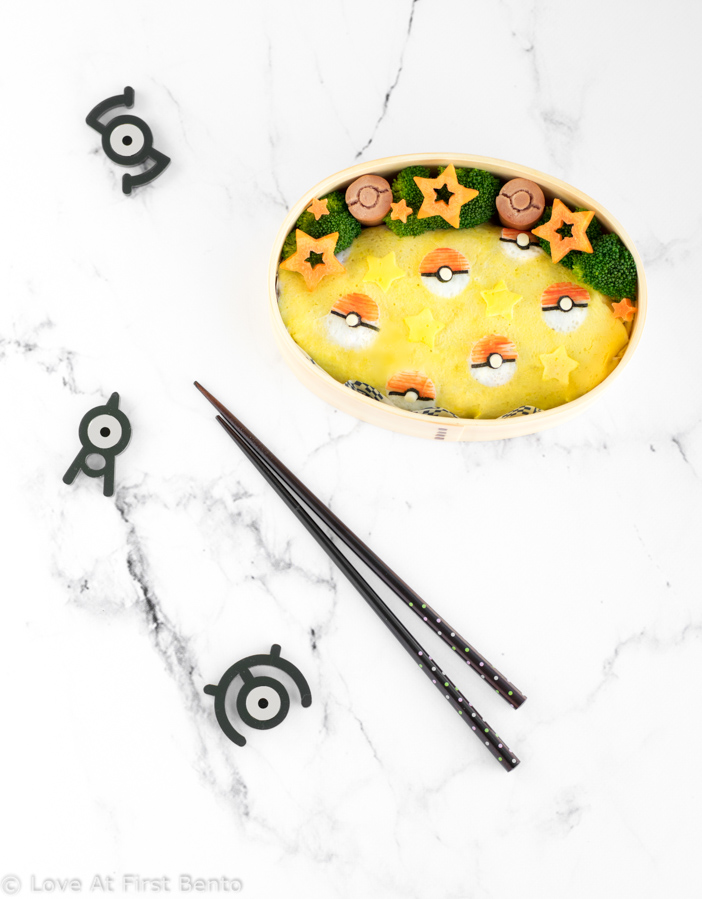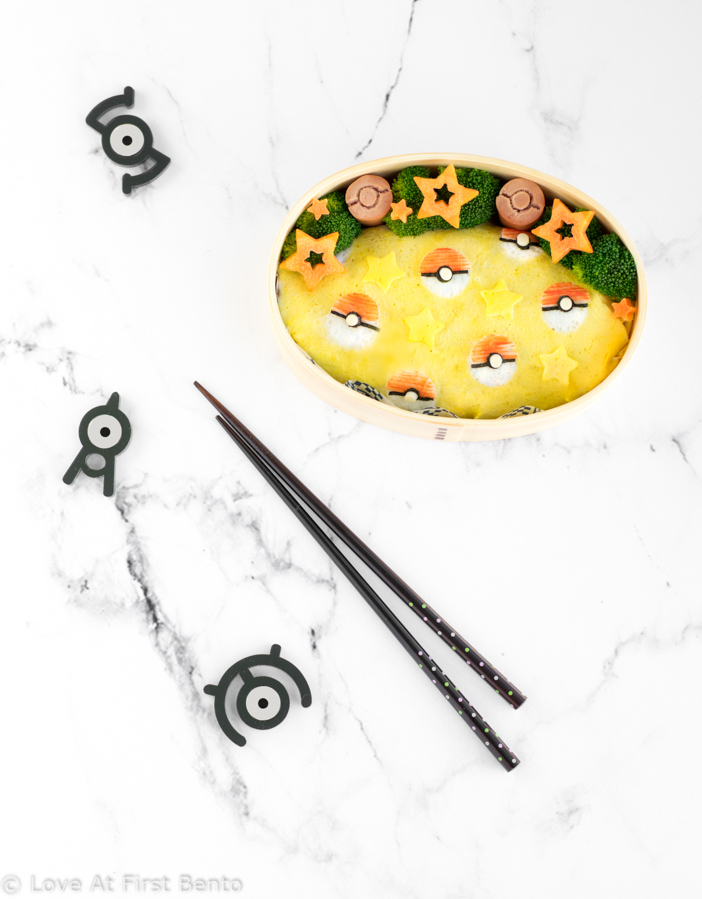 PS: If you want a really hard hit of nostalgia, listen to the Pokemon theme song while making this. Or just listen to it right now, because the Pokemon theme = the anthem of life.
Print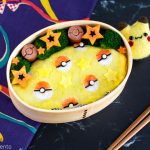 Pokeball Omelette Rice (Omurice)
---
Author:
Yield: 1 Omelette Rice
Category: Character Bento
Description
Step-by-step instructions for turning traditional Japanese omelette rice (omurice) into Pokeball omelette rice. Perfect for Pokemon fans of all ages!
---
Ingredients
Food Items:
1 serving of ketchup rice (here's the recipe I use)
2 eggs
Nori seaweed
2 – 3 imitation crab sticks (red part only)
White cheese slice (such as provolone, swiss, or white Kraft Singles)
Recommended Tools:
Small circle cutter (~2.5 cm)
Multi-purpose nori punch
Tiny circle cutter or drinking straw
Medium-sized circle nori punch* (see Notes for details on what I used)
Small star cutter (optional)
---
Instructions
Omelette:
In a small bowl, whisk together 1 whole egg + 1 egg yolk (reserve the egg white in a separate bowl, as you will use it later) until evenly yellow in color. Feel free to add a pinch of salt if you'd like.
Heat a non-stick pan coated in oil or non-stick spray over medium heat. Once hot, add your whisked egg mixture, swirling it around until it evenly coats the entire bottom of the pan. Fully cook the omelette, then carefully remove onto a large plate or cutting board.
Using the small circle cutter (2.5 cm), cut out as many circles from the omelette as you'd like – these will become the Pokeballs. Note that you don't have to make any circles around the very edges, as these will be folded over. Optional: Reserve the scrap pieces of omelette for decorating purposes.
Heat your pan up again, and, once warm, place your "holey" omelette back in. Using a spoon, carefully spoon your reserved egg white into each hole (you can add a few drops of water to the egg whites to make them a little easier to pour). Allow the egg whites to fully cook, then remove the omelette from the pan and allow to cool.
Decorations:
Using the multi-purpose nori punch, punch out the design from the nori, reserving the straight line piece. I used two straight nori lines per Pokeball, so make sure you punch out double the amount of lines you have holes in your omelette.
Using the medium-sized circle nori punch, punch out as many circles as you have Pokeballs from the nori.
Using the small circle cutter (2.5 cm), cut out half as many circles as you have Pokeballs from the imitation crab sticks. Cut each crab circle in half – these will become the top red portion of each Pokeball.
Using the tiny circle cutter or a straw, cut out as many circles as you have Pokeballs from the white cheese slice.
Optional: Using the small star cutter, cut out as many star shapes as you'd like from the scrap omelette pieces.
Assembly:
Place warm ketchup rice in plastic wrap, wrap completely, and then shape into a football shape with your hands. Have the bento box you'll be using on hand, and then compare the shape of your rice to the edge of the bento box to ensure it will fit snugly.
Place cooled ketchup rice into the middle of your omelette. Using a knife, make small incisions around the edges of the omelette – this will help it to fold over the rice better. If there seems to be too much omelette, feel free to cut some off. Carefully wrap the omelette around the rice, then flip over and place it into the bento box you'll be using. Finish wrapping the omelette around the rice and tucking it in as best you can. If there are a few pieces or areas of omelette that aren't cooperating, then you can use side dish items, such as broccoli or hot dogs, to keep the edges tucked in.
Using tweezers, apply two straight nori lines in the middle of a white circle. The lines should divide the circle in half horizontally.
Using tweezers, apply the red crab half circle to the top half of the white circle.
Using tweezers, apply the nori circle atop the nori lines, right in the very middle.
Using tweezers, apply the white cheese circle atop the nori circle, right in the middle.
Repeat steps 3 – 6 for the remaining white circles, until they've all become Pokeballs.
Optional: Place omelette stars randomly atop the yellow portions of the omelette for extra decoration.
Notes
*For the medium-sized nori circle, I actually used the cutter that came with my cat onigiri mold set. I used the part meant to cut the cat's eyes to make the circles, as these were the perfect size. If you have other onigiri mold sets (eg: bunny, dog) that have eye circle punches, then feel free to use these instead. Or, if you have a nori or craft punch that produces a big enough circle, that would be even better! As long as the nori circle is slightly bigger than your cheese circle, then you're good to go.
I recommend making the omelette in a circular pan anywhere from 8 inches – 11.5 inches in size. A square tamagoyaki pan would also work.
If you find any of the decoration pieces aren't sticking to the omelette, then feel free to use a bit of honey or mayo to help them stick better.
© Love At First Bento. All images and content on this site are copyright protected. Please do not use any image without my prior permission. If you'd like to share this recipe on your own site, you are required to (1) link back to this post and (2) rewrite any instructions in your own words.
Tools used to make this onigiri: