Pusheen Sushi – AKA "Susheen" – will have Pusheen fans around the globe squealing with glee! 100% natural colors, 100% delicious, and 100000% adorable!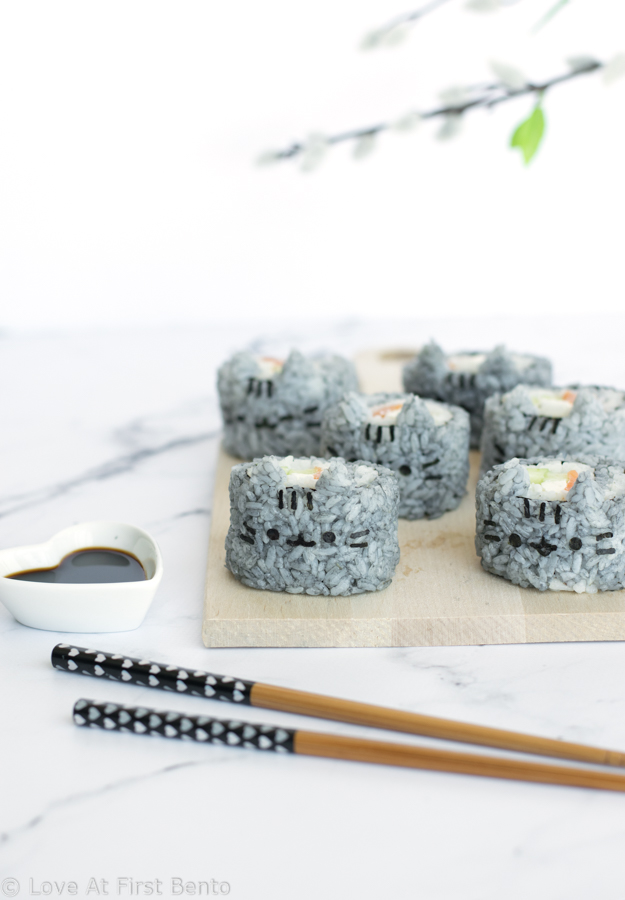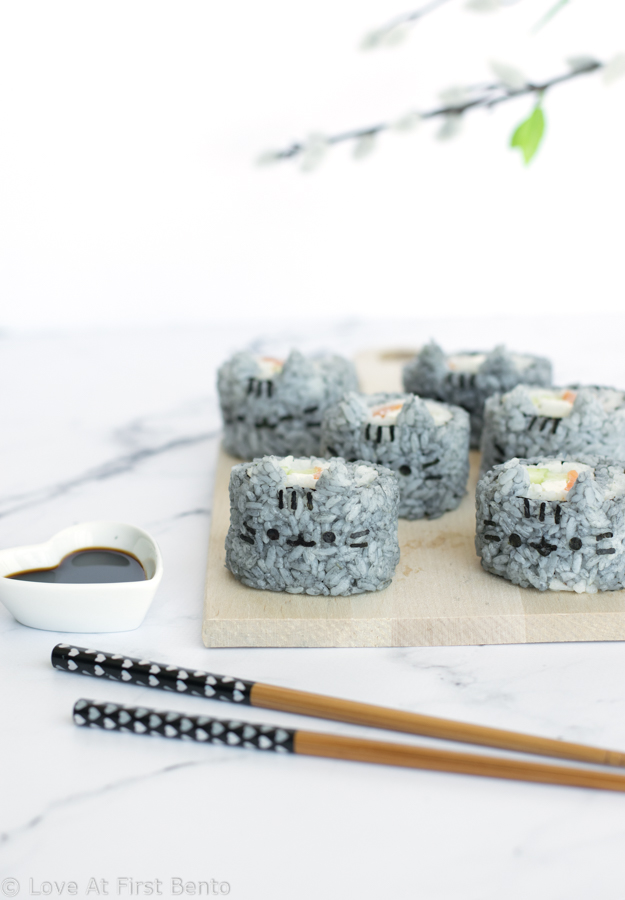 Okay, math question time: Love At First Bento style.
Q: What do you get when you combine Pusheen + sushi?
a) Susheen
b) Quite possibly the cutest sushi the world has ever seen
c) A one way ticket to heaven for any and all Pusheen fans
d) All of the above
Correct answer: d (for obvious reasons).
Serious talk though, you guys, Susheen is here, it's intergalactic levels of adorable, and I think, to celebrate this monumental moment, a Pusheen sushi party is definitely in order. Filled with a delectable combo of smoked salmon, cucumber, and cream cheese, these deco sushi rolls are perfect for popping into bentos, taking on a picnic, or serving at a party. Or, I mean, you can just make a whole tray for yourself and your Pusheen dolls to inhale while binge-watching Netflix. Seriously, no judgement here.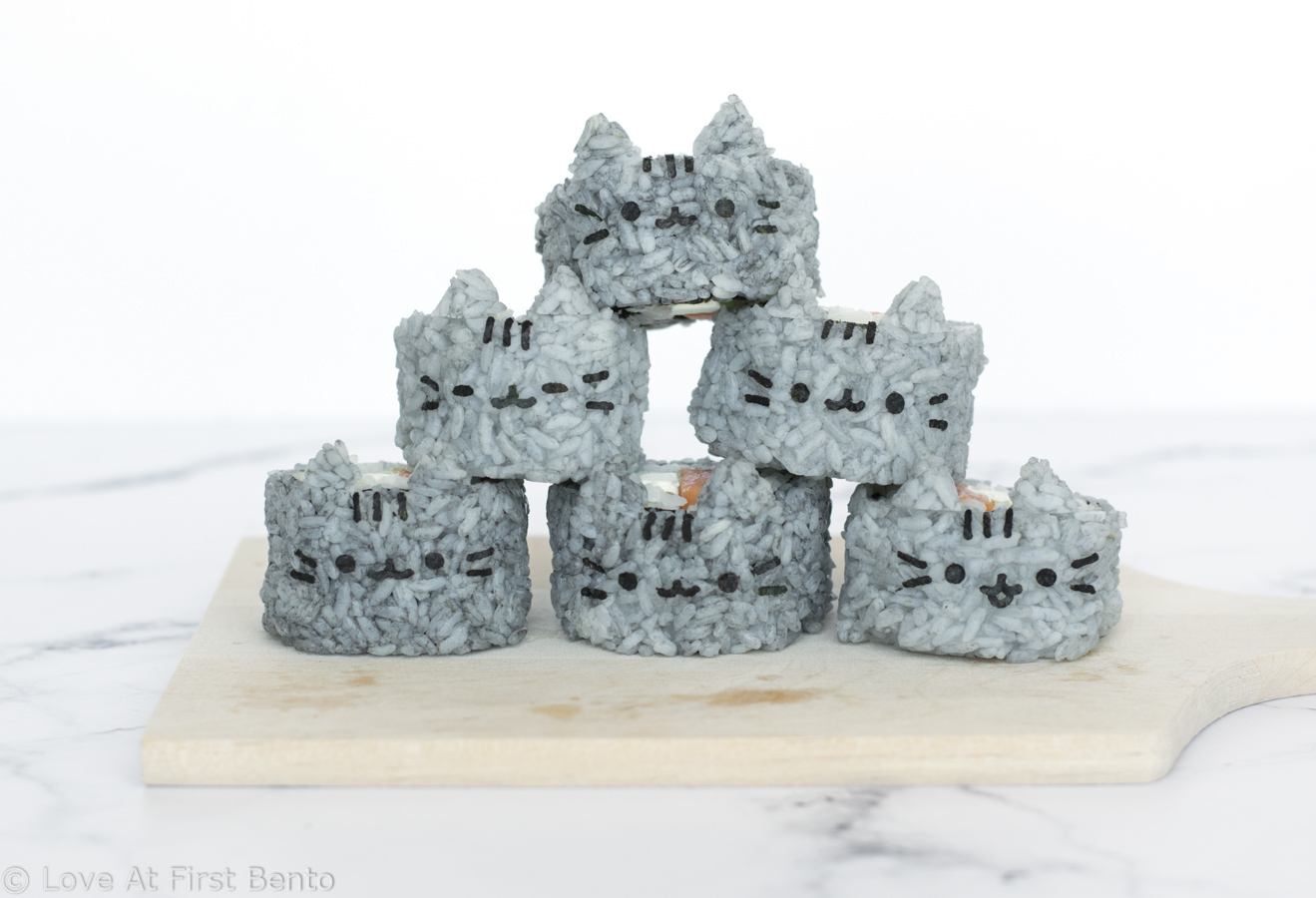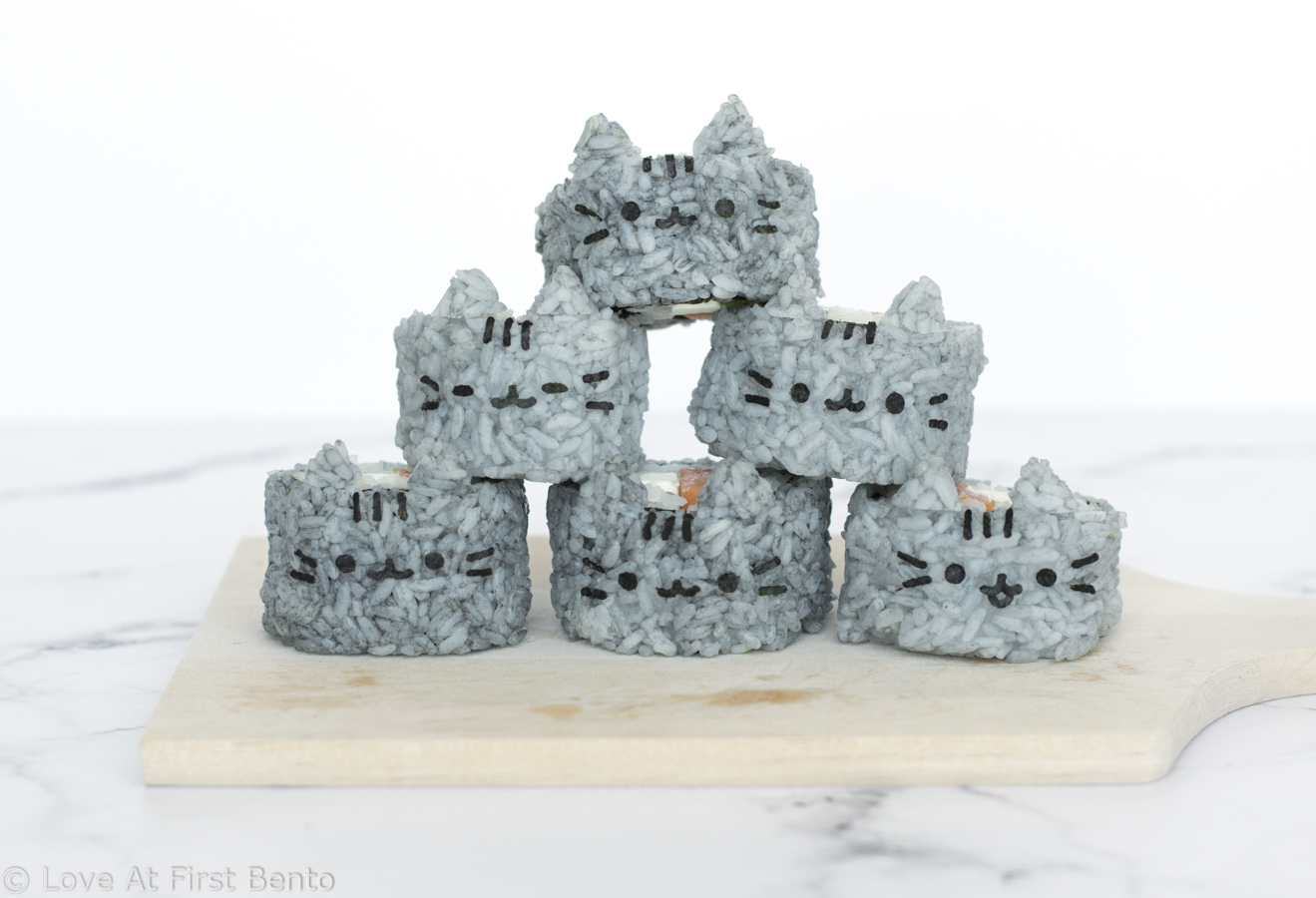 Pusheen-ifying Your Sushi
If you have experience making regular sushi, then you are more than qualified to give Pusheen sushi a go. While it may technically be categorized as "deco sushi", don't let that intimidate you: the hardest part about making Susheen is, honestly, the rolling of the sushi, so if you have that under control then you're good to go. If you need a little refresher, check out my Candy Cane Sushi video tutorial for a visual demonstration of how to roll sushi.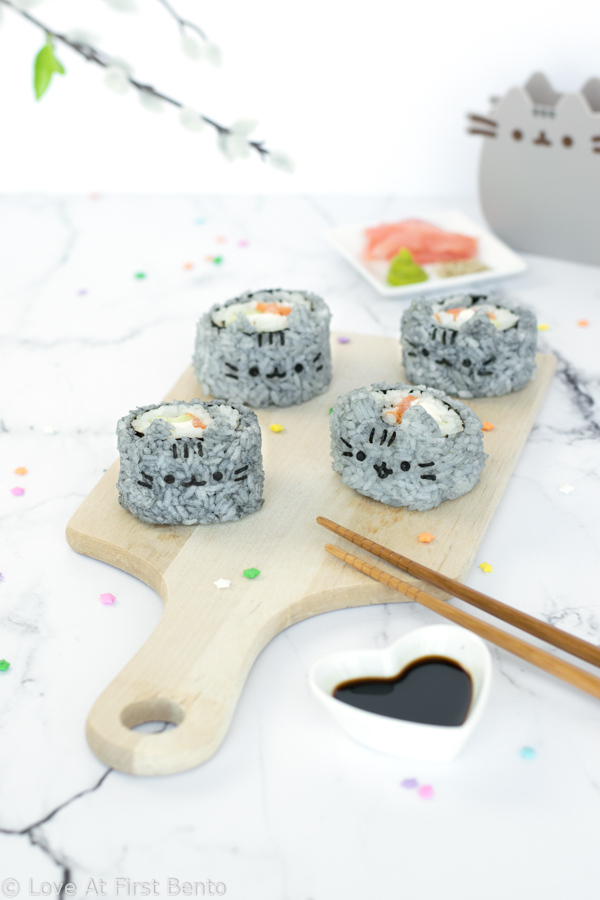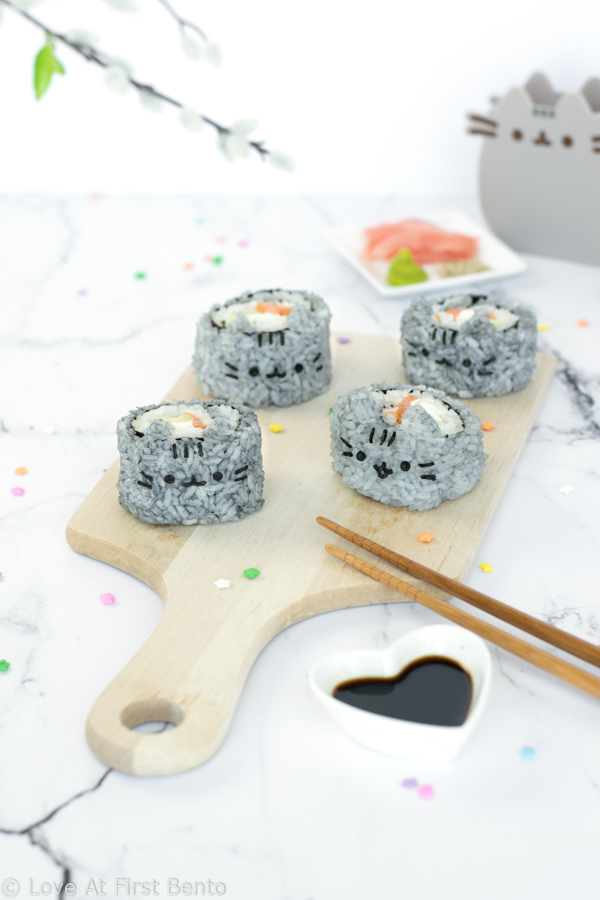 To turn the sushi rice from plain white to Pusheen grey, I used a new natural dye method that I am totally in love with: charcoal powder. Made from the charred remains of plant products such as bamboo, wood, or coconut shells, charcoal powder is a tasteless, odorless substance that is PERFECT for naturally dying food (in this case, rice) various shades of grey. And, if that's not already awesome enough, it has a plethora of health benefits, like:
Aiding digestion
Helping to remove toxins from the body
Reducing cholesterol
Anti-ageing properties
All the more reason to stuff your face full of Pusheen sushi, am I right? If you don't have charcoal powder, feel free to use finely ground black sesame seeds instead (check out this Witch Pusheen Bento for more info). I opted for charcoal powder here, since it produces a more uniformly colored rice (black sesame seeds tend to leave little flecks throughout), but both methods will 100% work.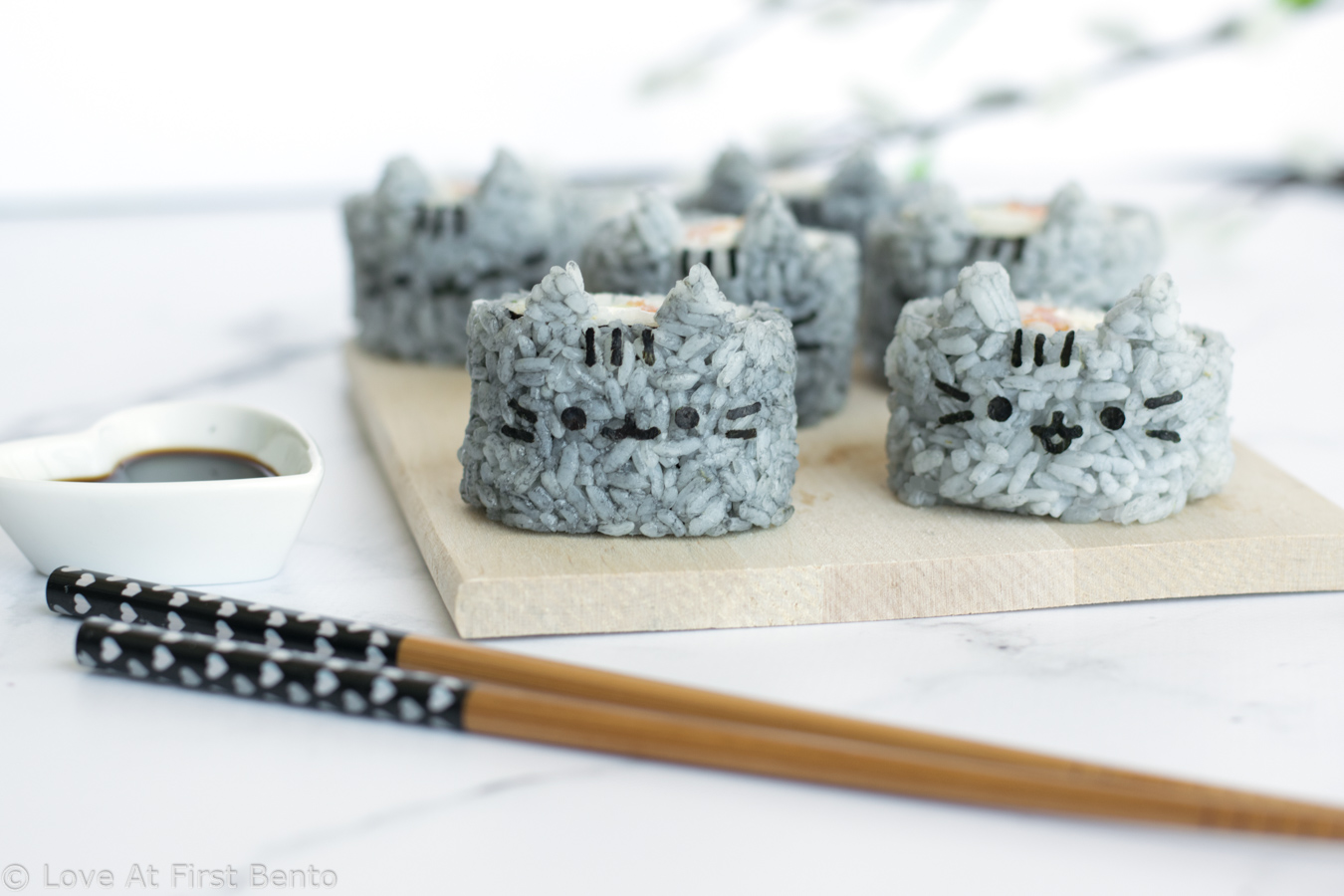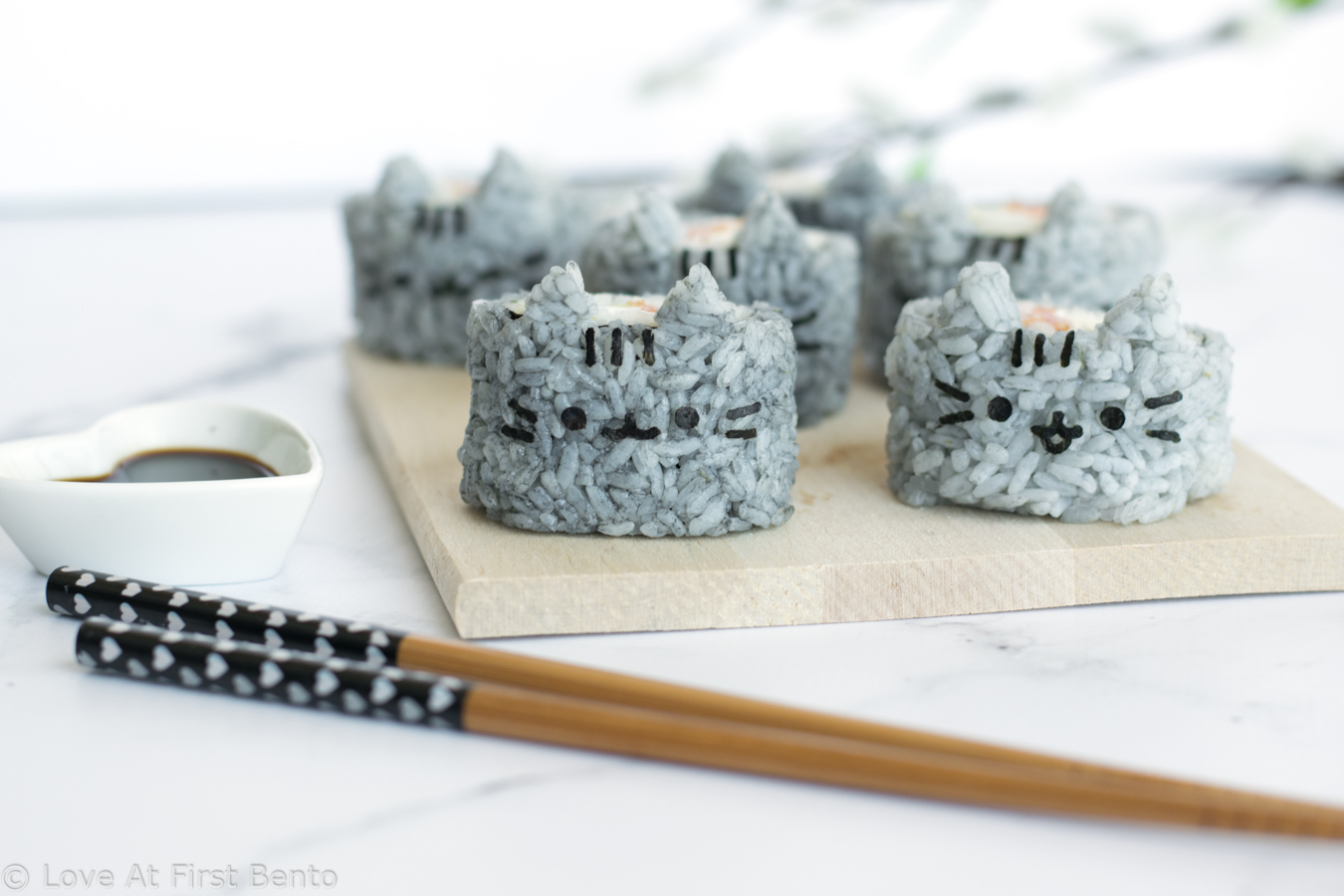 Once you've got your sushi all expertly rolled up, it's time to transform it into a true Susheen masterpiece! Decorate the front of your sushi with nori facial features, and add to the top two grey rice ears – that's it! If you'd like a more 3D effect, you can try using fried pasta pieces for Pusheen's whiskers (as I did for Christmas Tree Pusheen), but I found the nori whiskers to be perfectly sufficient. And, if you're really opposed to making a bunch of little rice cat ears, you could honestly probably leave them off and still end up with a perfectly acceptable Susheen – the choice is yours.
Packing your Susheen in a Bento
Having a Pusheen sushi party on-the-go can easily be done by packing up your Susheen in a cute bento box! I packed the Pusheen sushi rolls in their own "private" tier, and secured them in place with a disposable soy sauce squeeze bottle. I added a bit of wasabi and pickled ginger beneath the soy sauce container as well, since you can't have sushi without the condiments.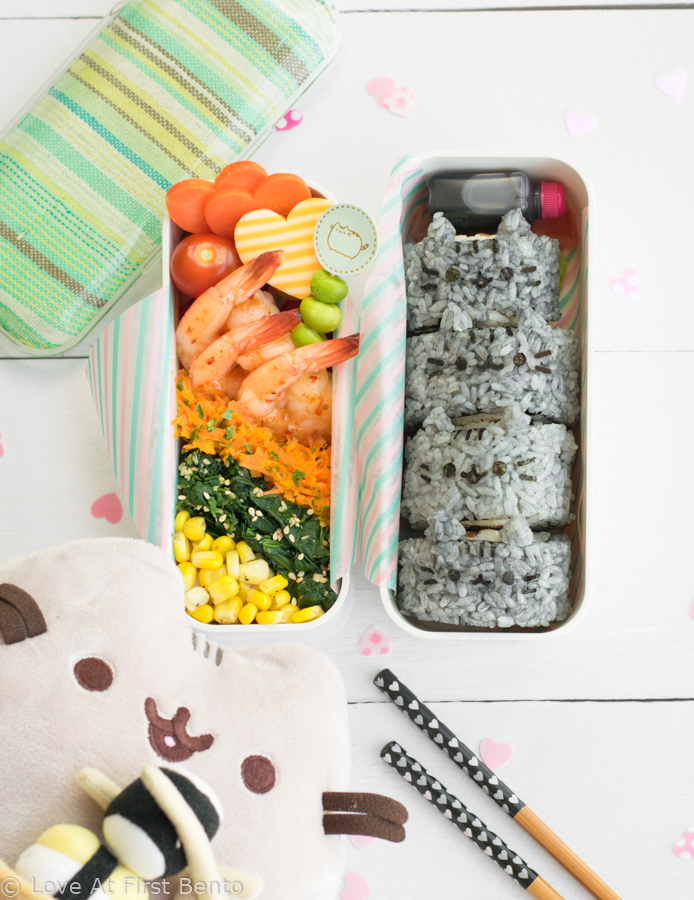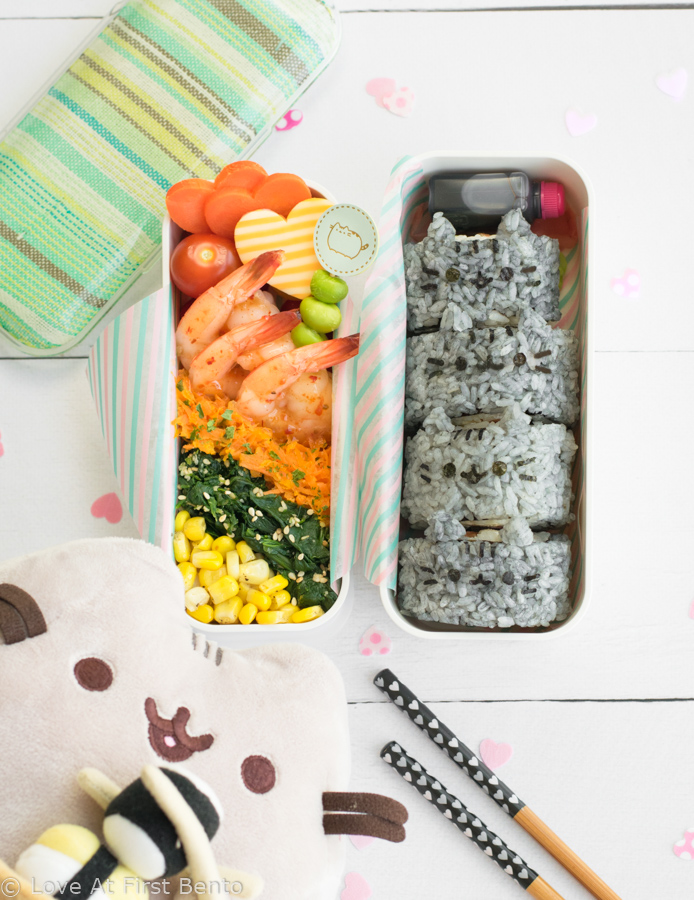 I filled the second tier with sweet thai chili shrimp, shredded carrot salad, sesame spinach, buttered corn, fresh cherry tomatoes, carrot & cheese hearts, and a "Pusheen" edamame pick. The Pusheen pick is actually homemade; if you have some Pusheen stickers at home, you can easily make one too! Just take a wooden toothpick, and place your sticker onto the non-pointy end. You can then either secure the back of the sticker with an identical sticker, or stick a small piece of paper or card-stock to the back, then cut around it so it matches the sticker's shape. Super easy, and super cute!
The bento box I chose was this stylish cloth-patterned bento box, kindly provided by Lunch à porter. The bento box itself is actually quite deep, making it perfect for stacking up cute Pusheen sushi rolls in a way that doesn't squish their features. Plus, the width was just right for keeping everything nice and snug, ensuring no Susheens were destroyed by lunchtime.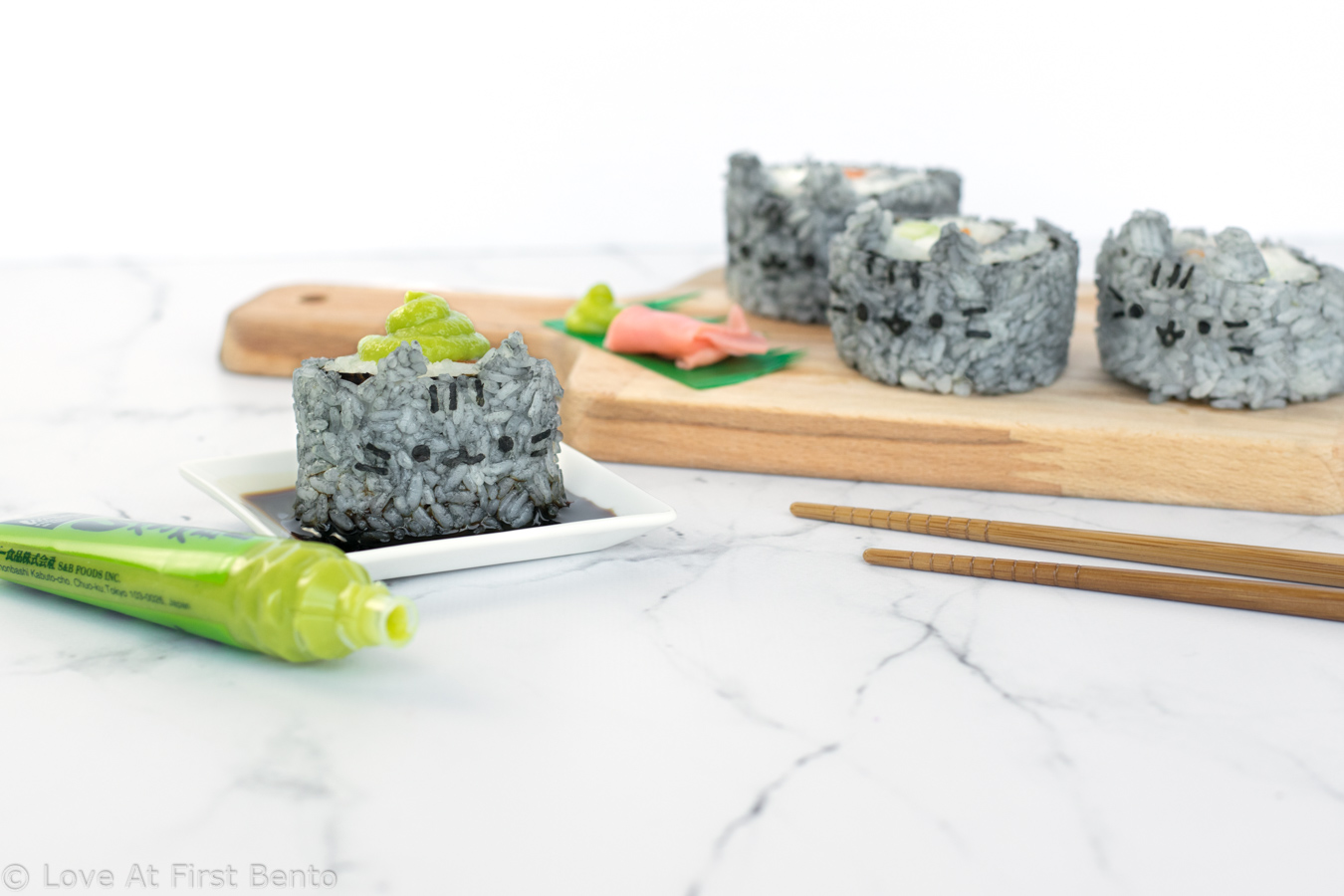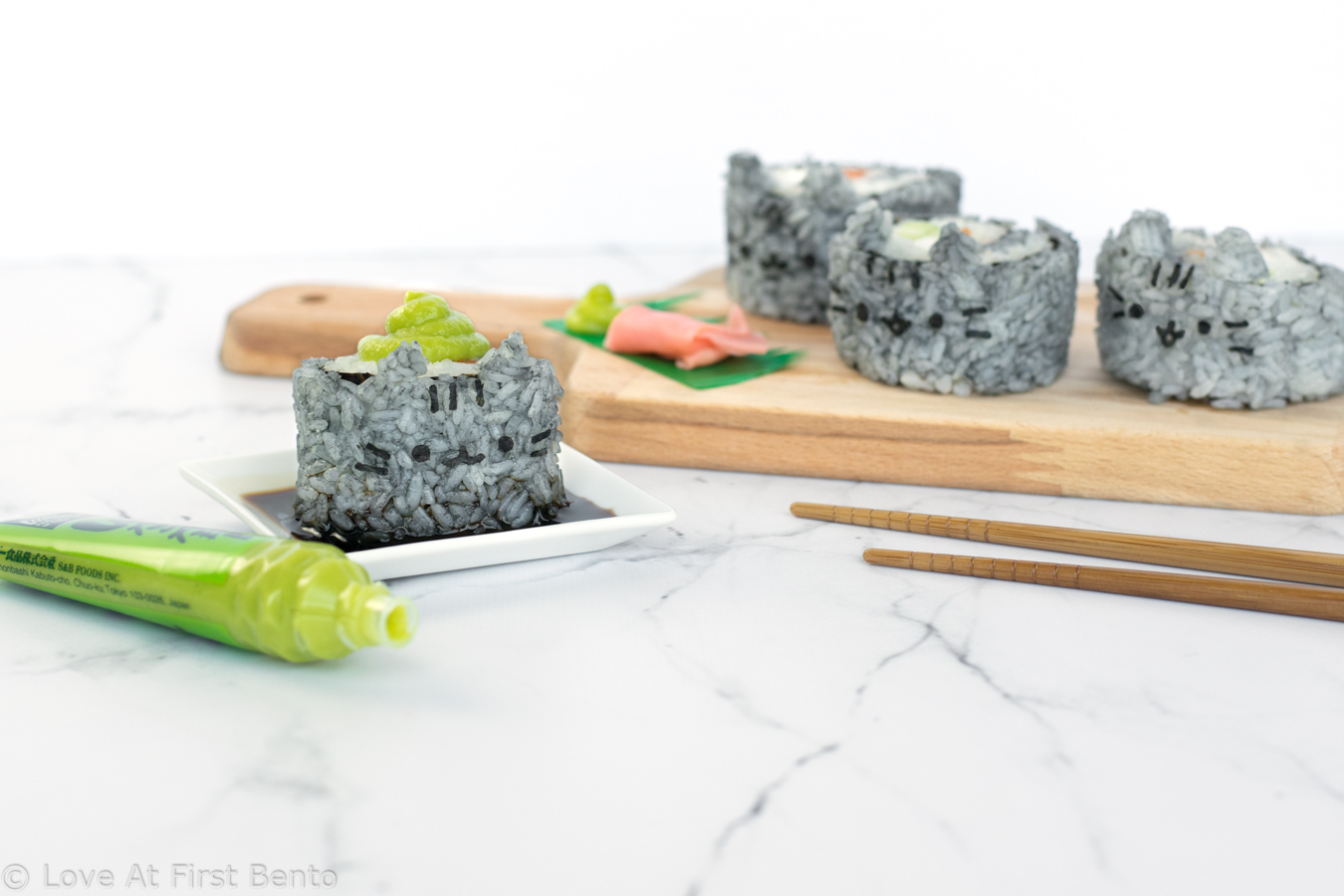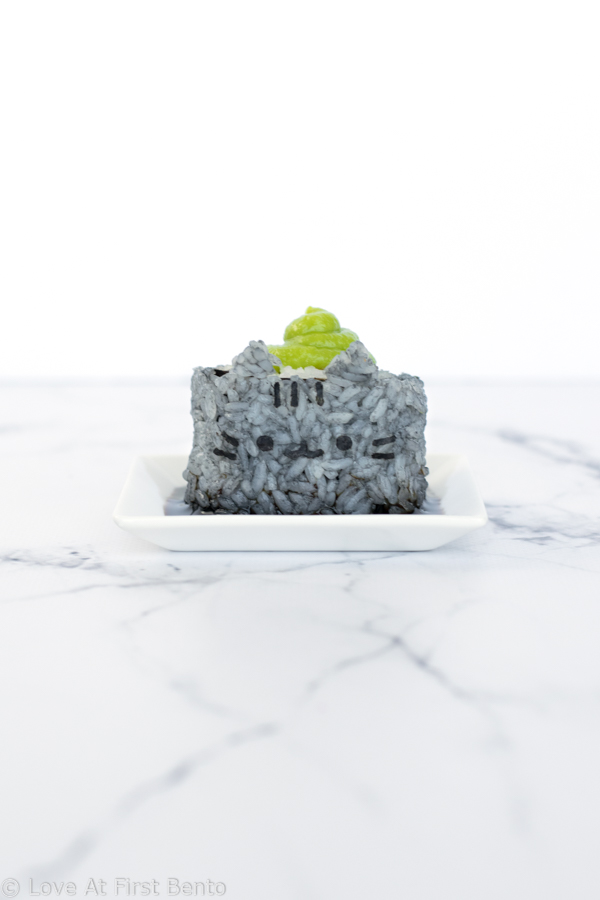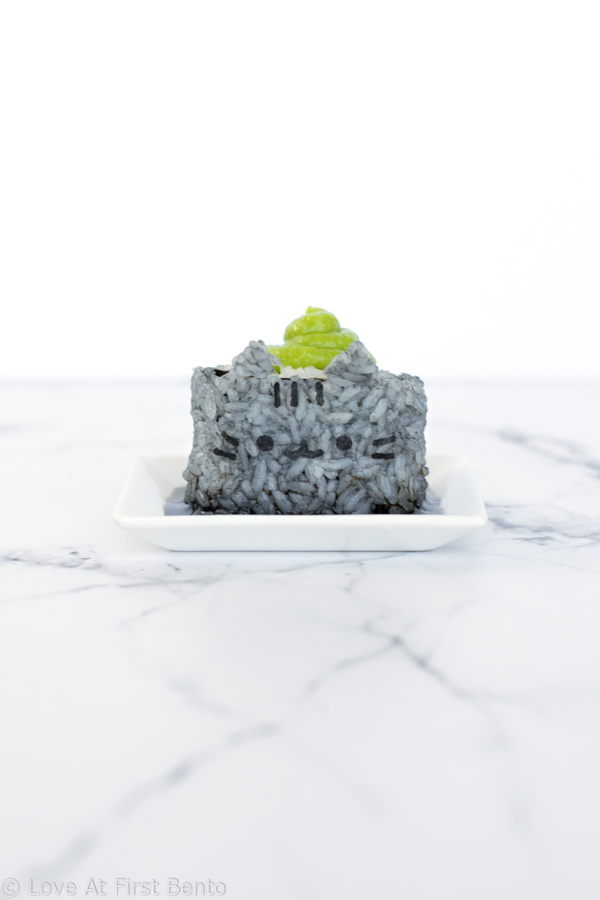 So, if you call yourself a true Pusheen fan, then you know that your life will not be complete until you try some Pusheen sushi. Or, if you know someone who's a die-hard Pusheen/sushi lover, I guarantee you'll have them at your beck and call if you make them some Susheen for lunch… just saying. Fan or not, these sushi rolls are seriously little bombs of cuteness just waiting to blow your mind – and taste buds 😉 You KNOW you can't resist!
MORE PUSHEEN BENTOS:
Print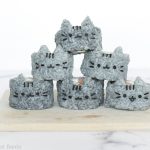 Pusheen Sushi (AKA Susheen)
---
Author:
Yield: 6 sushi rolls
Category: Sushi
Cuisine: Japanese
---
---
© Love At First Bento. All images and content on this site are copyright protected. Please do not use any image without my prior permission. If you'd like to share this recipe on your own site, you are required to (1) link back to this post and (2) rewrite any instructions in your own words.
Tools used to make this bento: