These gorgeous Salted Rose Onigiri are sheer edible elegance! Made with homemade pickled rose petals and rose salt, these rice balls are guaranteed to impress with their effortless beauty and taste.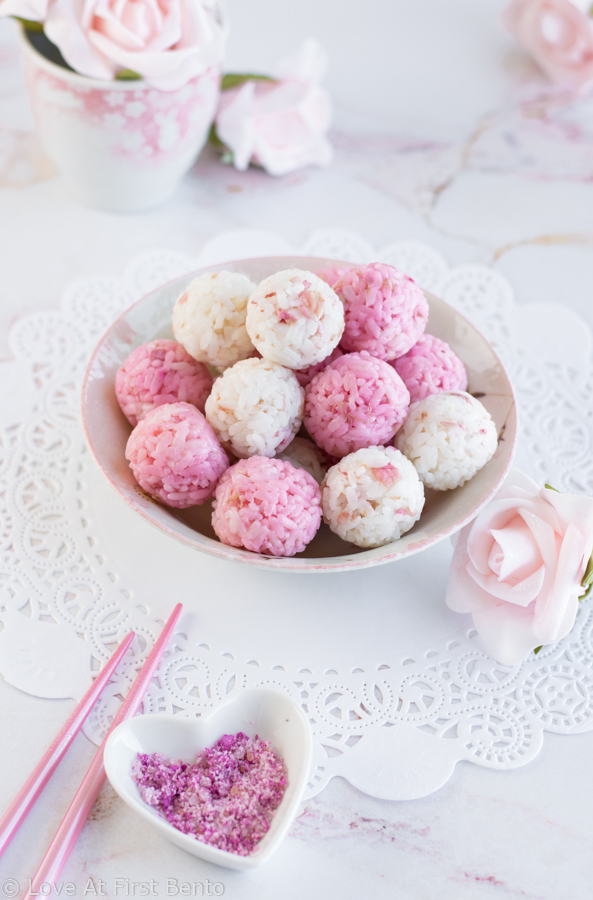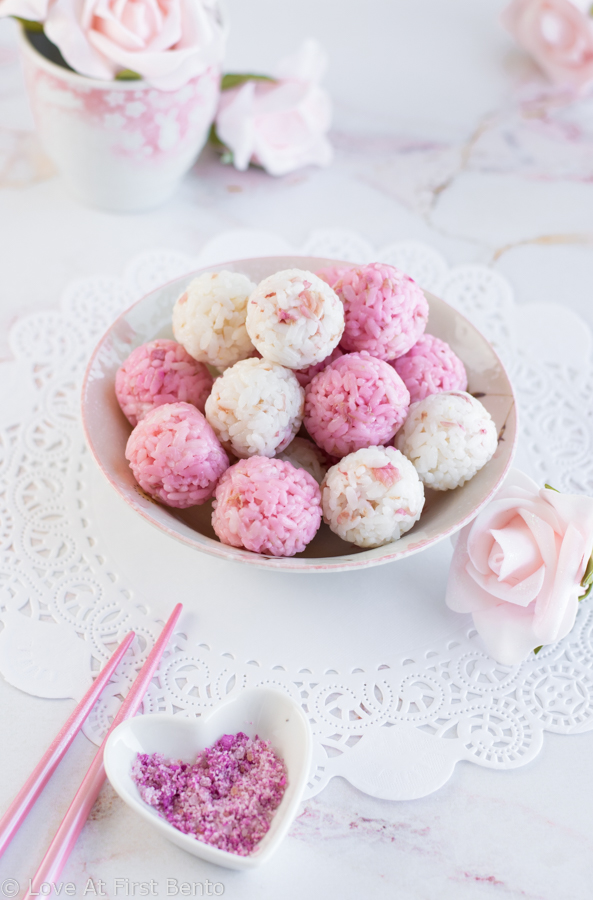 In honor of Mother's Day, onigiri is getting an elegant, sophisticated spring makeover, and it's all thanks to one surprising star ingredient: roses. These beautifully blushing rice balls are flecked with tart yet floral pickled rose petals, and accessorized in a shower of sparkling pink rose salt – a topping capable of turning any food item into a queen. What mother (or female, for that matter) wouldn't fall head-over-heels for these gorgeous lunchtime jewels? And the best part: they're super easy to make!
Gifting a bouquet of roses on Mother's Day is a timeless tradition, but why not vary it up a little by having your mother eat her roses instead? Yup, rose petals, buds, and leaves are all edible; in fact, roses are a part of the same plant family as strawberries, apples, plums, and cherries, and as such impart a delicately sweet, floral taste that is sure to make you taste buds feel ultra refined. However, it's important to note that, while roses are edible, only varieties that are labeled as organic, pesticide-free, or safe-to-eat can be used in edible preparations, so take extra care when purchasing roses that are intended to be used as food.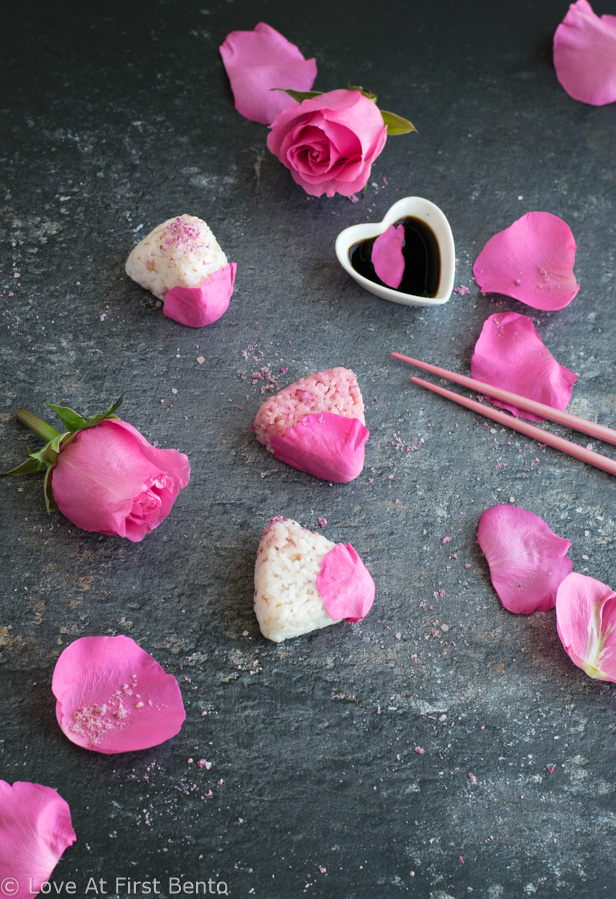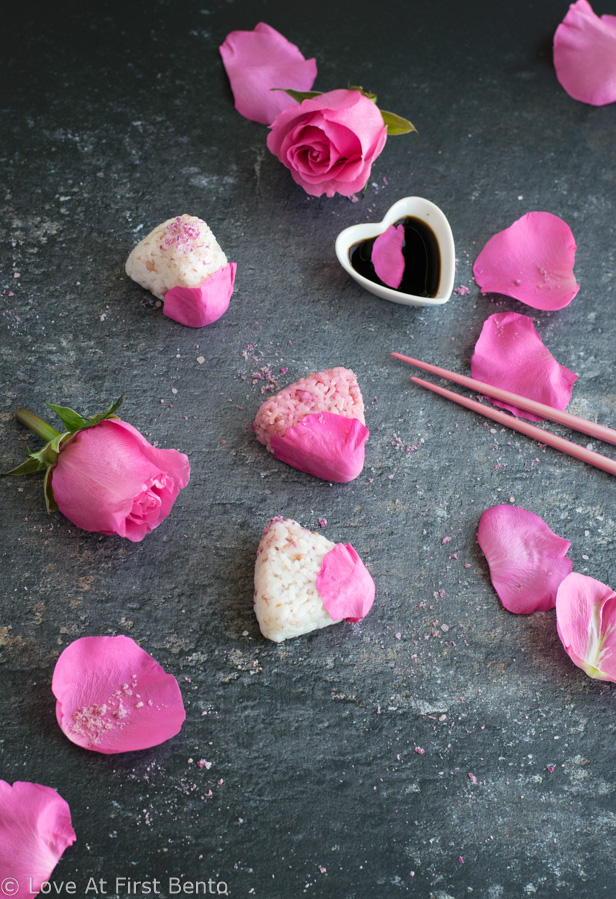 These onigiri are not only pretty to look at, but full of all-natural goodness too, thanks to:
Beet powder, which naturally turns the rice into a gorgeous shade of rosy pink
Homemade pickled rose petals
Rose salt, which we make from scratch using only TWO simple ingredients
If turning roses into pickles and salt sounds intimidating, I am here to tell you that it's actually the complete opposite: you'll be amazed at how easy it is to make such beautiful ingredients, and in no time flat to boot. I turned to trusty Martha Stewart for the pickled rose petal recipe, which produces a lusciously tart pickle that pairs perfectly with rice. Adding pickled ingredients to rice and onigiri is a classic Japanese practice, as pickled food keeps well (perfect for bentos!), acts as a great palette cleanser, and also aids in digestion. Some common pickles added to rice balls include umeboshi (pickled plum), pickled sakura blossoms, and takuan (a type of pickled daikon radish). Suffice to say, if you like any of these fillings, or are a fan of sweet-sour food, then you'll absolutely love the addition of pickled rose petals to your onigiri!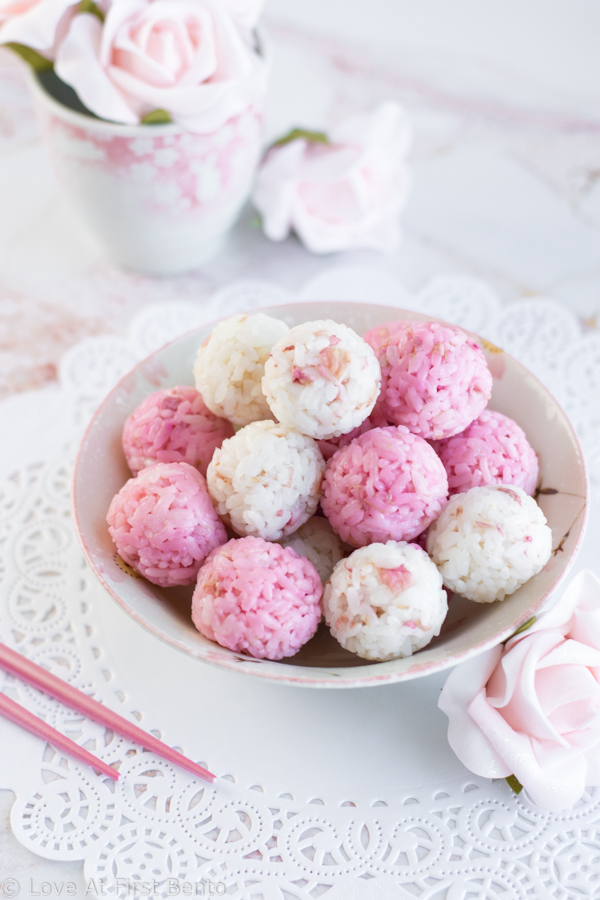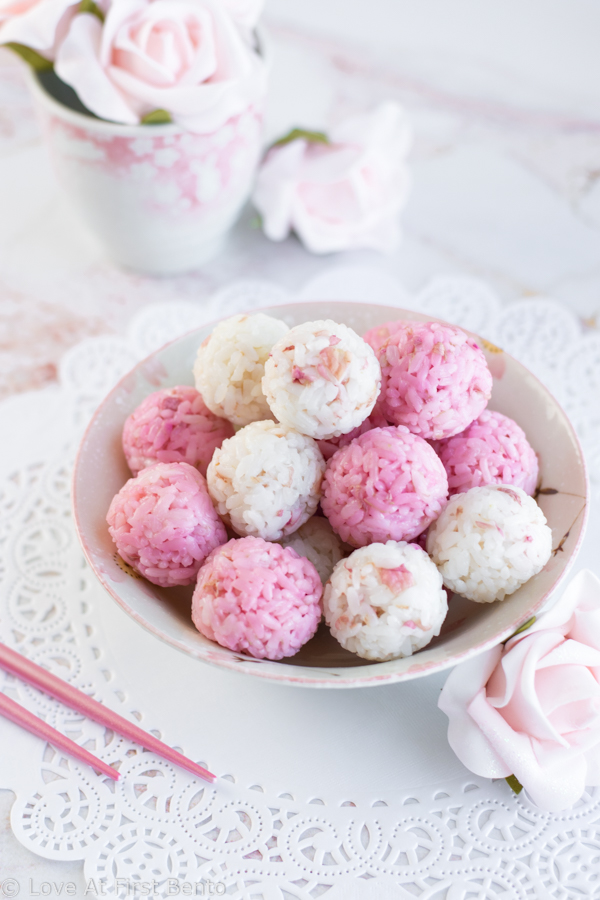 Offsetting the tart sweetness of the pickled rose petals is the rose salt, which is made by grinding together Himalayan pink sea salt and fresh rose petals in a coffee or spice grinder. In a pinch, regular ground sea salt or plain Himalayan pink sea salt would work equally as well. But making your own homemade rose salt from scratch is seriously so easy – I definitely recommend you give it a try. As a bonus, it would make for a really pretty gift too!
There are countless ways you can shape and decorate these onigiri, so feel free to experiment and have some fun with it. Here's the two ways I decorated mine:
Triangular onigiri, finished with a sprinkling of rose salt and a fresh rose petal. My onigiri were actually mini sized (made using this mini triangle onigiri mold), which I find are easier to pack into smaller bento boxes. The fresh rose petal is optional, but I thought it was a pretty replacement for the typical nori seaweed strip placed on rice balls, plus it acts as a useful place to pick up the onigiri without getting your fingers all sticky.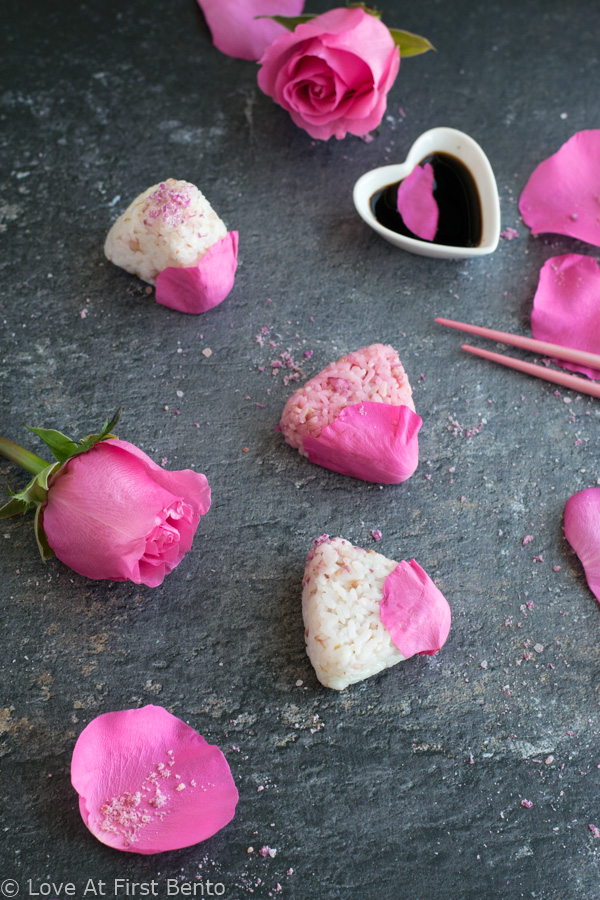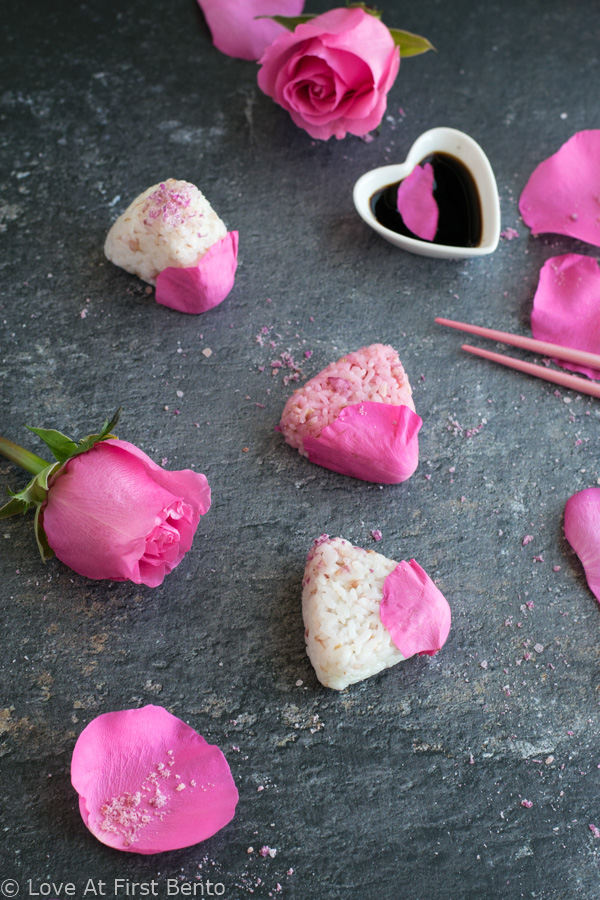 Mini spherical onigiri enrobed in rose salt. I think these mini rice balls look ultra posh – almost like pretty little candies or donuts – and they fit really well inside all types of bento boxes. You can shake out a ton of these rice balls in no time flat using this miraca onigiri mold (seriously one of my favorite bento tools ever). Then, while the rice is still warm, roll the onigiri in a dish of rose salt to dress it up in a lovely shawl of sparkly goodness.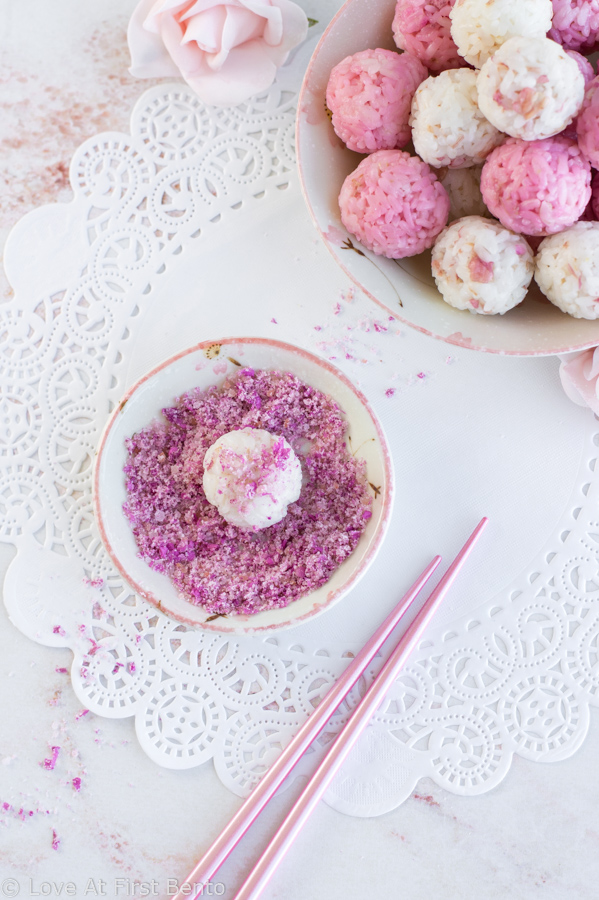 I knew that these gorgeous rice balls required an ultra pretty bento box presentation, so I set out to create a beautiful bento that would make any person swoon with glee. Packed into this vegetarian bento is a "pixelated" hard-boiled egg (seasoned with black sesame seeds & Korean red chili flakes), a "healthy" broccoli salad (comprised of a greek yogurt dressing, seasoning, and sunflower seeds), goji berries, fresh raspberries sprinkled with some shredded coconut, and pink pickled daikon radish "ribbons", which were naturally dyed pink using beet powder. Sheer elegance in a bento box, I'd say! And 100% vegetarian too 😀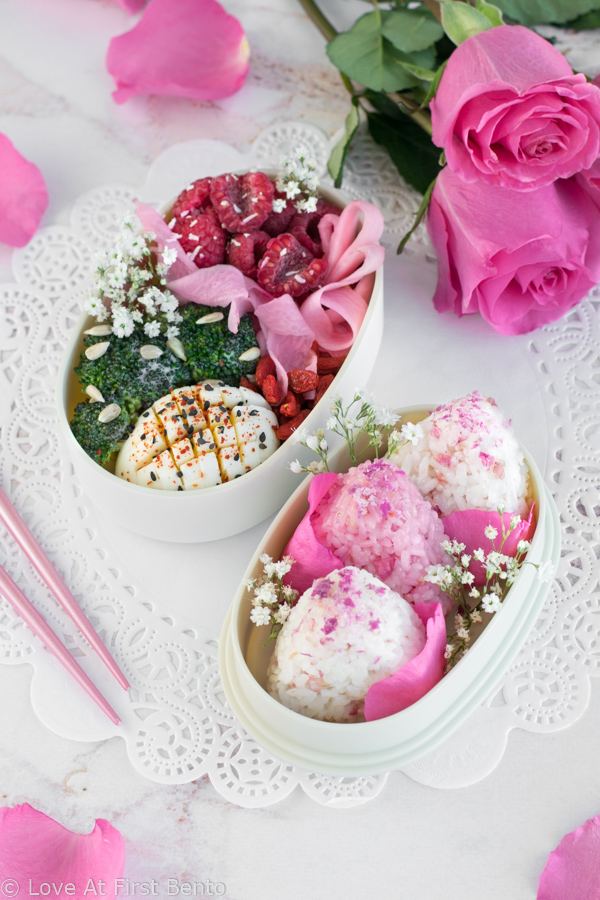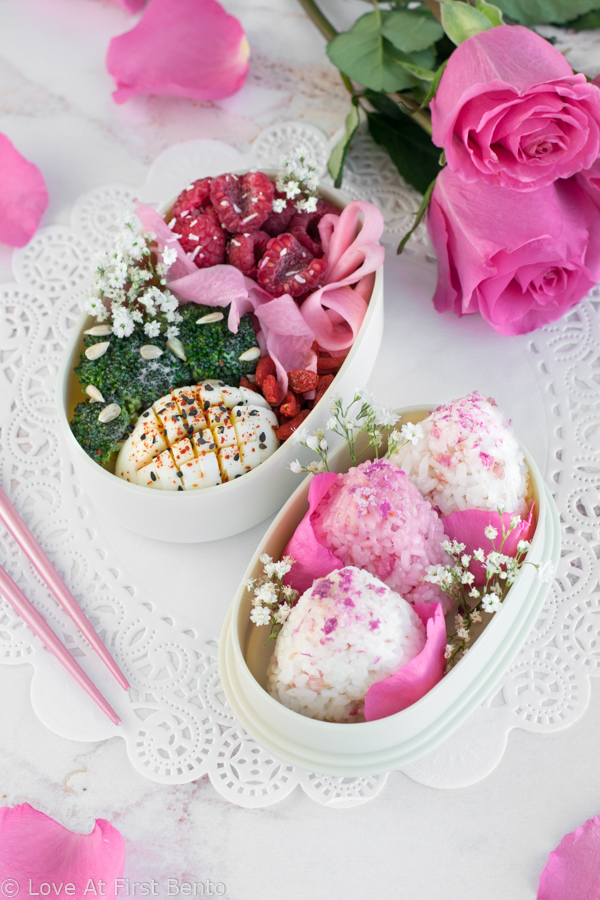 So get crafty in the kitchen this Mother's Day, and try making these gorgeous salted rose onigiri, either as a gift, for packing into a bento, or to serve up at a fancy spring tea party! They're delightfully delicious, make for an incredibly unique gift, and add unparalleled beauty to any bento box they're packed in. I promise, anyone who eats these rice balls is guaranteed to feel like royalty!
Print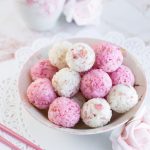 Salted Rose Onigiri
---
Author:
Yield: 4 onigiri
Category: Onigiri
Description
Learn just how easy it is to make Salted Rose Onigiri – a beautiful addition to any bento box that's guaranteed to impress! Rice is mixed with homemade pickled rose petals for a uniquely floral taste, then decorated with easy, 2-ingredient rose salt for the perfectly elegant finishing touch. 100% vegetarian, and 100% gorgeous!
---
Ingredients
Food Items:
Rose Salt:
Recommended Tools:
Spice or coffee grinder
Plastic wrap
---
Instructions
Rose Salt:
Place the rose petals on a microwave-safe plate, and microwave for 1 minute – this removes excess moisture from the petals.
Add the Himalayan pink sea salt and the rose petals to the spice/coffee grinder, and pulse until a fine pink salt has formed. Store the salt in a non-reactive jar or container.
Onigiri:
Using a sharp knife, finely chop the pickled rose petals. Divide the petals into two equal portions, and set aside.
Divide the rice into two equal portions – one portion will remain white, and the other will be dyed pink. Make sure the rice is either freshly cooked or warm.
Take one bowl of warm rice and add half the chopped pickled rose petals to it. Mix the petals into the rice using a rice paddle or spoon.
Pink Rice: In a small bowl, mix beet powder with 1/2 tablespoon warm water until dissolved. Feel free to add more beet powder as needed to achieve desired color. Add your homemade pink dye to the remaining 1/2 portion of warm rice, and mix until rice becomes evenly pink in color. Add the remaining chopped pickled rose petals to the pink rice, and mix with a rice paddle or spoon until evenly dispersed.
With a damp paper towel, wipe the inside of your onigiri mold until it's completely damp. Also wet the removable top piece.
Using a rice paddle or spoon, fill your mold 3/4 of the way full with warm rice (either the white or pink rice). Press the rice gently but firmly into all the crevices of the mold.
Take the removable top piece and insert it into the mold. Push with gentle pressure until the top piece is fully inserted into the mold.
Remove the top piece, and flip the rice mold over, making sure to do this over top of a sheet of plastic wrap. If your rice mold has little push indents on the bottom, push it gently with your thumb, then gently tap the bottom and sides of the mold until the onigiri slides out.
Repeat Steps 5 – 8 with remaining white and pink rice.
Finish each onigiri with a generous sprinkle of the homemade rose salt. You can either sprinkle some directly on top, or roll the onigiri in the rose salt for a more even coating.
Optional: Place a fresh rose petal over top one corner of each onigiri, then wrap securely in plastic wrap, smoothing out the rose petal as best you can. It won't stick quite as well as nori, but the stickiness of the rice combined with the plastic wrap should help it to stay in place.
Notes
Please make sure the roses you use are either organic or pesticide-free roses, or are labeled as safe to eat.
If you don't want to make the rose salt, feel free to sprinkle your onigiri with regular ground sea salt or ground Himalayan pink sea salt instead.
I also made these onigiri using a mini triangle mold and a mini spherical mold – both make for very elegant shapes that are the perfect size for fitting into smaller bento boxes.
© Love At First Bento. All images and content on this site are copyright protected. Please do not use any image without my prior permission. If you'd like to share this recipe on your own site, you are required to (1) link back to this post and (2) rewrite any instructions in your own words.
Tools used to make this bento: