This Vulpix Pikachu Bento will be landing critical hits on the hearts (and stomachs!) of Pokemon fans around the world! 100% edible and perfect for decorating rice, anyone can easily recreate this character bento thanks to my "secret hack", which allows even the most artistically-challenged individuals to accurately create precise images out of food!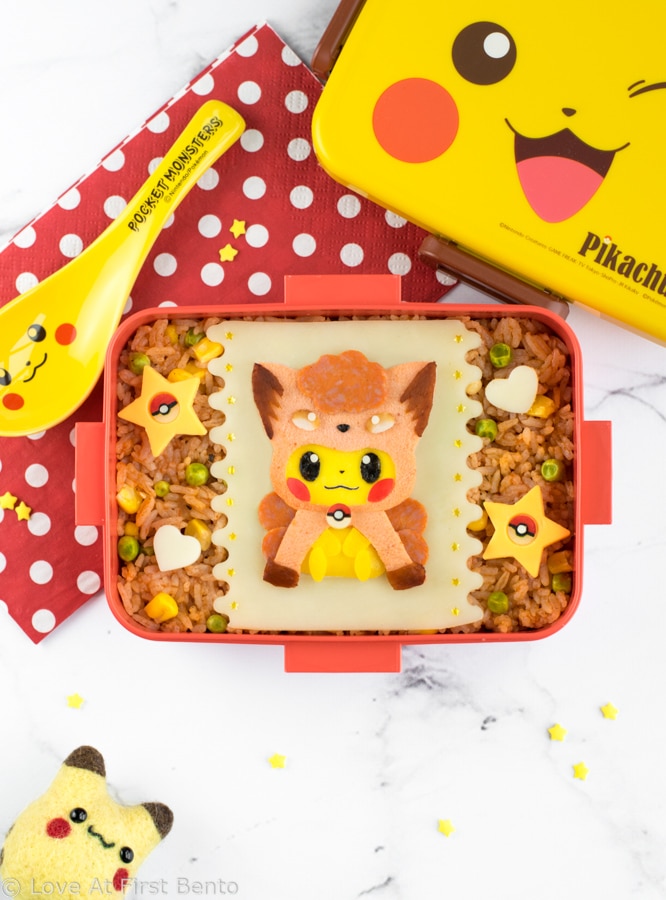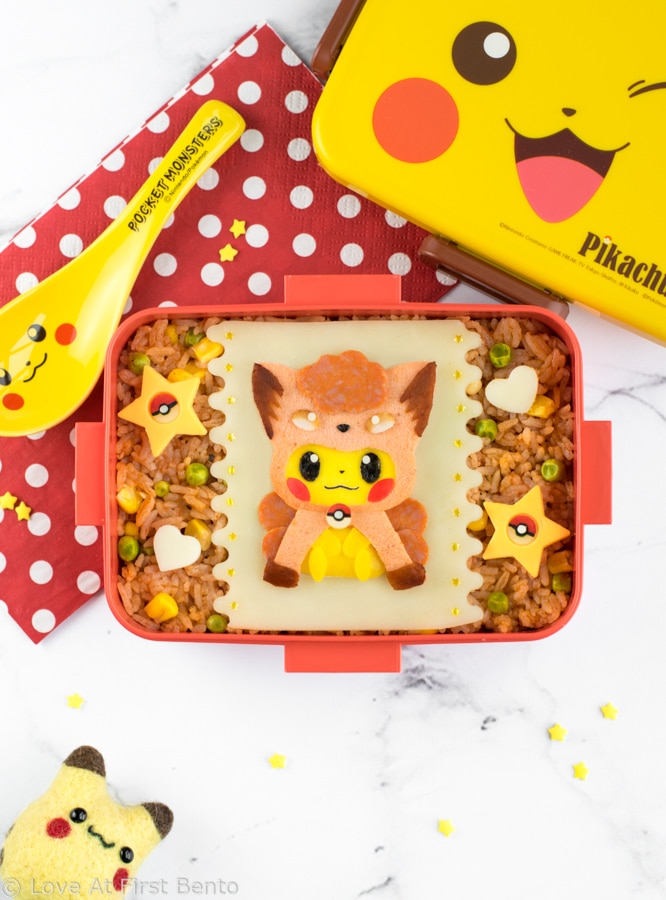 No Pokemon trainer can resist the galaxy-shattering cuteness of this Vulpix Pikachu Bento Box! Featuring Pikachu dressed up in an adorable Vulpix poncho, this fried rice bento is bursting with delicious details and an endless amount of electrifying Pikachu cuteness – and it's all 100% edible! With the help of my "secret hack" for easily creating precise images out of food, anyone can have their very own Vulpix Pikachu bento for lunch, no matter your artistic skills or bento experience!
I was first introduced to the lethal cuteness of Pikachu in a Vulpix poncho during my most recent trip to Japan, when the Pokemon Center stores were filled with Vulpix Pikachu merchandise to celebrate the new Alolan Vulpix. They had everything, from dolls and pins to an actual life-sized Vulpix poncho, and let me tell you: I begged my boyfriend for that Vulpix poncho. He insisted that I would never wear such a thing, and so, regrettably, I had to leave the store without my beloved poncho, all dreams of being able to run around the house as a Vulpix eternally crushed. (But don't worry, I ended up buying about 5 other Vulpix Pikachu items instead, including this adorable doll which I still cherish to this day.)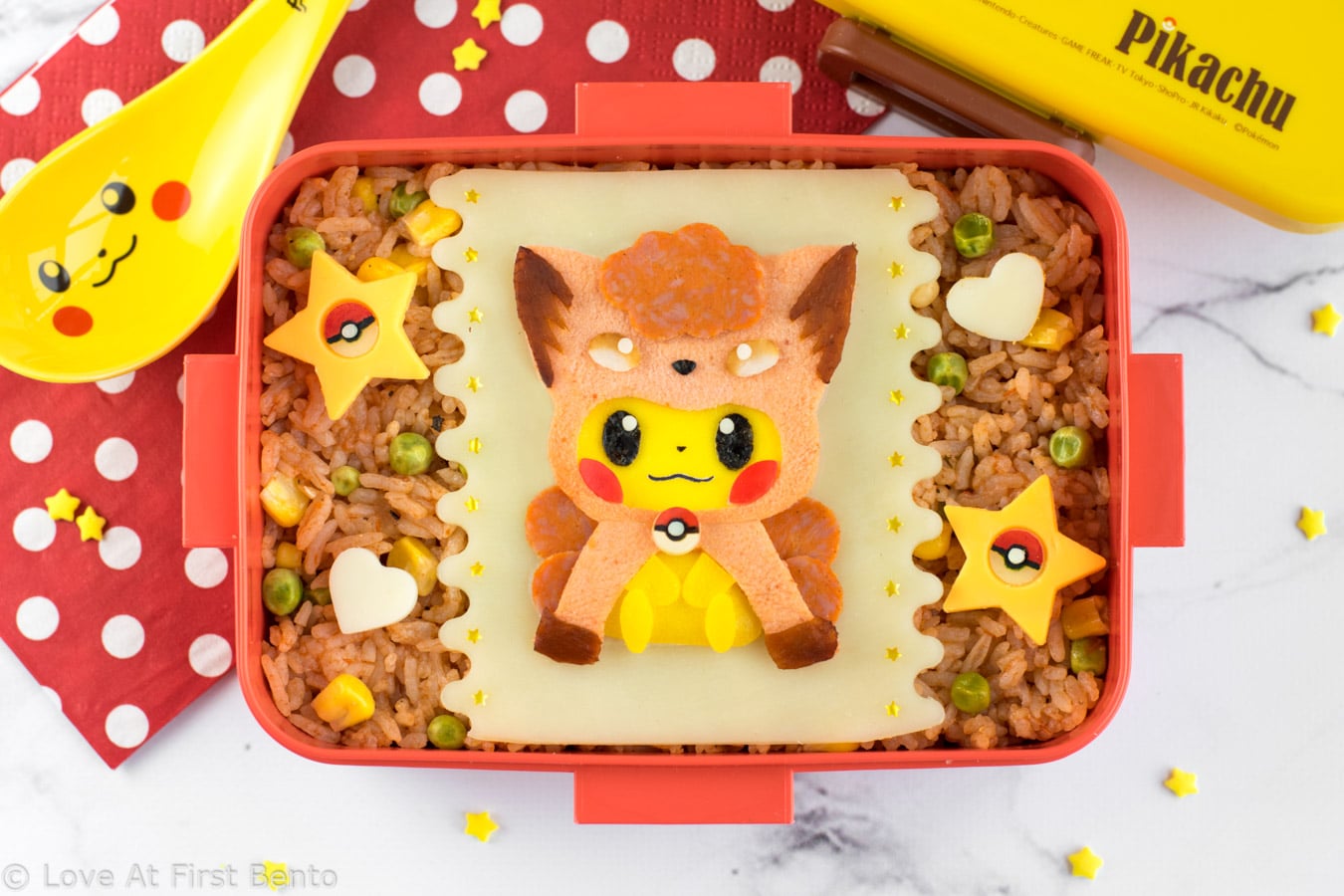 However, when Bento&co sent me this adorable Pikachu face bento box, the red color immediately made me think of Vulpix, and I was once again reminded of Vulpix Pikachu and my precious, regrettably never-purchased poncho. That's when it hit me: if I couldn't have my poncho in real life, why not have it in bento form?! The result: one of the cutest Pokemon bentos I have ever seen. This bento is, quite literally, almost "too cute to eat", and is for sure a new personal favorite of mine. But I mean, we are talking about a cosplaying Pikachu here – not much can beat that in terms of cuteness.
While the detail level of this bento is quite high, I am here to tell you that this is a bento that can be recreated by anyone, no matter your artistic abilities or level of bento experience. The only thing you'll need: a lot of patience. But, if you're capable of leveling up a powerful party of Pokemon, then trust me, you're totally capable of creating an edible Vulpix Pikachu 😉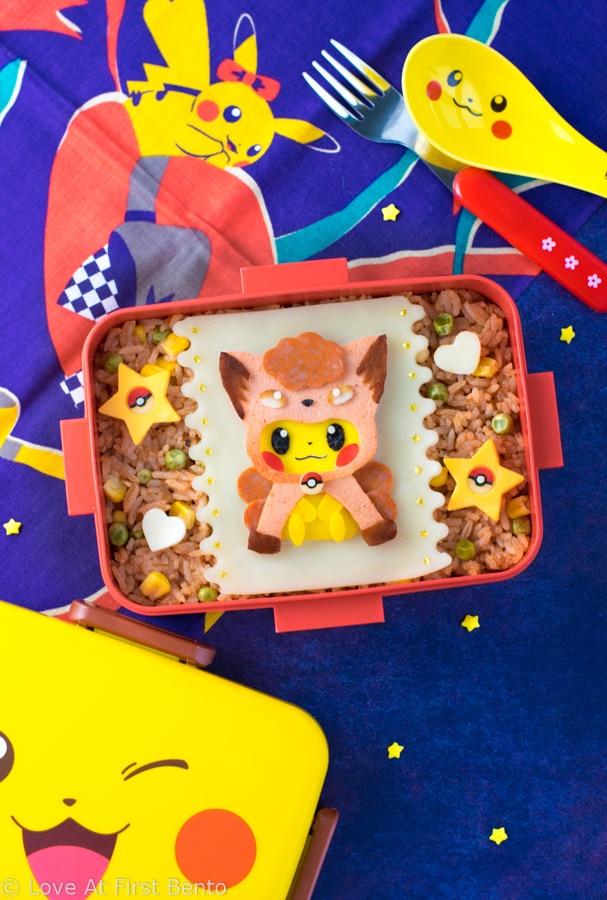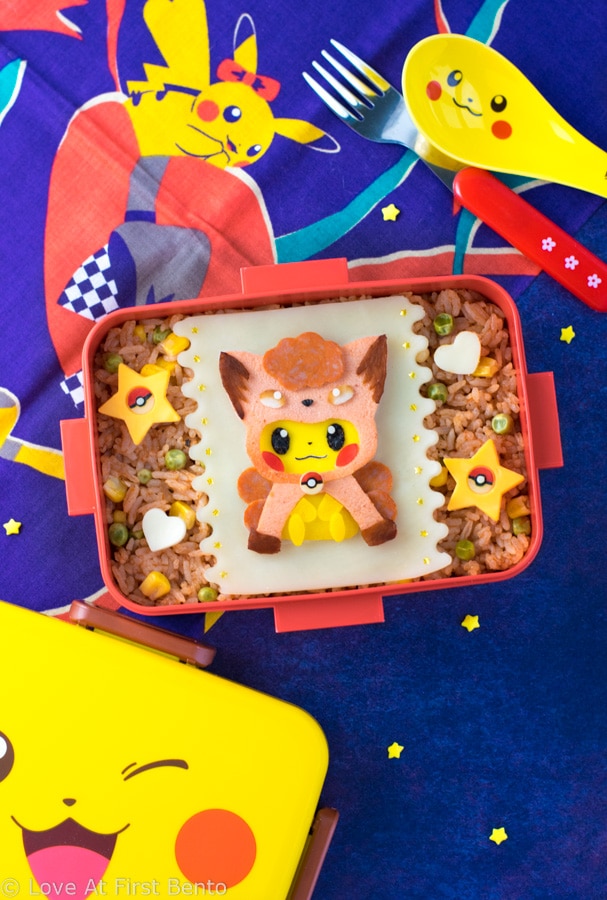 My "secret hack" for easily creating precise images out of food is to use homemade tracers, made from the very image you want to recreate itself. What do I mean by this, exactly? Simply print off a picture of Vulpix Pikachu, then cut out all the different parts you'll need to make a complete edible recreation. And don't worry, I've got your back: below you'll find a numbered image guide that tells you exactly which pieces to cut out. So grab a pair of scissors and prepare to feel like you're back in Grade 1 art class, cutting out lots and lots of fun little shapes!


Once you have all of your tracers ready to go, then all that's left to do is make the various components of Vulpix Pikachu. I used a variety of food items to make up the various parts:
Orange Vulpix poncho = egg crepe, dyed orange using sriracha
Pikachu = yellow egg crepe made from egg yolks
Vulpix poncho's forehead fluff & tail = pizza pepperoni
Vulpix poncho's eyes = chicken ham, blended with a little soy sauce "paint"
Vulpix poncho's ears = pickled ginger, dyed dark brown using dark soy sauce
Facial details = mixture of cheese (either left as is or colored using edible food markers) + nori seaweed cutouts
Just place your homemade tracers on top of the appropriate food item, cut around it using a trusty craft knife (an indispensable tool for any serious bento artist), and voila – you've just created edible art! No crazy art skills required 😉
While you can decorate any type of bento with your edible Vulpix Pikachu, I chose to use mine as a decorative topper for a batch of ketchup rice (the typical filling used for omurice). To help it stand out better, I placed the pieces on top of a slice of white cheese, which I made extra fancy by adding some gold star sprinkles along the edges. For extra cute points, I also topped the rice with some cheese hearts and "Pokeball stars" – cheese stars with the middles cut out, then replaced with a colored cheese pokeball. Check out the recipe below for details on how I turned cheese circles into "pokeballs".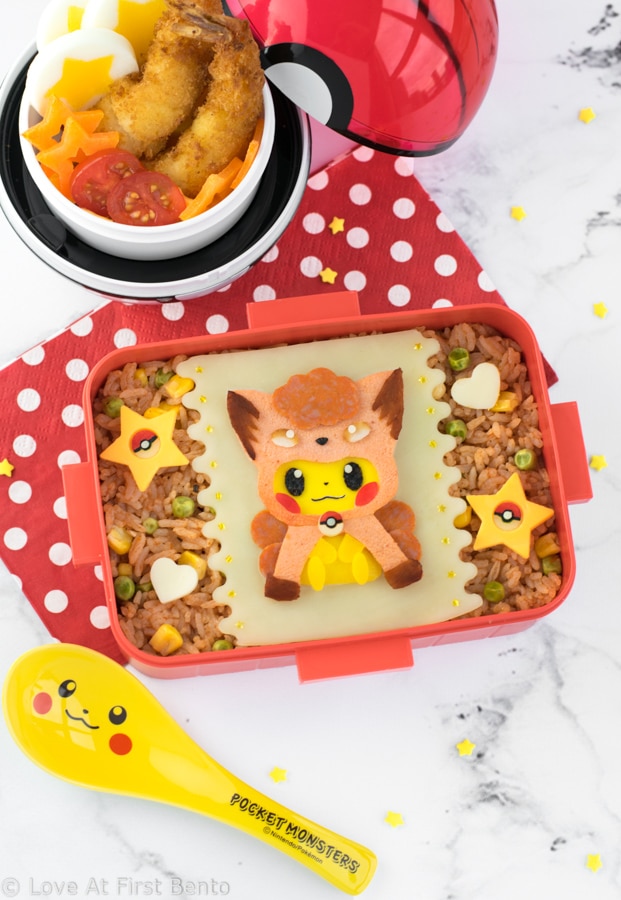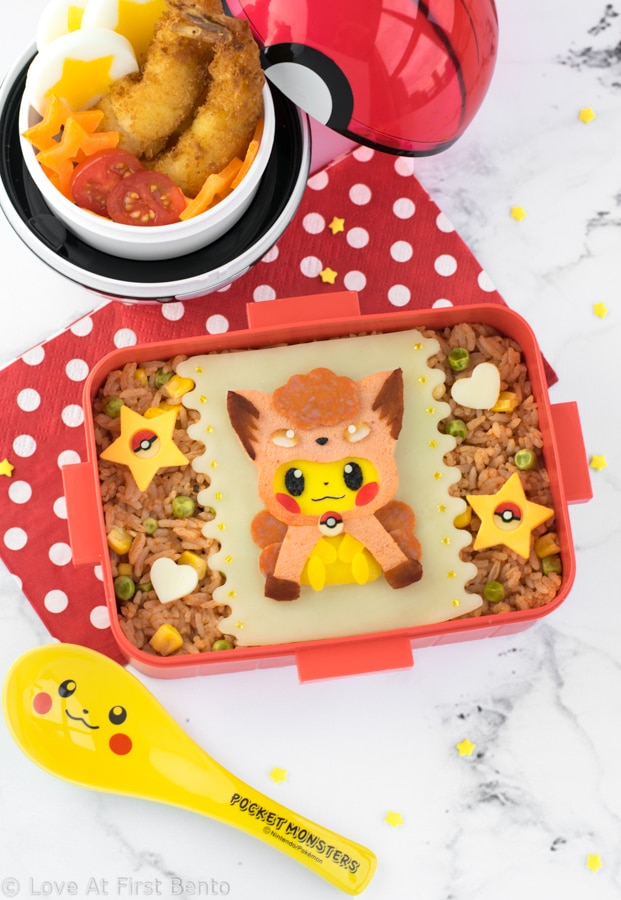 To make the bento a little more complete, I also packed up this Pokeball bento box (pictured above) with some ketchup rice "add-ins" – basically, things I thought would taste really yummy when mixed in with the ketchup rice. While you can add in anything you'd like, I opted for tempura shrimp, cherry tomatoes, carrot stars, and hard-boiled egg slices. To make the hard-boiled eggs just a little more exciting, I used this epic egg mold kit to turn the yolks into stars – super cool, right? When I first got it, I literally could not stop using it, it was so much fun (and I ended up eating star and heart-shaped eggs for days). Some other fun add-in ideas include hot dog pieces, bite-sized pieces of chicken, BBQ pork, or chicken karaage, shredded cheese, and small strips or cutouts (like stars!) of nori seaweed.
So become a Pokemon bento master by making this insanely adorable Vulpix Pikachu bento for lunch! It's guaranteed to be a hit with Pokemon fans of all ages, and can be replicated by bento novices and veterans alike. And don't forget to pack it up in a cute Pokemon-themed bento box, to ensure an all-out Pokemon experience!
Need to go shopping for some Pokemon bento boxes? I've teamed up with Bento&co to provide you all with an exclusive LAFB reader's discount: 5% off your entire order from Bento&co! Either use this link to automatically activate the discount, or manually enter the code LOVEATFIRSTBENTO5 at checkout. [Discount code is valid until March 2, 2019.] Gotta buy them all!
Print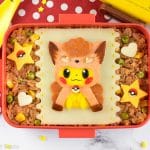 Vulpix Pikachu Bento
---
Author:
Yield: 1 Vulpix Pikachu
Category: Character Bento
Cuisine: Japanese
---
---
© Love At First Bento. All images and content on this site are copyright protected. Please do not use any image without my prior permission. If you'd like to share this recipe on your own site, you are required to (1) link back to this post and (2) rewrite any instructions in your own words.
Tools used to make this bento: