Hey, I'm Shannon!
Welcome to Love At First Bento!
I'm a Canadian bento box artist who specializes in creating cute, elegant, and eye-catching bentos that can be enjoyed by people of all ages. My mission is to provide YOU with all of the tips, tricks, and secrets to making delicious bento boxes that look as amazing as they taste. (Trust me, it's easier than you think!)
But wait… what the heck is a bento box?
The Japanese word "bento" can be loosely translated to lunchbox. Basically, it's a portable meal that can be eaten hot or cold, anywhere, anytime. Here at Love At First Bento, we'll work together to create decoben— decorative bento boxes that take delicious food to the next level.
Each bento box I create will feature easy-to-follow assembly instructions, as well as video tutorials to help you grasp the steps in their entirety. I find that too many bento guides rely on vague, oversimplified instructions when it comes to explaining crucial design elements. (Anyone else ever feel frustrated when instructions simply say "mold the rice into a dolphin shape" or "wrap nori around rice ball to resemble hair"? I hear you people, loud and clear.) Here at LAFB, I promise not to leave you feeling stranded on Artistically-Challenged Island. I'll tell you the tools you'll need, the tricks that'll make your life so much easier, and the secrets that the other people never tell you. Together, we'll create works of bento art.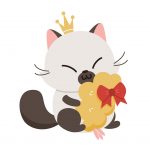 More About Shannon
I am a self-taught bento artist; all of my knowledge comes from many long days of translating Japanese bento books, dissecting the bento creations that other people have made, and practicing in the kitchen until I get it right. This love-affair with bento-making first began a few years ago, as a way to ensure my boyfriend was eating healthy, homemade lunches when he went to school or work. I haven't looked back since, and continue to develop my own ideas and techniques on a daily basis.
I am also OBSESSED with all things Japan. I began studying Japanese in high school, and have traveled multiple times to places such as Tokyo, Kyoto, Osaka, and Sendai. For as long as I can remember, I have been naturally drawn to the Japanese way-of-life, be that in how they cook, how they dress, how they study, and even how they approach daily living. As a result, I am incredibly knowledgeable about all things Japan, and love to share my expertise with others.
When I'm not in the kitchen preparing bentos, I'm either teaching ballet, watching anime or cooking shows, or kicking butt as Marth in Super Smash Bros.

Let's Keep in Touch!
Want bento box tutorials sent directly to your inbox? Subscribe to the Love At First Bento newsletter to receive weekly updates. As a bonus, you'll receive free bento menu cards – they make the perfect addition to any bento, and ensure bento recipients know exactly what they're eating.
You can also follow my bento adventures on Instagram, Pinterest, Facebook, and Twitter. All video tutorials can be found on my Youtube channel.
Commenting on blog posts is the fastest way to get a reply from me, particularly if you have a question or comment about a specific bento box. You can also message me directly via email. I absolutely love receiving messages and feedback from my readers, even if it's just to say hi! I'll do my very best to get back to each and every one of you. 🙂
For all work related inquiries, such as sponsored content, workshops, and freelance work, feel free to send me an email.